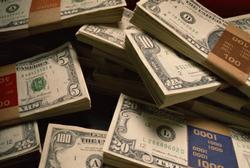 Another great idea to keep wedding costs down is one I thought up myself: bridesmaids. It just so happens that all of mine are extremely good-looking and very glamorous. With the seven of them lined up together inside a gorgeous church on (I hope) a beautiful August afternoon, it's already going to be aesthetically over the top. And that's without flowers or ribbons or candles everywhere. My best friends are actually doubling as decorations.
In picking out their bridesmaid dresses, I wanted something that looked great on all of them. As I said, they're all drop-dead dazzling but, for instance, Jen is taller and Erin is shorter. Michelle is a redhead, Katherine is platinum, and Lindsey is a dark brunette. Natalie has fair skin, but Katie gets really tan.
With their coloring, size, and height in mind, I went about choosing a bridesmaid dress. Oh, and I also wanted to take price into account. Those dresses can be pretty expensive, and especially because they're just out of college, I didn't want my friends to pay a fortune on something they might not ever wear again.
I started the hunt on the David's Bridal Web site, but I didn't see any I loved. Then I looked at J. Crew and Ann Taylor, which have wedding lines, but I felt theirs were a little too expensive. I looked at Banana Republic, but they were the same there.
Jeanette's, the bridal boutique where I found my wedding dress, also carries a huge assortment of bridesmaid dresses. When my mom went back to find her mother-of-the-bride outfit, I came along and ended up choosing the bridesmaid dress right there.
My girls are all over: New York, Delaware, Missouri. . . . One's in the Washington area, but she's getting ready to fly to California for graduate school. I was worried about them not being able to try on the dress because, well, you know girls and clothes. But I think I found a great one. Strapless with taffeta trim at the top and bottom, cinched in and gathered through the waist, and with a tea-length, A-line shape. With a discount the bridal shop gives for continued business, the dresses cost about $130 each.
Some tips: If you can, order your bridesmaid dresses in person. Trying one of them on and seeing the color, or even a swatch of the color, in person is huge. Online, you can't get a good feel for a dress and the colors are distorted. As for shade, I wanted a deep wine color, and in person I was able to tell that "plum" was closer to the color I wanted than "cranberry." Jill, one of the fabulous bridal consultants at Jeanette's, recommended that I get all of my bridesmaids sizes—by sizes, I mean bust, waist, and hip measurements, dress size, bra size, pants size, and height—and then she could help me figure out what size each girl would be in the particular dress I'd ordered. Belsoie, the bridesmaid designer I picked, runs smaller than other designers. Also, you should order as far in advance as possible. These dresses take several months to get in. Finally, give the girls time to pay. I put all seven dresses on my credit card and told the girls to get me checks when they can.
And there you have it—my best friends' dresses and the ceremony decorations done.
Emily, a Washington bride-to-be, writes every Friday about planning her wedding, which will be in Nashville this fall. To follow her adventures from the beginning, click here.
To read the latest Bridal Party blog posts, click here.