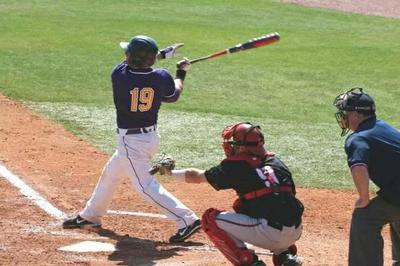 As the office emptied early on the final Friday before The Washingtonian's July deadline began, I hunkered down at my computer to listen to my brother Blake's baseball game. His Lipscomb University Bisons had traveled I-24 East from our native Nashville to Athens, Georgia, for the first round of the NCAA tournament, and I didn't want to miss a pitch.
For Blake, I knew this was as good as it gets. School was out, and his one care in the world was the game.
I leaned closer to my speakers as the announcer called out the starting line-ups. "In left field, Number 19, Blake Bratcher." Got chills—just hearing that name got me thinking back to baseball memories of Blake.
At our tiny house on Moncrief Avenue, the living room was our field, the chairs our bases. Dressed in vintage Nashville Sounds uniforms and Nike wristbands, we pitched an orange Nerf basketball and swung a toothpick-size Louisville slugger with a fake Barry Larkin signature scrawled across the pine. The first time my mother left us at home alone, the bat slipped from Blake's hands and sailed across the room somnambulantly before creasing the wall above the couch. In a flight of fear, we tried to hang a painting over the spot. It was a long while before our parents left us at home again.
I remember waking up late summer mornings, looking out the window at Blake wheeling around the morning yard, glove in air, the shadow of a descending baseball darkening the scrub grass. Even now, I can hear the ding of rocks hitting that old TPX bat we swung in the gravel lot beside our house.
I remember late nights at Moss Wright Park, rushing from practice in the bottoms to the quad just in time to see Blake pitch, his shirttail out, his hat twisted atop his auburn hair, that ardent competitiveness—which often resulted in torn pants, smashed helmets, and dented bats—flaring his freckled face.
How hard did we laugh in my grandparents' field the day my dad crushed Blake's lob over the holly trees right into my aunt's windshield? And how fast did we run for the woods, leaving Dad there to fend for himself?
I remember, years later in Memphis, gripping the chain-link fence beside my dad as Blake stung a fast ball through the gap, part of a breathtaking rally that led to a state championship for Davidson Academy over our archrival, Goodpasture.
More than a brother, more than someone I've been stuck with for life by the Lord above, Blake's been my best friend through it all: new houses, new cities, new relationships, you name it. Upon meeting Emily on New Year's, he shot straight with me: "Marry that girl," he said.
That's not to say we haven't had our squabbles. Once, I trudged up the stairs in muddy shoes after a long night baling hay, and Blake sicked me, shoving me out the door and locking it behind. In a cloud of moths, I turned blindly to pound the door but shattered a window pane instead: Brothers hollering back and forth across a mess of broken glass.
Still, when it came time to pick a best man, it was a no-brainer. After I hung up from asking Blake, he sent me a text­—"I'm proud of you," it said.
When Lipscomb won the Atlantic Sun Conference championship to qualify for the NCAA tournament, I was pumped for Blake but bummed that I couldn't make it to Athens for the big game. Emily and I had our last session of premarital counseling scheduled for Saturday morning—a marathon session on sex, work, and money—a dinner with friends on Saturday night, and a birthday lunch in Arlington for Emily's mom on Sunday.
Too far to drive, too expensive to fly, and all of these obligations—albeit fun ones—like a foretaste of future sacrifices. Still, on Friday I settled into my office, determined to catch the game. I might not be there in body with arms wrapped around family, but I'd be all there in heart.
In the third inning, with a runner on first, Blake hit a home run that parted the kudzu way out beyond the right-field fence. I clapped out loud, teared up, called Emily first thing. She nearly dropped the phone in excitement. Whatever you give up in getting married, you gain tenfold.
Emily, a Washington bride-to-be, writes every Friday about planning her wedding, which will be in Nashville this August. To follow her adventures from the beginning, click here.
More>> Bridal Party Blog | Wedding Guide | Wedding Vendor Search