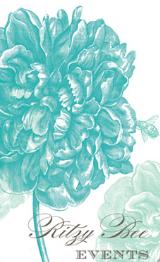 Maria Cooke, creator of Ritzy Bee Events and writer of the Ritzy Bee blog, says her passion for planning started early. She's always been interested in the little details behind events and celebrations. As a girl growing up in Front Royal, she paid close attention to everything from the color of the icing on her birthday cakes to the font on the invitations her parents got in the mail.
Maria has been planning events since 1999, after graduating from James Madison University. She launched Ritzy Bee, a boutique event-planning company specializing in weddings, in 2007. In the past year, she's done weddings all over the area, from the Ritz-Carlton to Meadowlark Botanical Gardens to a quaint art gallery. At a recent wedding, she helped the couple plan a surprise midnight snack: A concession trailer outside served up mini-hamburgers, fries, milkshakes, and funnel cakes for departing guests.
This DC-native blogging planner will answer all your questions Thursday from 11 to noon. Start submitting them now!
More>> Bridal Party Blog | Wedding Guide | Wedding Vendor Search