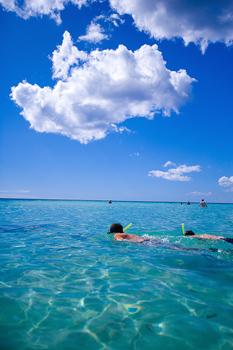 More couples today are getting married later, and many find that their cabinets already are stocked with the traditional registry items. Blender? Check. Silverware? Check. Even a waterproof shower radio? Check. But how about a romantic sunset dinner in Hawaii or a snorkeling trip in Bermuda?
Traveler's Joy is a honeymoon registry company designed to let guests give experiences instead of sheets. Couples create a registry page with activities they'd like to do on their trip. Their guests can visit the registry page and pay for part or all of an activity. Setting up an account is free, and couples can customize it with gift descriptions, pictures, and travel plans. A pair of newlyweds headed to St. Lucia for their honeymoon this month registered for a couples massage on the beach, a windsurfing trip, and a four-hour deep-sea fishing excursion.
The idea for the company was hatched when Brandon Warner met Tony Alexander on a hiking trip in New Zealand in 2003. The two travel enthusiasts started the Wilmington, Delaware-based company in 2004 and expect to have more than 10,000 couples register this year. We asked Brandon a little more about the idea behind a honeymoon registry and what some of the most unusual adventure-gifts are.
How did you and Tony come up with the idea?
We were both tired of giving pots and pans to our friends for their weddings, knowing they were big travelers hoping to honeymoon in an exotic location if only they could afford it. After hearing one of our engaged couple friends mention that they were not going to be able to afford Paris for their honeymoon despite that being their number-one choice, we decided to start a company dedicated to helping newly married couples receive gifts towards their honeymoon.
How does the process work?
We are not a travel agency. Instead, we help couples share their honeymoon plans and provide an easy way for their friends and family to give them a gift towards it. Members customize their registry page and can include a gift-inventory system. They can also break up expensive gifts into dollar increments so several people can help pay for the same gift.
Why are more couples choosing this route?
The demographic of the wedding couple has significantly changed. Typically, people married in their early twenties before they had established a household. As a result, they actually needed the traditional registry items—toaster, silverware, towels, et cetera. As the average age has now increased to 29 for grooms and 28 for brides, the engaged couple is realizing they don't need more stuff. Registering for a honeymoon is just one way for a newly married couple to take their dream honeymoon and start their new life together with one of the most wonderful trips of their life.
What are some of the most popular gifts?
Romantic sunset dinner, airfare, convertible rental, breakfast in bed.
How about the most unique?
A helicopter tour, a zip line over the Mayan jungle, BP gas cards for the beautiful 662-mile drive down the California coast.
How do couples redeem the gifts?
Our members have an account with us that tracks every gift they receive, who it is from, when it was given, and the gift-giver's address. Gifts are sent in the form of a bank check or wire transfer, minus a 7.5 percent service fee.
Some would say asking for monetary donations is tacky.
It all depends on the couple and the family. Registries are becoming a way for the engaged couple to tell people who they are and what is important to them—sort of a lifestyle registry theme. The honeymoon registry allows friends and family to give the gift of memories and experiences. I can't think of a better gift that will last a lifetime.
Tell us what you think!
This story is party of our Bridal Party blog. To read more posts like this, click here.