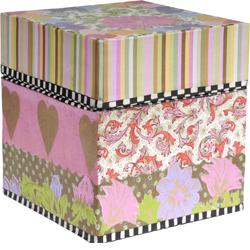 Thursday, July 17: Decoupage Box
Getting married means making a lot of special memories. Need a place to store all the photos, cards, and other sentimental elements of this journey? Paper Source (118 King St., Alexandria; 703-299-9950) will show you how to decoupage a durable craft box and transform it into a colorful work of art. Make it a double date for you and a friend and save 10 percent. $45; 7 to 9:30. RSVP here.
Sunday, July 20: Free Tasting
No plans on Sunday? Head to the beautiful Black Horse Inn (8393 Meetze Rd., Warrenton; 703-204-1800) for an open-house tasting from Better Events Catering. Appetizers such as mango grilled shrimp and mushrooms filled with Argentine spicy chorizo have our mouths watering already. Free; 2 to 6. RSVP by e-mailing info@betterevents.com or click here.
PLAN AHEAD
Thursday, July 24: Bridal Showcase
The Pros Entertainment Services invites brides to enjoy some wine and cheese while they check out DJ, video, and photo options. Head to Dave & Buster's (11301 Rockville Pike, North Bethesda; 301-230-5151) on Thursday to see if the Pros is the right fit for your big day. Get a free ticket here; 6:45.
Know of an upcoming bridal event? E-mail lshallcross@washingtonian.com.
To read the latest Bridal Party blog posts, click here.