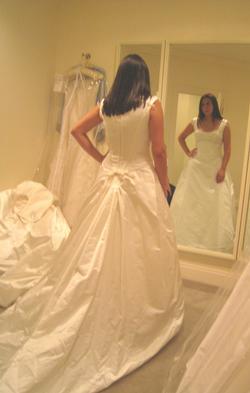 I will admit that even before I was engaged, I loved looking at wedding dresses online and in magazines (who doesn't, really?). After visiting a bridal salon for the first time last month, I can safely say that I am completely obsessed with wedding-dress shopping. The dresses are even more beautiful in person than they are in pictures. With every dress I put on, the words "Oooohhhh, I love this one!" come out of my mouth. I have no idea how I'm going to choose one.
The first salon I went to was Hitched in Georgetown. Five of my girlfriends and I arrived there after sipping mimosas at brunch. Luckily, we had a dressing room in the back, because the excitement level (and noise level) was high. One thing to note: Do not bring people along who you wouldn't want to see you half naked in underwear and a corseted strapless bra. Also, always ask beforehand if the salon will let you take pictures—Hitched doesn't.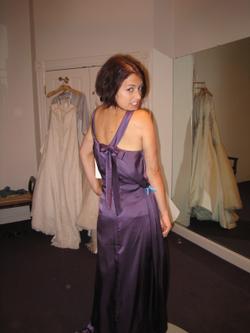 When I came out in the first dress, the girls screamed so loudly that a sales associate rushed over, convinced someone had injured herself. I didn't find anything I really loved, but I had so much fun that I promptly called my mother to schedule several more appointments. The conversation went something like this:
Dad: "Hello?"
Me: "Hi, Dad, I need to talk to Mom—it's an emergency."
Dad: "Is it a wedding emergency?"
Me: "Yes—where is she?"
We scheduled appointments for the next couple of weeks and had a great time going to Carine's, Promise, Priscilla of Boston, and Saks Fifth Avenue. I still have no idea how I'm going to choose a dress because they are all so pretty, but I'm having a ton of fun looking. I do really like this Carolina Herrera from Saks. My mom thinks I like it only because it was a bigger sample size and therefore actually zipped. Why do they make wedding dresses run twice as small? Most samples sizes are 8 or 10, which is 4 or 6 in regular clothes. This dress was a 12.
This weekend, my maid of honor is coming to visit, and we're going to Hannelore's with my mother. This had better be the last place we visit, because if I don't cut myself off, I'll go to every salon in the Washington area, and we just don't have time for that. Besides, I have to move on to choosing bridesmaid dresses! I fell in love with this purple Melissa Sweet dress, modeled by one of my bridesmaids, Jillian. She seemed to like it as well, thankfully. I hope the bridesmaid dresses will be easier to pick out than the wedding dress. Decisions are the worst!
Eleni, a local bride-to-be, writes every Wednesday about planning her wedding, which will be in Washington in the spring.