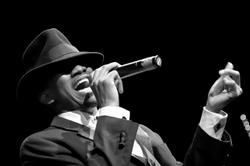 There are certain things that you make mental notes of when you attend weddings, even before you're engaged (or is that just me?). I was a bridesmaid in a wedding two summers ago where the bride and groom had a band during the reception. There was so much energy and a ton of dancing, and Ron and I had a really great time. We agreed then that we should have a band at our own wedding.
One of my bridesmaids and best friends from college, Annie, works at a law firm here in DC, and she recommended Washington Talent Agency—her firm sometimes books DJs and bands through it. Also, a friend of mine from work had just been to a wedding with the band Black Tie, and she couldn't stop raving about it. Once I did some research, I saw that Washington Talent actually books Black Tie. Perfect.
So I called Washington Talent and started talking with an agent named Chuck. One thing I was concerned about was that the band might be too big for our reception space. The room in the Hay-Adams holds only 120 people and has low ceilings, so I wanted to make sure the band wouldn't be overpowering. Chuck listed a few of Washington Talent's smaller bands, one of which was Black Tie. The bands audition once a month for anyone interested in booking them, which I think is great because then you don't have to run around to hotels crashing weddings or bar mitzvahs just to catch a glimpse.
Because Ron lives in Philadelphia and the Black Tie audition was on a Monday, I brought Jillian along for a second opinion. In case you haven't noticed, I don't like to do things alone. The audition started at 8 PM and of course we arrived (fashionably?) late at 8:10, but lucky for us, it hadn't started. We met Chuck and went downstairs to the studio. Also, let me point out that the crowd consisted of five engaged couples plus me and Jillian.
I loved this band right away. The emcee/guitarist was very nice and down to earth, which I think is important because this is the guy who's going to announce, "Mr. and Mrs. Ron Burgundy!" at my wedding and I don't want him to be a big cheese. Also, one of the lead singers does a phenomenal version of Michael Jackson's "Don't Stop 'Til You Get Enough," and Journey's "Don't Stop Believing" is also on its song list. Sold.
My mom is not quite as spontaneous as I am, so she convinced me to listen to some other bands before making a decision. I went back twice—once with Annie to hear a band that had an awesome name but not such an awesome play list and once with Jillian and my mom to hear a band that had serious potential—until we heard the middle-aged male vocalist with a ponytail rap Jay-Z's part in "Crazy in Love."
So I went back once more with my mom and Ron to hear Black Tie. Ron loved them too, and my mom agreed to it as long as we could make sure the music and dancing don't get too raucous (her word). Sounds like a plan!
Once we get closer to the wedding date, we can look at the band's newest playlist and pick a few "must-plays" for the reception. Journey is one of my essential must-plays, and Ron is demanding some Neil Diamond (which is fine by me, of course). What would your must-plays be? Any recommendations?
Eleni, a local bride-to-be, writes every Wednesday about planning her wedding, which will be in Washington in the spring. To follow her adventures from the beginning, click here.
To read the latest Bridal Party blog posts, click here.