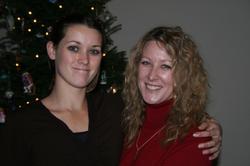 Little girls dream of their wedding day. But moms also dream of their little girl's wedding day. When I found out my daughter was going to be engaged, I already had my own vision of what she would look like as a bride. That vision is not far off (in my mind) from how she looked as a flower girl when she was four years old. As it turns out, my vision of my daughter as a bride differs from my daughter's vision of herself as a bride.
My daughter's boyfriend asked my husband and me for our blessing a few weeks before he proposed. He brought the ring and showed it to us. He told us, "I love her to death—she's the one." He also told us he hadn't been sleeping very well the previous few nights in anticipation of talking to us. Although my daughter had expressed her suspicions that he was going to propose, I couldn't talk to her about it until it was "official." So, to avoid letting anything slip, I didn't talk to her much during those interim weeks.
As a flower girl she wore a white dress, ballet slippers, and baby's breath in her hair, and my view of her as a bride is a grown-up version of that. I picture her wedding dress as a super-fancy sundress, tea length, with a scalloped hem. I see her being barefoot and think her hair should be down in loose ringlets with flowers in it. Oh, and the intimate ceremony should be in a field under the shade of a big tree—something like the tree in Forrest Gump.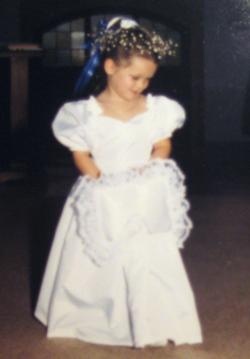 But what is her vision? First, you should know that although my daughter is gorgeous with delicate features, has a petite build, and is extremely feminine in appearance, she has another side to her. When she was little, I dressed her in frills and ruffles with bows and ribbons in her hair for as long as I could. But as soon as she could dress herself and was selecting her own outfits, she was in jeans and T-shirts. She rides a motorcycle and drives a 525-horsepower truck. She has worn a few dresses since she was eight, I guess. But only a few times for graduation, weddings, or special occasions—and usually under protest or in discomfort. So just getting her into a wedding dress I thought would be our first challenge. I thought for sure she would be asking, "Is it okay if I just wear jeans?"
When she showed me the binder she had put together for wedding planning, I was surprised to see pictures of extremely elaborate gowns she had ripped from pages of magazines. From just looking at pictures, she has already decided she wants bright-white spaghetti straps, a low back, and a skirt with what I've learned is called pickup gathering. Who would have guessed that my shy little tomboy would want a super-fancy dress?
We're in the early stages of planning, but already I've learned that we're going to have different ideas as we maneuver through the planning process. My goal is to help her make her vision of the day come true—when you're the mother of the bride, her vision is your vision!
More>> Bridal Party Blog | Wedding Guide | Wedding Vendor Search