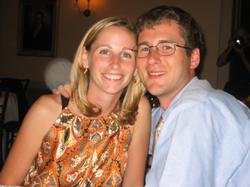 It was the day before Katie Frank's birthday, and her boyfriend, Mark Fallet, was being vague about their plans for the evening—dinner and a "surprise" activity, he told her. "Knowing Mark, I thought it was way too obvious of a tactic to propose," says Katie, 28, a project manager at Computech.
Perfect. Katie was clueless, and Mark, 28, was ready.
The pair, who met through a mutual friend in 2003, went to dinner at Jaleo, a favorite spot of theirs. After tapas and a bottle of wine, they hopped into a cab and Mark, an electrical engineer, disclosed their plan for the rest of the night. They were heading to the Kennedy Center, where they'd hear the symphony perform. But before they took their seats, Mark suggested they first take in the Washington sights from the roof terrace.
"It was there, looking at the panoramic view of the city, where Mark got down on one knee and proposed," Katie says. "I was shocked, overwhelmed, and bursting with joy!" But the shock wasn't over just yet—Mark had one more trick up his sleeve.
As they stood on the roof terrace, elated with their engagement, Mark confessed to Katie that he had left the symphony tickets at home—they would have to go back to pick them up. "Upon opening the door," Katie says, "I was greeted by my family, his family, and our close friends all huddled in a corner yelling, 'Surprise!' " Katie's family had flown in from St. Louis, Mark's had come from New Hampshire, and their close friends joined in for the event.
"That day, while I was lounging at the pool, Mark and his loyal friends cleaned his house, put up decorations, and cooked dinner for 50 people," Katie says. "It was the best birthday ever and a proposal that exceeded all my dreams."
When: Saturday, September 27, 2008.
Where: The ceremony will be held at Epiphany Catholic Church, the reception at the Hay-Adams.
Wedding colors: Red, chocolate brown, and gold.
Food: The first course is butternut-squash soup with apples and walnuts. "It might be the best thing I've ever tasted," Mark says. "Unfortunately, it will be served in a fancy little espresso shot glass with a handle. It's like two teaspoonfuls." Not to worry, Katie says. "There are lots of other courses so folks are sure to be full. Mark's appetite is bigger than most."
Cake flavor: White chocolate and raspberry.
Music: The Johnny Artis Band.
First dance: "Sweet Thing" by Van Morrison.
Honeymoon: "Heck, yes!" Katie says—in Hawaii.
How they met: Mark was living in New Hampshire at the time and came to visit a friend in DC, who also happened to be a friend of Katie's. They all went out to Adams Mill Bar and Grill in Adams Morgan, and Katie and Mark hit it off, enough to chat occasionally on the phone after that. But they soon lost touch. "A year and a half later, I went to a party, which ironically happened to be at Mark's house," Katie says. "The weekend before, he had moved to DC. We started dating, and the rest is history."
First date: Dinner at Il Radicchio in Arlington. "I had seen the restaurant and thought it looked like a cute, cozy Italian diner," Katie says. "Well, reality was a different story." Mark and Katie had mediocre food and an aggressive waiter. They brushed it off and laughed about it together, then headed back to Katie's to watch a Bollywood movie called Rangila. "Four hours later, we decided to turn it off and agreed that Bollywood wasn't really our thing. So we've got that in common, which is nice," Mark says. "All in all, I would say it was the kind of first date that people dream about."
First impression: "She was very attractive and a good conversationalist," Mark says. "She also seemed to like me a lot, so I knew she had good taste."
"I don't want to go so far as to call it love at first sight, but there was definitely a spark when I first met Mark," Katie says. "I thought he was incredibly attractive with a great personality. What a catch!"
Silliest fight, Katie's side: "One year, my company holiday party landed on the same night as a big Patriots game. Mark pleaded and came up with every excuse to get out of escorting me to my company gala. In the end, Mark attended the company party, but we compromised…the event site had a TV, so periodically he would sneak off and get updates on the score. I realized there were plenty of other male attendees doing the same thing."
Silliest fight, Mark's side: "She gets pretty upset when I intentionally wear ugly ties. She usually tells me to change. And they're not even ugly. I think we can all agree that a pink-and-orange tie can be a nice complement to a red shirt."
Most romantic gesture: "She bought me a beautiful Craftsman toolbox for Christmas a few years ago," Mark says. "It's got ball-bearing drawers. That's not just romantic, that's sexy."
When Mark knew they were meant to be: "When I asked her to marry me, she didn't say no. I think I knew right after that."
Favorite date spot: Hiking in Great Falls during the day, Katie says, and going to shows at the 9:30 Club at night.
"We do sushi and a movie every now and then, but let's be honest here," Mark says. "I'm doing an interview about being engaged, so in my eyes I've got a free pass to be as cheesy as I want. So I'm going to go with 'as long as we are together, it doesn't matter where we are.' That's what love is all about."
Sweetest nickname: "Marky," Katie says. "Although I'm not sure if he really likes it."
Worst nickname: "Hungry llama," Mark says. "I don't know what it means, but I think it's pretty rude."
What people would be surprised to know about Mark: "He enjoys relaxing by taking baths," Katie says.
What people would be surprised to know about Katie: "She hates condiments," Mark says. "All of them."
We'll be running new Save the Date columns every Tuesday that showcase fun local couples that are getting married. Are you getting married—or know someone who is? We'd love to hear from you. E-mail lshallcross@washingtonian.com with a love story you think is worth telling.
Want more Save the Dates? Read them here.
To read the latest Bridal Party blog posts, click here.