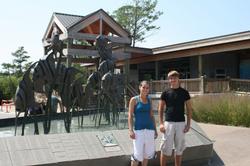 When Tiffany was first engaged this spring, she said it would be a May 2010 wedding. Perfect, I thought. That's plenty of time for planning. But within a few weeks of the engagement, the couple decided they wanted to aim for a May 2009 celebration. In that case, we needed to get busy!
After several weeks of visiting prospective locations, not a single one has been right. Are we too picky? Unrealistic? Why is the right place so hard to find? What's missing? Tiffany and Mike have a few requirements, naturally, but nothing that's outrageous. They have a first choice for the date but are willing to be flexible for the right place. They prefer to have the ceremony and reception at the same site to save guests from possibly getting lost. They'd like an outside ceremony, but the location must allow for a plan B in case the weather isn't favorable. Above all, it has to feel right. The location has to be reflective of Mike and Tiffany as a couple. It has to suit them and meet the logistical requirements.
In a single week, we scouted three vineyards, three county sites, two restaurants, two manors, and a community center. It was our busiest week, but there have been several other site visits, and Tiffany has been to just as many on her own.
She liked one vineyard a lot—it was out in the country on a hillside and was really pretty. The facility was the perfect blend of rustic and elegant. But it had one major drawback: The parking was horrible. I mean disqualifyingly (is that a word?) horrible. Parking was a quarter-mile down an unlit, gravelly, hilly driveway. There was no way to make it work.
Another place was perfect. It was a big, gorgeous manor in a great location. It had several outdoor spots ideal for a ceremony and also had an indoor option in case the weather was uncooperative. It had plenty of convenient parking. However, it wasn't available on their date or any date within several months. We learned that the really great places go fast, and we're a bit behind the time curve.
We found a secluded family restaurant that was really sweet, and the setting was fabulous. But it wasn't quite big enough to accommodate us—we are blessed with a big family.
Tiffany has looked at a few bed-and-breakfast sites that could work well, and she checked out a few manors on her own. She and Mike went to several vineyards together. But there was something not quite right about each of the venues they considered. The clock continued ticking . . . .
Let me pause here and say that everything depends on the venue. Invitations—to where? Flowers—how many? Even the style of the dress depends on the setting. We're ready to get moving, but without a venue we're in total wedding-planning limbo. At the outset of the location search, I felt that the right place would present itself. I was growing less optimistic each time a spot was disqualified. Would they ever find a place? Will they have to change their date to get a place they really want?
As I saw the frustration in Tiffany grow, I started recommending alternatives. They could go on a cruise and get married at one of the port calls. I suggested a destination wedding in the Virgin Islands or Vegas. They could have a quasi-destination celebration in southern Virginia. They could wait until 2010. They could get married on the stairs of the courthouse and then have a lovely luncheon across the street. I tried to emphasize that their wedding could be anything they wanted it to be.
Once Tiffany began thinking outside the box, she really started having fun. At one point she was considering a Vegas wedding with Mike dressed as Elvis and Tiffany as the pink Power Ranger. She asked me if it would be too much to schedule it the same week as the world monster-truck finals. "Sure, honey," I told her and the "battle of the banjos" could be her wedding march, too. She was sort of kidding about the Vegas/Elvis/Power Ranger/monster-truck wedding. But only sort of. I knew we had to pin down a venue fast!
Last Saturday morning, I woke up to the phone ringing. She had an idea . . . no, she had the idea: the aquarium. One short game of phone tag later, we secured a great location at the North Carolina Aquarium at Pine Knoll Shores. It is available on their date. It is the perfect venue for Tiffany and Mike as a couple, and it also meets the logistical requirements. With this settled, they can breathe a sigh of relief.
And now the real fun can start! Invitations, cake, caterer, dresses!
Amanda, a local mother of the bride, writes occasionally about helping to plan her daughter's wedding, which will be in the spring.
To read the latest Bridal Party blog posts, click here.