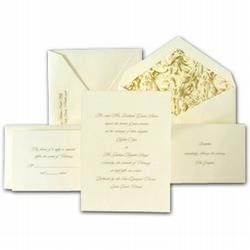 On Sundays in fall, a lot of people think football (my fiancé included). But now I think weddings. So one Sunday afternoon last month, my mom and I decided to meet at Tysons for a day of wedding research. Our primary goal was to check out invitations at the Crane & Company store, but once we got there we of course got distracted and wandered around the mall. We ended up in the DeBeers store, where I proceeded to try on almost every wedding band they had (for fun, of course—just to get some ideas).
When we did manage to make it to the Crane store, we met with a sales associate, Marisa, who also happened to be engaged. We started by looking through three large sample books.
I didn't realize how many elements there are to the invitation: ceremony invitation, inner envelope, outer envelope, reception card, RSVP card and envelope, and a card for directions. We'll also need to include a brunch invitation, because we're having a brunch the morning after the wedding at the Hay-Adams for our out-of-town guests (of whom there will be about 90). Don't even get me started on the menu cards—let's just say there are more options for those than the Hay-Adams offers for dinner choices.
I knew going in that I wanted a fairly traditional invitation. I think the invitation really sets the tone for the wedding, so I'd like it to be simple and elegant. When I first imagined my wedding, I envisioned everything in purple. After thinking about it, I realized that too much purple is probably not the best idea.
Many of the sample invitations were printed in purple ink, but my mom and I thought they didn't look quite as formal as we wanted. Ron said that although he doesn't really care what the invitations look like, he'd rather they not be purple. Point taken. The bridesmaid dresses are dark purple, so I think that's probably enough, along with some purple accents (such as the favor boxes). I'm thinking about going with a simple white invitation printed in gold ink.
Next decision: printing. My mom and I learned quite a bit about the three types of printing that Crane offers:
1. Engraving: A metal die filled with ink is used to create a raised effect with indentations on the reverse of the invitation. You also get to keep the die used for the engraving.
2. Thermography printing: It's a great alternative to engraving; it's similar in appearance but considerably less expensive. In thermography, a special powder is added to the ink. The invitation is heated and the powder-and-ink mixture dries to form a raised effect on the paper.
3. Letterpress printing: Ink is applied to the raised portions of a metal or hard plastic printing plate, and the type is indented onto the invitation.
We spent an hour and a half with Marisa, who was incredibly helpful. She pointed out how the ink colors can vary with each printing type. For example, with engraving the gold ink was a darker metallic, but with thermography it looked lighter and shinier. Crane has a very handy book which shows each ink color printed in engraved, thermography, and letterpress, so you can see and feel how they differ.
We also learned that Marisa does calligraphy, so I put her card in my Martha Stewart Wedding Planner (I highly suggest it for any bride!), and we'll probably be calling her when it comes time to address the invitations.
I still haven't made any final decisions about the invitations, but we don't need to order them until January, so there's still plenty of time. Crane also has some really nice do-it-yourself ceremony programs that we're considering.
There are just so many options out there! I'm also planning on going to the Dandelion Patch in Reston and looking at the invitations it carries, since I found a 15-percent-off coupon in one of the local wedding magazines. I'd highly recommend going to the Crane store, though, for a good look into the very detailed world of wedding invitations!
Eleni, a local bride-to-be, writes every Wednesday about planning her wedding, which will be in Washington in the spring. To follow her adventures from the beginning, click here.
To read the latest Bridal Party blog posts, click here.