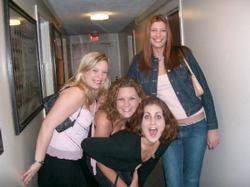 No matter how many attendants you decide to have stand by you during the most important day of your life, you're inevitably going to hurt someone's feelings by not including them. My fiancé, Andrew, is handling the awkwardness by not making any decision on his groomsmen until 2009. And if I know my Andrew, he'll probably wait until about two weeks before the wedding to make a final decision. But I wanted to include my bridesmaids in the early planning process, such as checking out venues, sampling caterers, and of course, trying on as many dresses as possible.
I wanted my bridal party to represent not only the different stages of my life but the different stages of my relationship with Andrew. We've been together five years now, so there's plenty of people who've seen us through the first kiss, the first apartment, the first pet, and all the rest of the firsts we've experienced together. The choice for maid of honor came pretty easily—I've been friends with Stefanie since I was 18 months old. Her mother was my daycare provider, and we spent our entire lives growing up together. Even though she was in New York City for most of Andrew's and my relationship, she's probably the one person not related to me who has truly been involved in every important life stage I've experienced.
I looked at the first year of my relationship with Andrew, which was my senior year of college. I had an incredibly close bond with three of my sorority sisters, and they all helped me through the transition of flirty sorority girl to madly-in-love romantic. Even after we scattered throughout the East Coast after graduation, I knew Liz, Dez, and Ali needed to be on the altar next to me.
After settling down in Virginia, I found myself struggling to find a balance between my relationship with Andrew and keeping a personal social calendar—and that's how Jessie bounced into my life. She's not only the most reliable and helpful person I've ever met, but she's one of the only people who have understood the challenge I have being in a relationship and yet trying to stay independent.
As I found that healthy balance, Erin came into my life. She and I had been roommates back in college during our semester in New York City, and we'd tried to stay in touch since our crazy Manhattan days. But when Erin decided to move to DC two years ago and began dating one of my closest friends, she instantly returned as one of my best girlfriends. Both Erin and her boyfriend, Mike, know all the aspects of our relationship, and they're the ones who set up Andrew's proposal while he took me out to dinner. Finally, I wanted to include a part of my future, represented by Andrew's younger sister, Tara. She and I have a lot in common, and she's definitely an ally at the large family functions when Andrew scurries off to play with the big boys.
So now I've decided on my bridal party—but how do I go about asking them to be a part of it? I've seen in the bridal magazines these little trinkets that you can mail to the girls, with the words "Will you be my bridesmaid?" artistically designed in lace and floral. But that's so unnatural for the relationship I have with my friends. So I handled it the way I felt the most comfortable: I didn't ask. During the various weekly conversations I have with each of my friends, I just slipped something in where I referred to them as one of my bridesmaids. When they questioned the reference, I nonchalantly reply, "Well, of course you're a bridesmaid!" No sappy moments, no exchange of sentiments, just a cut-and-dried realization that I wanted them to be there.
I feel 100 percent confident in marrying Andrew, although I'm sure on the big day I'll feel a bit overwhelmed by the flurry of activity. But with this group of ladies by my side, I know that nothing's going to happen that we can't just laugh away.
Lisa Marie, a local bride-to-be, writes every Friday about planning her wedding, which will be in Washington in July. To follow her adventures from the beginning, click here.
If you like reading about Lisa Marie, make sure to check out our other blogging bride-to-be, Eleni, who writes every Wednesday. Follow her adventures here.
To read the latest Bridal Party blog posts, click here.