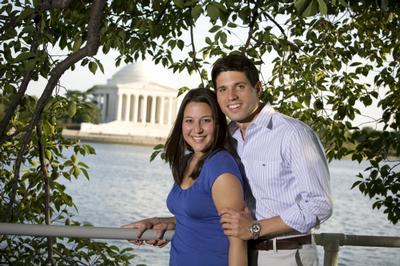 Meet Eleni Garbis, our new Washingtonian wedding blogger! Stories about her engagement and wedding planning will be posted every Wednesday on washingtonian.com.
Since I got engaged in March, my best friend and maid of honor has started asking me, "What are we going to talk about after your wedding is over?" or "What did we even think to talk about before you got engaged?" I've been thinking and talking about the wedding pretty much every day. All brides-to-be do, right? (Say yes. Please say yes.) One of the best things about being engaged is sharing the planning with my family and friends. It's just so much fun.
A little background: My fiancé and I met at Ithaca College in 2002—I was a junior and he was a senior. He was kind of a big deal, in charge of the news at the college TV station, so it took him three months to ask me out on a date. We officially started dating two years later, when I was living in Los Angeles and he was working as a reporter for a TV station back east. It was a very long-distance relationship! Now he works as a reporter in Philadelphia (let's call him Ron Burgundy), so I'm planning to move there later this year.
We got engaged while we were on vacation in Aruba. For months leading up to the engagement, I earned the title "marriage bully" in our group of friends. I have no comment about this. I knew we would be engaged soon enough (I guess with all the bullying, he knew he needed to propose sooner rather than later), but I did not expect it in Aruba. I rummaged through his suitcase the morning before our trip and texted my best friend, "no ring," to which she responded, "you're awful."
Turns out, he had hidden the ring in my kitchen. I never go in there, and he knows it. He proposed the first night we arrived, as we were walking by the beach. It was quite romantic. He bought a calling card so we could talk to our parents and a few friends, but the card didn't work and we ended up paying $60 for four phone calls.
For now, I'm living in DC, working at a PR firm in Georgetown, and planning a wedding for next spring. I am originally from Northern Virginia and Ron has family here as well, so it was a no-brainer to get married in DC. Ron has agreed to marry me in the Greek Orthodox Church, even though he's not Greek (thanks, dear). We looked at several hotels in the area and decided to have the reception at the Hay-Adams because it's elegant, romantic, and perfect for a small wedding. We also love the fact that the cocktail hour will be on the rooftop terrace, overlooking the White House. The view is amazing!
After Ron and I decided on the Lafayette Dining Room for the actual reception, I went with my parents to have dinner there, get the official "OK," and meet with Beatrice Kustarz, the incredibly nice catering executive at the hotel. Wedding planner Mindy Weiss happened to be at the hotel that night, doing a book signing for her new "wedding bible." She gave me a free copy and signed it! This book is amazing. I told Ron that it was 600 pages all about wedding planning and he responded, "That's ridiculous." Boys do not understand.
We've already chosen a photographer (Steve Canning—he did our engagement photos, too) so the next thing to do . . . dress shopping! I think I've waited long enough!
Eleni, a local bride-to-be, writes every Wednesday about planning her wedding, which will be in Washington in the spring.