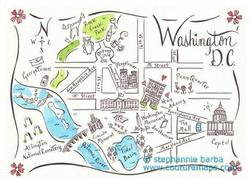 It seems like Ron and I got engaged just last week—I can't believe it's been seven months already! We're enjoying living together, and I've been settling into my new job as an account executive at an advertising/marketing agency just outside of Philadelphia.
With the move to Philly, I haven't had much time for wedding planning, but the good news is that two girls on my account team at work just got engaged—one two weeks ago, the other this past weekend. They both have gorgeous rings that are so sparkly I can hardly concentrate on work. Because you already know how much I love talking about weddings, these two engagements have started to provide for a lot of fun conversations (in between important meetings and projects, of course).
The one thing wedding-related that Ron and I absolutely had to do last week was finalize the guest list because it was time to mail our save-the-dates. Narrowing down the guest list was so painful, I can't even tell you. I'd been avoiding the subject for weeks. I knew I had set myself up for disaster by choosing the smaller room in the Hay-Adams for the reception. I just liked it so much better than the hotel's traditional ballroom (and so did my mom, Ron, and two of my bridesmaids, whom I sent to scope it out). The one we chose is a brighter, L-shaped room with lots of windows, but the maximum capacity is 120 people. So Ron and I are inviting exactly 120 people.
The guest list changed quite a bit from when we originally sat in our hotel room in Aruba and started scribbling names. Ideally, we wanted to keep the guest list down to 110, because we're having a five-piece band and don't want the room to be too crowded. Wedding planner Mindy Weiss says in her book that approximately 10 percent of guests will RSVP "no," so we figure we'll have a final number of around 110 anyway.
So we finalized the guest list, gathered addresses, and sent our save-the-dates yesterday! Back in January, my mother gave me the winter edition of Town & Country Weddings. No, I was not engaged at the time, but my mom subscribes to Town & Country, and twice a year it does a wedding issue. As I was flipping through the magazine, I saw an article about the most adorable save-the-date maps by an artist named Stephannie Barba. A graduate of the Parsons School of Design, she creates a one-of-a-kind map based on your wedding location and information about you and your fiancé. I ripped the page out of the magazine and set it aside.
Once it was actually time to choose save-the-dates, I went to the Web site and filled out an estimate request. Barba is incredibly busy (she's already booked through June 1, 2009), but luckily I made it onto her waiting list right away. She started working on our maps in September, and the whole process took about eight weeks. I mailed her a printed Google map of Washington and noted places that we wanted her to highlight on it, such as our church, the hotel, the Washington Monument, American University, and Lauriol Plaza. She does beautiful calligraphy and also adds hand-painted colors to each map. It seemed a bit odd at first, but we communicated the entire time through e-mail. I haven't once spoken to her on the phone! She scanned copies of her sketches, and I e-mailed back with my comments and suggestions.
I think save-the-dates are a great opportunity to do something more casual before the formal invitations are sent, so I'm really happy with the way ours turned out!
Eleni, a local bride-to-be, writes every Wednesday about planning her wedding, which will be in Washington in the spring. To follow her adventures from the beginning, click here.
If you like reading about Eleni, make sure to check out our other blogging bride-to-be, Lisa Marie, who writes every Friday. Follow her adventures here.
To read the latest Bridal Party blog posts, click here.