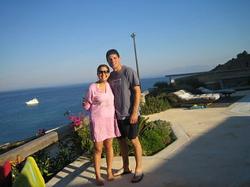 Ron Burgundy here, and I'm guest-blogging with a honeymoon-news update.
Breaking news: Honeymoon delayed until early fall 2009.
Tonight we have word that the engaged couple is rumored to be planning a trip to Europe after a brief stop on Maryland's Eastern Shore. Sources say there might possibly be a stay at George Clooney's Lake Como mansion. (Just kidding!)
Okay, okay. I promise those will be the only two paragraphs I write in the style of an overly urgent cable-news update. Eleni and I will officially be honeymooning in Europe next fall. Right after the wedding, we're planning a two-night stop on the Eastern Shore.
First, the background:
Until a few weeks ago, Eleni and I planned to spend the first week of our wedded bliss in the Caribbean. What's better than hot sun, white sand, and perfectly blue skies? Among the locations we considered: Antigua, Turks and Caicos, Barbados, Nevis, and the US or British Virgin Islands. We initially wanted to splurge and stay at a really nice hotel—and several of them have packages designed just for honeymooners. For suggestions of great places to stay, I recommend Forbes Traveler and of course Frommers, always a nice jumping-off point for travel information.
We decided to change plans, however, for a few reasons. First, both of us thought it might be difficult to take off about ten days in a row (a few days before the wedding, the wedding weekend, and then a week immediately following) because both of us are relatively new in our jobs. Second, we've been to the Caribbean together twice now, including the trip to Aruba when I proposed. And finally, we figured that waiting until September would give us even more time to save money.
So we've decided to take a quick, 48-hour relaxation trip immediately following the wedding, and there's probably no more convenient place for that than the Eastern Shore. Basically, we're just hoping to spend two days and nights doing nothing but looking at the water and eating some great food. (Can anybody say crab cakes?)
There are a couple of places we're looking at. St. Michaels is the obvious destination (the Inn at Perry Cabin, where Wedding Crashers was filmed, is supposed to be amazing), but I've also read great things about Tilghman Island and Rock Hall. If anybody has other suggestions on where we could get away for a couple of days, please let us know.
The official honeymoon will come in September. Eleni's cousin has a home on the Greek island of Mykonos—a spectacular part of the world, to say the least. The two of us had the privilege of visiting her family in Greece in August 2006. It's difficult to describe just how striking the scenery is on the Greek islands. The blue sky stands out in stark contrast to the sandy landscape and bleach-white houses—perhaps surpassed only by the true cobalt color of the water. You can see into the Aegean Sea as far as light penetrates. For someone who has grown up swimming in the Atlantic Ocean (shout out to Ocean City, New Jersey!), it's an entirely foreign experience to swim in water where you can see fish at your feet.
Eleni's cousin has graciously given us the use of her home for a few days in September, which certainly takes away the sting of the higher cost of traveling to Europe. (Let's hope that Euro keeps getting closer to the dollar in value.) So Greece will make up the second half of our European getaway.
We both also really want to go to Italy (apparently, a lot of newlywed couples do as well; I was told it was the number-one honeymoon destination last year), and because it's not too far from Greece, it's the perfect complement to our trip. At this point, we'll likely spend four or five days in Italy followed by an equal amount of time in Greece.
Obviously, we won't be able to see all that Italy has to offer, so we plan to pick just one destination and stay there. We're thinking somewhere in southern Italy where we can do a little sightseeing­—and the emphasis is on little—but spend most of our time simply enjoying the culture, food, and scenery. I've heard great things about Sorrento, Capri, Sicily, and the lake region. Any suggestions would be greatly appreciated.
That's the latest on the honeymoon front for now—my little contribution to planning the wedding festivities. Look for another honeymoon update from me once our plans are more finalized—and also an update on our rehearsal dinner.
Eleni, a local bride-to-be, writes every Wednesday about planning her wedding, which will be in Washington in the spring. To follow her adventures from the beginning, click here.
If you like reading about Eleni, make sure to check out our other blogging bride-to-be, Lisa Marie, who writes every Friday. Follow her adventures here.
To read the latest Bridal Party blog posts, click here.