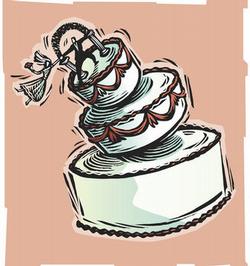 Thursday, December 11: Storewide Sale at Rizik's
Every Thursday evening from 6 to 8 during December, Rizik's (1100 Connecticut Ave., NW; 202-223-4050) is offering 10 percent off all merchandise. The boutique's bridal collection features gowns by Lazaro, Rivini, and Adele Wechsler, among others. Appointments are suggested.
Thursday, December 11: Amsale Bridesmaids Trunk Show
In a world of too many boring, unflattering bridesmaid fashions, Amsale seems to know a thing or two about how to change that trend. The Amsale trunk show today at Hitched (1523 Wisconsin Ave., NW; 202-333-6162) offers brides and bridesmaids the chance to try on and model selections from the new 2009 collection, such as supportive taffeta gowns and modern, colorful jersey dresses. Bridesmaids who purchase during the show get 15 percent off. Free; 5 to 8 PM.
Note: Hitched will also host a trunk show of Modern Trousseau bridal and mother-of-the-occasion gowns from Friday, December 12, through Saturday, December 13.
Friday, December 12, through Saturday, December 13: Kirk Kara Trunk Show
A third-generation fine jeweler, Kirk Kara comes to Leesburg this weekend for a trunk show at White & Ivory Diamonds and Fine Jewelry (2 Cardinal Park Dr., SE, Suite 201B, Leesburg; 703-669-1100). The show will feature a full line of the designer's intricate diamond bridal rings and other fine jewelry. Free.
Saturday, December 13: Fluffy Thoughts Cake Tasting and Demonstration
You'll enjoy this dazzling cake-decorating demonstration by Lara Stuckey, the local woman behind Fluffy Thoughts Bakery. At Bloomingdale's in Chevy Chase (Bridal registry, third floor, 5300 Western Ave., Chevy Chase; 240-744-3700), Stuckey will demonstrate the wedding-cake-decorating process (such as how to make those pretty sugar flowers), and—most important—will offer a selection of her cakes for brides and grooms to taste. Samples will include a white cake with passionfruit-and-blackberry buttercream icing and a chocolate cake with chocolate-hazelnut buttercream icing decorated with caramelized hazelnuts. Free, noon to 4.
Saturday, December 13: Carey's Cuisine Cake Tasting
Meet the bridal consultants of Carey's Cuisine (4311 St. Barnabas Rd., Temple Hills; 301-899-3885) to design your perfect wedding cake. An assortment of cake and icing flavors will be available for you to mix and match. Choose from fillings such as lemon, vanilla, and almond, with icings from strawberry mousse to buttercream. If you book the cake company at the tasting, you'll get $50 off orders of more than $300. RSVP required, and there's a limit of two guests per party. Free; 6 to 7 PM.
To submit a bridal event, email lshallcross@washingtonian.com.
More>> Bridal Party Blog | Wedding Guide | Wedding Vendor Search