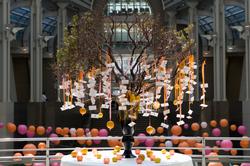 Move over white—green weddings have arrived. More and more couples today are taking the environment into account when planning their nuptials. But what's ecofriendly and what's not? And where should you even begin?
Enter environmentally friendly wedding planner Katie Martin, owner of Elegance & Simplicity Wedding & Event Designers. She knows a thing or two about planning green weddings—in fact, she's writing a book about it. Martin, a native Washingtonian, has planned about 3,500 weddings since starting Elegance & Simplicity ten years ago. In 2001, she added floral design to the company's list of services, and now offers everything from planning to lighting to stationery.
Martin estimates that about half of her brides ask for help in planning ecofriendly weddings. But even those who don't ask get greener planning practices. Martin and her team, who were chosen by the Audubon Naturalist Society as one of the area's best ecofriendly event planners, drive fuel-efficient vehicles and order flowers from growers who use environmentally friendly herbicides.
From the location to the catering right down to the dress, Martin's full of ideas for making your wedding greener. She's coming to The Washingtonian for a live chat on Thursday. Submit your questions now—about green weddings and anything else—and Martin will answer them from 11 AM to noon on Thursday.
More>> Bridal Party Blog | Wedding Guide | Wedding Vendor Search