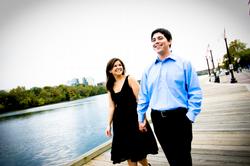 For their two-year anniversary in March, Missy Eng and Brian Hyatt, both 26, decided to celebrate with a dinner at the Inn at Little Washington, where they had gone on their first anniversary. Brian made the dinner reservation, booked a room at the Foster Harris House down the street from the inn, and mapped out a scenic route to get there.
Missy, a health-information-technology consultant at CGI, and Brian, a technology consultant at Versivo, met in 2005 when both were working at CGI. They knew each other for more than a year before they started dating, and by the time they reached their two-year anniversary, he was ready to propose.
On their way out to Washington, Virginia, they had lunch and stopped at a few wineries before taking Skyline Drive through the Shenandoah National Forest. "I had a list of places where I wanted to propose on Skyline Drive, but there were other people around at the first few," Brian says. But finally, he found a stop where they were the only two people there.
"While we were taking in the scenic view, I looked at Missy and told her how much I loved her and how I wanted to spend the rest of my life with her," he says.
"It was just us and the mountains," Missy says. "It was really beautiful. I just remember one moment I was reading the information sign about the particular mountain range in front of us and the next moment Brian was on one knee asking me to be his wife. At that point, it was as if time froze. We could have been in the middle of a circus and I wouldn't have noticed."
After Missy said yes, they decided to head to another winery to celebrate. "I think the person working at the winery was kind of honored to be the first to know," Brian says. When they arrived at the Foster Harris House, a bottle of Champagne was waiting for them, and at dinner their menus were inscribed, "Congratulations Missy and Brian."
"Brian talked about how he was able to hide the fact that he was proposing," Missy says. There were a few close calls in the weeks leading up to the proposal, including one on the trip that afternoon. They had stopped at a gas station, and while Missy was waiting in the passenger seat, she noticed that her door pocket held a few pieces of trash: "So I got out of the car and threw away the trash. Brian noticed what I was doing and said a little harshly, 'Don't clean my car!' I was taken aback, so I stopped. It turns out that the ring box was in his door pocket! So we laughed about that at dinner and how we almost got engaged at a gas station."
When: June 6, 2009.
Where: Woodend in Chevy Chase.
Ceremony: First will be an interfaith ceremony incorporating Jewish and Christian traditions at Woodend. After they return from the honeymoon, they'll celebrate with a Chinese banquet to honor Missy's heritage.
Colors: Apple green, chocolate brown, and ivory.
Food: Cocktail hour will include dim sum and a variety of miniature foods, such as cheeseburgers and crab cakes.
Music: The '40s swing band Raggs & the All-Stars.
Cake flavors: Layers of coconut cake with vanilla buttercream and vanilla cake with chocolate buttercream.
Honeymoon: The couple is leaning toward a California wine-country honeymoon for a week and a half. "We love good food and good wine," Missy says.
First impressions: "Kind, good looking, and funny," Brian says. Says Missy: "I remember thinking Brian was very handsome. He had a warm smile. He's so friendly. He listens to people and is genuinely interested in what they have to say."
How they went from coworkers to dating: "Brian and I got to know each other well over beer and appetizers after many long days at work," Missy says. "After a year and a half of working together, he started asking me to do things outside of work-sponsored happy hours. I knew he was interested, and I happily accepted."
First date: A quick dinner at Wegmans. "It was the first time that we were alone together and not in a work setting," Missy says. "So I considered it a date."
Silliest fight: "Missy is the most giving person I've ever met," Brian says. "She's always going way too far to try to make me happy. We drove through Wendy's one night to grab a quick dinner, and they didn't include my sandwich in the bag. Missy was really mad when we got home, and my sandwich was missing. I told her not to worry about it, but she insisted upon driving back to the Wendy's to get it. For some reason, this really made me mad. I was literally screaming at her as she left. We made up as soon as she got back. The sandwich was delicious."
Most romantic gesture: Missy went with Brian to a Baltimore Ravens game on a cold, rainy day and stayed until the game was almost over. "She's not a football fan, and she's always freezing," Brian says. "I knew she loved me after that. Also, the Ravens won the game." For Valentine's Day last year, Brian made Missy a slide show and book of photos from their vacations and other memories together. "I was blown away by all the details," Missy says. "It was evident that he put in a lot of work to make it special."
Worst nickname: "I accidentally said 'Missy [insert ex-girlfriend's last name]' when referring to how an invitation should be addressed to us," Brian admits. "It was early in the relationship, but Missy wasn't happy."
Sweetest nickname: Brian calls Missy "Beautiful," she calls him "Mister."
Something others would be surprised to know about Missy: "While she doesn't like football at all, she gets really excited during close games. She needs to know what's going to happen."
Something others would be surprised to know about Brian: "He hates cucumbers. I don't understand it because they're basically water. And as far as I know, he likes water."
When they knew they were meant to be: After spending a week in 2006 at the Massanutten Resort. "Everything was perfect," Brian says. "It didn't matter where we were or what we were doing. We were happy together." Says Missy: "It was the first time Brian said, 'I love you.' I remember feeling so excited and relieved he felt the same way I did."
Check back here every Tuesday for new Save the Date columns showcasing fun, local couples who are getting married. Are you getting married—or know someone who is? We'd love to hear from you. E-mail lshallcross@washingtonian.com with a love story you think is worth telling.
Want more Save the Dates? Read them here.
To read the latest Bridal Party blog posts, click here.