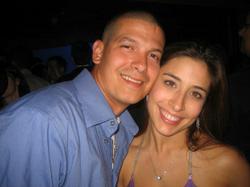 The night before their nine-year anniversary in March, high-school sweethearts Theresa Wetzel and Tony Araujo woke up to find cold water pouring into the living room and kitchen of their Centreville home. The main water line had burst and flooded the first floor. They packed their things and headed to Tony's sister's house in South Riding while their house dried out. They had made plans to celebrate their anniversary at Ruth's Chris Steakhouse, and despite the flood, they were determined to keep those plans.
"Tony and I woke up the next day, and he seemed very distracted," says Theresa, 27, a dance-studio manager. "I thought to myself, 'The house was flooded, we have to go car shopping because my car was totaled in an unexpected ice storm, and it's our anniversary, so he must have a lot on his mind.' " But the flood and car shopping weren't all Tony had on his mind. He had a trick up his sleeve the even the flood couldn't derail. "It put a dent in my pocket, but it didn't put a wrench in my plan," says Tony, 26, a superintendent at Arthur Construction Company.
When Theresa and Tony arrived at Ruth's Chris for their anniversary dinner, the waiter led them to a private table in back. After ordering a glass of wine and appetizers, Theresa asked Tony which car he thought she should buy. "Theresa started talking, and all I could think about was the best time to propose," he says.
When Theresa finished her last bite of steak, Tony decided it was time. He took the ring box out of his pocket and got down on one knee. "I looked around, thinking to myself, 'Is he doing what I think he's doing?' and he pulled out a black velvet box," Theresa says. "I'd never seen Tony so nervous before he took my hand and said, 'You have been my past, my present, and I want you to be my future. Will you marry me?' It took forever for everything to sink in, and then I said, 'Yes, of course I will!' With tears in his eyes, he slipped a beautiful Tacori ring on my finger. It was a magical night!"
When: September 5, 2009.
Where: Ceremony at Holy Rosary Catholic Church in DC, reception at Army Navy Country Club in Arlington.
Colors: Pink and black.
Cake flavors: Chocolate, vanilla, and strawberry.
First dance: "Have a Little Faith" by John Hiatt.
Honeymoon: A week in Hawaii or Greece.
How they met: At a high-school football game.
First date: A double date to the movies to see Cruel Intentions.
Silliest fight: "Tony is a backseat driver, and whenever I drive, we end up in some silly fight over the fact that I can't drive," Theresa says.
Favorite date spot: Ruth's Chris.
Worst nickname: Theresa calls Tony "Coach Tony." He calls her "Mini-Me."
Sweetest nickname: Tony is "My Love," Theresa is "My Little Princess."
Something others would be surprised to know about Tony: "He's more gentle and more caring than he portrays himself to be."
Something others would be surprised to know about Theresa: How much she can eat, Tony says.
Most romantic gesture: While they were shopping one day, Tony ducked into the Godiva store and surprised Theresa with a chocolate-dipped strawberry with "I (Heart) You" carved in the chocolate.
When Theresa knew they were meant to be: "When I couldn't imagine my life without Tony in it."
When Tony knew they were meant to be: "The day I met her."
Check back here every Tuesday for new Save the Date columns showcasing fun, local couples who are getting married. Are you getting married—or know someone who is? We'd love to hear from you. E-mail lshallcross@washingtonian.com with a love story you think is worth telling.
Want more Save the Dates? Read them here.
To read the latest Bridal Party blog posts, click here.