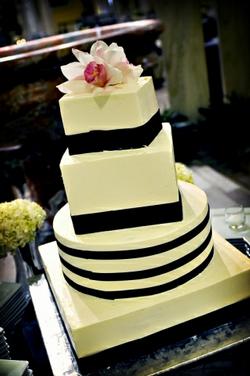 When the clock hit 11:59 AM yesterday, Rob Goyena of Catering by Uptown was still typing. He had given thorough answers to a ton of questions in the live Bridal Party chat, but there were still a few more to go. We told Goyena he could wrap it up because the chat was due to finish at noon. But he said he came for the chat, and he'd finish the questions no matter how long it took. After an hour and 45 minutes, we loved his enthusiasm—and just hoped The Washingtonian didn't give him carpal-tunnel syndrome.
Catering by Uptown has been a family-owned business for more than 30 years and has more than 10,000 weddings under its belt. The company offers on-premise wedding catering services at its two company-owned facilities—the Villa and Celebrations at the Bay—as well as off-premise catering at more than 100 locations in the area. But the services don't stop with cuisine, Goyena says. Catering by Uptown offers wedding coordination, which includes everything from vendor referrals to decor and rehearsals.
From serving noncake desserts to recreating family recipes, our readers had questions—lots of questions. And Goyena had helpful, thoughtful answers for every last one of them. If you missed yesterday's chat, read the transcript here.
More>> Bridal Party Blog | Wedding Guide | Wedding Vendor Search