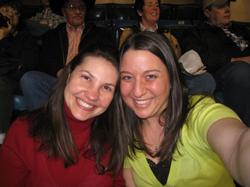 Last weekend, Ron and I traveled to Texas to visit my friend Kally, whom I've known since high school. She had a baby boy in November, so we flew to meet him, catch up, and experience the Lone Star State for the first time. Kally and her husband were married three years ago in Aspen, and I was one of her bridesmaids—needless to say, given the venue, it was a gorgeous wedding.
Throughout the weekend, the conversation consisted mostly of babies and weddings. Kally is also one of my bridesmaids, so she was eager to hear all about wedding planning. Ron and Kally's husband, Austin, tuned us out for the most part, except for when we talked about videography. Austin is an outstanding wedding videographer in the Dallas/Fort Worth area.
I digress. While Kally and I were talking about the trials and tribulations of wedding planning, one thing she said she had struggled with during her own planning was the seating arrangements.
Unfortunately, this isn't the fist time I've heard a bride say that.
Two things are for sure: Ron and I have decided against having a head table or a sweetheart table. We don't like the idea of separating our bridesmaids and groomsmen from their dates as a head table would require (that happened to me and Ron once—Ron was none too pleased because he didn't know anyone else at the wedding and couldn't sit with me). We also don't like the idea of sitting at our own smaller table because we have the rest of our lives to be together and want to spend as much time with family and friends as possible.
So that leaves the obvious question: Who do we sit with?
Our parents?
A few couples from the wedding party (my maid of honor and Ron's best man)?
A combination of both?
I think it's going to come down to the final guest count for the wedding, along with how many people we can fit at our table. Plus, Ron's grandmother is making the trip and my aunt is flying in from Greece, so it'd mean a lot to us for them to sit at our table.
Beyond that, how far do you go in assigning seats? Do you just assign guests to tables and let them pick their seat, or do you go all the way and assign them a seat? I need to get a better understanding of what our hotel requires, given that we're having an entrée choice. Some venues require specific seating charts that show which guest receives which entrée.
We'll know more after our tasting in a couple of weeks. I'm hungry just thinking about it!
Eleni, a local bride-to-be, writes every Wednesday about planning her wedding, which will be in Washington in the spring. To follow her adventures from the beginning, click here.
If you like reading about Eleni, make sure to check out our other blogging bride-to-be, Lisa Marie, who writes every Friday. Follow her adventures here.
To read the latest Bridal Party blog posts, click here.