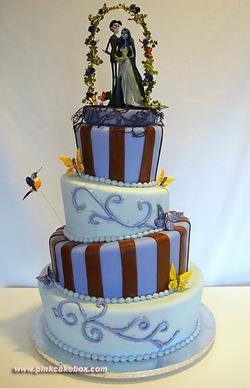 As reigning queen of the sweet tooth, I was counting down the days until our first cake-tasting opportunity. What better way to celebrate our wedding planning than eating thousands of calories of delicious cakes? I had a vague idea of what I was looking for in our cake, but I hadn't nailed down the specifics and hoped to find a baker who could realize my vision.
I'd fallen in love with the "Mad Hatter" style cake, with its quirky angles and childish designs, and hoped I'd find someone who could glam up this crazy technique. So with appointments scheduled with three different bakers, off to the tastings I headed, with my mother, maid of honor, and fiancé in tow.
Our first stop was to an open-house tasting, which essentially was a cattle call for brides interested in this particular baker. I was a little hesitant to attend this type of event, as I didn't feel that we could get the personal attention and direction we were looking for in our cake maker. But how bad could an afternoon of delicious cakes be, especially with my three favorite people by my side?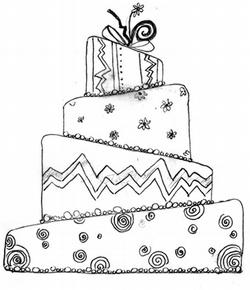 We arrived at the location and began feasting on the nine types of cakes that the baker had provided for the masses. However, my fears were realized as time went on, and the baker didn't even acknowledge our presence until 45 minutes after our arrival. The positive side of this type of tasting is the opportunity to be honest about your opinion with the people around you. When I sampled a piece of yellow cake with raspberry filling, I could quietly exclaim, "This tastes like feet!" to my fiancé without insulting the baker to her face. When the baker did come by to say hello to my entourage, she subtlety smirked at my mention of the Mad Hatter style, and I instantly realized that this wasn't the baker I was interested in working with.
Our second appointment was a private tasting in the baker's home, and this one I felt for sure was going to be in complete contrast to our first meeting. Rocio Diaz from A Piece of Cake greeted us at the front door of her lovely Leesburg home, and within five minutes of meeting her, the chemistry felt right. Just as I mentioned with our venue and our caterer, there's a certain connection I've had with these vendors that makes the experience so much more enjoyable. This connection makes me certain that I found the person who was going to make our wedding day even more special.
We chatted with Rocio for more than an hour about what we were looking for in a cake. She even took out some pencils and began sketching as we were speaking, so she could capture her interpretation of our vision. It was an incredible process to observe; everything we struggled to verbalize ended up sketched on her paper perfectly. And by the end of our discussion, she had drawn us our dream cake. Then it came to the actual tasting of her cakes, which was clearly a make-or-break moment. My instincts told me she was going to deliver, and as I brought the first bite of chocolate cake to my mouth, my taste buds confirmed what my mind had already decided. All four of us immediately stopped the banter and discussion as we shoveled the different flavors of cake in our mouths.
The only heated point of discussion was which flavors to choose for the four tiers of the cake. A decision was made (chocolate with raspberry filling on two layers, strawberry with cream-cheese filling on the others), the drawing was complete, and we were enamored with our cake baker. The third tasting was completely unnecessary because we knew Rocio couldn't be topped. And the fact that her cakes were actually in our price range? Well, that's just icing on the cake.
Lisa Marie, a local bride-to-be, writes every Friday about planning her wedding, which will be in Washington in July. To follow her adventures from the beginning, click here.
If you like reading about Lisa Marie, make sure to check out our other blogging bride-to-be, Eleni, who writes every Wednesday. Follow her adventures here.
To read the latest Bridal Party blog posts, click here.