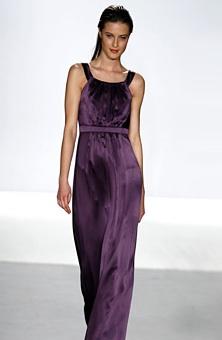 It's really starting to feel like crunch time for Ron Burgundy and me. I'm realizing how difficult it is to plan a wedding in one city while you're living in another. There's a lot to plan to begin with, not taking into account that we can do most of these things only on the weekends.
Case in point: This weekend, I'm having my first fitting at Hannelore's, and we're having the tasting at the hotel. We were going to pick up the marriage license from the Montgomery County Courthouse until we realized that it's probably closed on Presidents Day. Now we'll just have to get the application notarized in Philadelphia and send it by mail.
So, in planning for the first fitting, I took a trip to Nordstrom on my lunch break one day and bought a ridiculous corset/bra-type thing to wear under my dress (it works wonders). I also finally found a pair of shoes. They're light-gold, strappy sandals with roughly a 2½-inch heel. They're really comfortable. Well, at least walking around the apartment they're really comfortable.
Buying shoes for myself reminded me that I need to figure out what shoes the girls are going to wear with their bridesmaid dresses. The dresses are floor-length, so I don't think the shoes make much of a difference. Plus, the dresses were not inexpensive, so I don't want to make the girls buy new shoes (or a specific shoe, for that matter).
Several people advised me that the shoes should match the dress. As in dyed to match. I had a very negative reaction to this, as I had to dye shoes once, thought they were hideous, never wore them again, and swore I'd never do that to my own bridesmaids.
People seem to be very opinionated about dyeable shoes (at least the people I've talked to). Either they think it's the only way to create a seamless look for your bridesmaids or they think it's outdated and cheesy. I can't tell you how many dyeable-shoe horror stories I've heard! I guess the way I see it is, if I were planning to wear this dress to something other than a wedding, I wouldn't think to wear dyed shoes. I'd just wear shoes that looked nice and that matched.
My first thought was to have the girls wear black strappy sandals. I think the purple is dark enough that it will look fine. Then one of the girls suggested silver shoes. I like that idea, except there really won't be anything else silver in the wedding. But it's just their feet, so it probably doesn't matter, right?
That was my inner monologue for you.
I'm going to bring some shoes to Hannelore's this weekend and take a look at the sample dress. I have a swatch of the dress, but it's so small it's hard to tell.
Eleni, a local bride-to-be, writes every Wednesday about planning her wedding, which will be in Washington in the spring. To follow her adventures from the beginning, click here.
If you like reading about Eleni, make sure to check out our other blogging bride-to-be, Lisa Marie, who writes every Friday. Follow her adventures here.
To read the latest Bridal Party blog posts, click here.