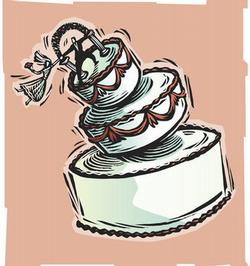 Thursday, February 12, through Saturday, February 14: Rivini Trunk Show
Rivini designer Rita Vinieri's sweeping bridal gowns are a statement in blending contemporary silhouettes with feminine embellishments. Brides can get 10 percent off a Rivini gown if they purchase at the Rizik's (1100 Connecticut Ave., NW; 202-223-4050) trunk show, beginning today and ending Saturday. Featuring Rivini's latest collection, the trunk show is a free event, but appointments are suggested.
Sunday, February 15: Cake Tasting
The monthly tasting event at Custom Cake Design (8535 Ziggy La., Gaithersburg; 301-216-1100) returns Sunday, offering couples the opportunity to taste—for free!—an array of Custom Cake's flavors (such as red velvet, lemon twist, and white chocolate) and fillings (such as dulce de leche buttercream and strawberry mousse) for their big day. Nearly half of the shop's 25 cake flavors will be available to sample, while the showroom spotlights an additional 60 cakes of varying sizes and designs as examples of what the bakery can do. Free; noon to 4.
Wednesday, February 18: Catering Open House
Plan ahead: More free food! R&R Catering (703-451-2798) is hosting an open house this Wednesday at the picturesque Foxchase Manor in Manassas (8310 Chatsworth Dr.; 703-369-3638). Guests can sample the full buffet and enjoy interactive stations, such as dessert crepes, Spanish paella, and sweet and savory fondue. Hors d'oeurves such as Moroccan lamb on a bed of orange-ginger couscous will also be available. In honor of the approaching spring, R&R Catering will display its edgy fabrics in appealing hues, such as moss green and papaya. Reservations are required. Free; 5 to 8 PM.
To submit a bridal event, email lshallcross@washingtonian.com.
More>> Bridal Party Blog | Wedding Guide | Wedding Vendor Search