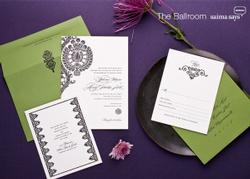 When she was growing up, Saima Khan's favorite time at school was always art class. "I recall making highly embellished appreciation cards for my parents or a Valentine's card for my best friend," she says. Khan went on to the Maryland Institute College of Art and earned a degree in graphic design before heading to work for some of the top design firms in the area. But it wasn't until her brother got married that she really felt her calling. She created her first wedding invitation for his wedding, and she was hooked.
Khan opened Saima Says Design in March 2006. Since then, she's been the stationer for more weddings than she can count (from here to Australia!), and her work has been featured in Grace Ormonde Wedding Style, Inside Weddings, and Brides Magazine. Her Georgetown studio offers lines of custom and ready-to-order special-occasion stationery. "Exceptional stationery, we know, requires more than technical ability," she says. "We put our skills in the service of compelling concepts, taking inspiration from a multitude of sources—architecture, fashion, history, nature. After researching our themes, we spend countless hours experimenting with fonts, motifs, and colors to ensure a harmony of design elements."
Khan is coming to The Washingtonian for a live chat on Thursday. Whether you have questions about timing, wording, themes, or anything else, Khan can help. She'll be here for the chat from 11 to noon—start submitting your questions now.
More>> Bridal Party Blog | Wedding Guide | Wedding Vendor Search