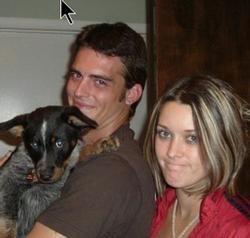 This has nothing to do with wedding planning.
When Tiffany and Mike first met, before I had met him, she was telling me a little about him—how they met, where he worked. She told me he was really nice and that she wanted to bring him by so I could meet him.
At some point in the conversation, I asked her if he was cute. She replied, "He's the most handsome boy I've ever seen in my whole life."
Oh, boy, I thought.
I felt then that Mike was special. Meeting him only confirmed that feeling. To know Mike is to love him. And when the most handsome boy in the whole world loves your daughter, it is a pretty great thing.
It is easy to get caught up in the excitement of the wedding planning. But when I step back in the midst of it all and see Tiffany and Mike together, it is heartwarming to see the love and devotion they share.
Amanda, a local mother of the bride, writes occasionally about helping to plan her daughter's wedding, which will be in the spring. To read about her adventures from the beginning, click here.

To read the latest Bridal Party blog posts, click here.