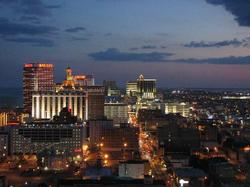 This entry is going to be short and sweet because work is busy and the wedding to-do list is getting longer by the day.
This weekend is my bachelorette party in Atlantic City. There are going to be 12 of us. That's really all I know. I thought Jillian was going to be the weakest link, but she has managed to keep her mouth shut, so I have no idea what's planned.
This morning, though, I received the following e-mail from my maid of honor:
Are you ready? Are you ready to rock it?
This weekend you will need:
• A bra
• A bathing suit
• Something you wouldn't mind getting whipped cream or a jelly-like substance on
• A nice, tight dress
• A hat that covers your whole face
• 65 bucks
• Rope
• Heels
• Your mom's phone number
• A plastic bag
• A toothbrush
• Makeup
• Advil
Where does one find rope?
Eleni, a local bride-to-be, writes every Wednesday about planning her wedding, which will be in Washington in the spring. To follow her adventures from the beginning, click here.
As Eleni's wedding quickly approaches, we're on the hunt for our next bridal blogger! Could it be you? If you're engaged and want to blog about planning your wedding, email us!
To read the latest Bridal Party blog posts, click here.