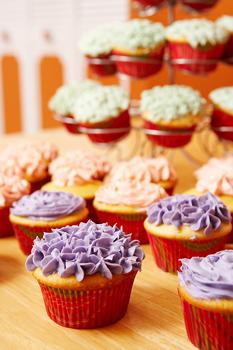 During the wedding-planning process, there have been a few items that Tiffany has dug in her heels on and not budged. Like what? Cupcakes!
When Tiffany first told me she wanted to have cupcakes instead of a wedding cake, I was surprised. I'd never heard of that before. When I mentioned this cupcake nonsense to friends, they set me straight, telling me that Martha Stewart loves cupcakes, how popular they are, that there are successful bakeries dedicated to cupcakes only, and that they thought it was a great idea.
Cupcakes? For a wedding? Really? I've since warmed up to the idea and think it will be wonderful. We can have several flavors with cute toppings, stacked in a tower. It'll be adorable!
I got Tiffany a cupcake Christmas-tree ornament. I also made her some note cards with a cupcake tower stamped on the front. For her birthday, I got a small cake and cupcakes for the celebration. And I call her "Cupcake" sometimes.
Another thing that's all the rage for today's brides are "save the date" announcements. I was on board with this idea from the start. Given that this is a destination wedding, I thought it was important to get information out to guests as soon as possible. Tiffany wanted to get magnets. I resisted the idea at first, but she really wanted them. The feedback from people has been great—everyone loves the magnets!
Speaking of digging in heels, Tiffany doesn't want to wear heels on the day of the wedding. That's all right. But she has also mentioned wearing tennis shoes or Crocs. That's not all right. We still have time to find shoes she'll be comfortable wearing and that will do the dress justice. But I've seen pictures and videos of brides wearing Chuck Taylors or flip-flops with their fancy dresses, and I'm sorry, ladies, but it looks silly.
Having no idea how Tiffany would feel about it, I asked if she planned to do a garter-belt toss at the reception. She said, "No way." I was relieved that she was firm on this. It's a tradition I've never been fond of—the husband reaching up his wife's dress and tossing an undergarment to his single buddies? Who thought of that anyway?
But what about the parts of the wedding that Tiffany has very strong feelings about, that I have different very strong feelings about? I know that times are changing, and I need to get with the program. There are a lot of traditions that modern brides are doing away with. So when we have different ideas, I need to remember that it's Tiffany and Mike's day.
This reminds me of my very first post, where I described the dress I envisioned for Tiffany and the contrasting idea she had for herself. I'd still put her in a fancy sundress in an open field. But it's her day—and will be her way. And it'll be perfect!
Amanda, a local mother of the bride, writes occasionally about helping to plan her daughter's wedding, which will be in the spring. To read about her adventures from the beginning, click here.

To read the latest Bridal Party blog posts, click here.