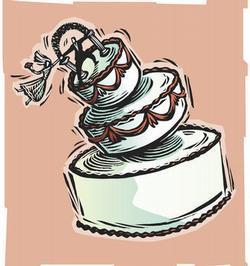 Thursday, March 19, through Saturday, March 21: Monique Lhuillier Trunk Show
A favorite among celebrities and royalty, Monique Lhuillier is widely considered an innovator in bridal design, with her line of exquisite gowns embellished with satin sashes and delicate lace. Head to Carine's Bridal Atelier in Georgetown today through Saturday for a trunk show featuring 20 to 30 dresses from Lhuillier's spring and fall 2009 collections. Brides who purchase during the event will receive 10 percent off. Appointments are required and last one hour. Free.
Sunday, March 22: Cake Tasting
The monthly tasting event at Custom Cake Design returns Sunday, offering couples the opportunity to taste an array of flavors (such as red velvet, lemon twist, and white chocolate) and fillings (such as dulce de leche buttercream and strawberry mousse) for their big day. Nearly half of the shop's 25 flavors will be available to try, while the showroom spotlights an additional 60 cakes of varying sizes and designs as examples of what the bakery can do. Appointments suggested. Free; noon to 4.
Sunday, March 22: Tea with Wedding-Etiquette Expert Anna Post
Anna Post, great-granddaughter of Emily Post—the revered authority on etiquette and manners—will speak at Bazin's this Sunday on how to handle those tricky moments in wedding planning (from wording a thank-you note to handling emotional situations) and ways to incorporate elements classic etiquette in modern weddings. Hosted by the Dandelion Patch, the event includes formal tea and an autographed book by Post. $60 per person; 3 to 5 PM. RSVP to lindsay@thedandelionpatch.com.
More>> Bridal Party Blog | Wedding Guide | Wedding Vendor Search