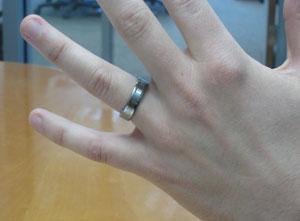 I can't believe there's only three months to go until the big day. It feels like we just got engaged a couple weeks ago, but now we're getting down to crunch time, which means ring shopping. Although every decision about the wedding feels like a major milestone, no one can deny that choosing your rings is one of the biggest. So Andrew and I headed to Mervis Diamonds to see if we could find the most permanent piece of jewelry either of us will ever wear.
Walking into the gorgeous store, I was a blank canvas. I truly had no idea what I wanted to pair with my wonderful solitaire engagement ring. Everyone says that a solitaire leaves your wedding-band options wide open, but for me, those limitless options weren't necessarily a good thing. Our poor salesperson had quite the afternoon. Thankfully, Andrew had done his research like the good engineer he is, and he knew exactly what he wanted. Not settling for traditional metals such as platinum, he had discovered tungsten, a super-metal described as indestructible and scratch-proof. As tungsten is a relatively new metal for traditional jewelers, the choices in rings for men were fairly limited. So when Andrew slid on what seemed to be the perfect ring, we knew the short search was over for my future husband's wedding band.
To determine my ring, the salesperson brought out a little bit of everything: channel-cut diamonds, bevel-set diamonds, plain platinum bands, and the works. In each style I found a beautiful ring, and I found myself debating between several gorgeous options. As the pragmatic half in our relationship, Andrew focused my attention on the three that I liked best, and he walked with me under different store lights to see the difference in the rings' appearances. Each ring was lovely, but I was so conflicted; this is the one piece of jewelry I will wear for the rest of my life! Being with Andrew for the rest of my life felt natural, and I wanted a ring that mirrored that feeling. I was glancing at the men's rings as I attempted to commit to a wedding band, and my eye stopped on an interesting bevel-set platinum band. It was unique and simple, with enough sparkle to draw attention yet with enough platinum to be sophisticated. I asked the salesperson if they made this style in women's rings, and lucky for me, she brought out several different sizes. I slid the Jeff Cooper band behind my engagement ring, and it was perfection (minus my jumbo finger squeezed into a ring two sizes too small). Success! The relieved salesperson typed in our order, and after a mere two-hour journey, we had chosen our wedding bands.
Lisa Marie, a local bride-to-be, writes every Friday about planning her wedding, which will be in Washington in July. To follow her adventures from the beginning, click here.