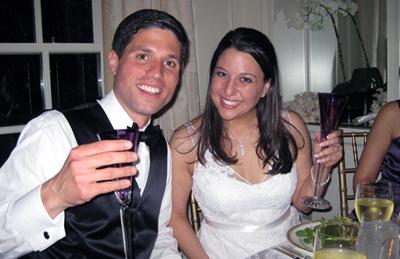 Is there such a thing as a wedding hangover? If there is, I certainly have one. Ron and I got married last Saturday, and I can't believe it's all over!
First of all, we managed to get married on practically the only warm weekend this spring. It was a little hot for my taste (about 90 degrees), but thankfully all my bridesmaids let me keep the suite at the Hay-Adams at a cool 55 degrees, so I was plenty comfortable getting ready.
Being with Ron, surrounded by all of our favorite people, wearing a beautiful dress, dancing and celebrating—it was without a doubt the best day of my life. If I started to describe the entire weekend, I'd get carpal tunnel syndrome from typing so much, so I'll just share some highlights:• Eleni-and-Ron slide show during the rehearsal dinner.
• Finding a note from Ron under my door the morning of the wedding
• Accidentally walking to the André Chreky salon in my complimentary hotel slippers.
• Getting ready and drinking Champagne with Mom, Nouna, my bridesmaids, and Aunt Eleni (who came all the way from Greece).
• The limo ride to the church with my bridesmaids.
• The fact that my 2½-year-old flower girl actually walked down the aisle.
• Ron in a tuxedo.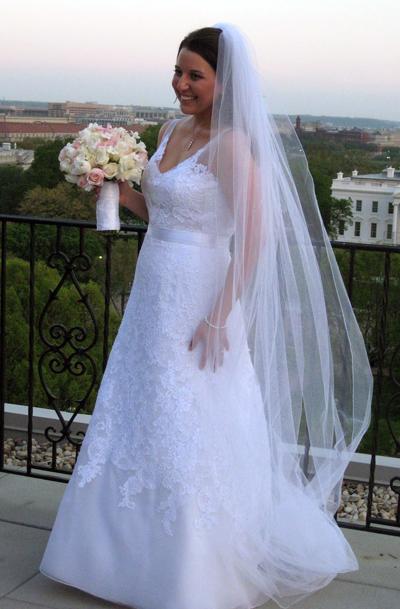 • My bouquet: pink roses, white tulips, and stephanotis with pearls.
• Laughing my way down the aisle with my dad.
• The cocktail hour on the roof of the Hay-Adams, looking out to the White House.
• The chocolate menu cards.
• The toasts by my dad, Jeff, and Deb.
• Greek dancing (or at least trying to do it).
• Chris from Black Tie singing Michael Jackson. (I guess we were rowdier than the average wedding at the Hay-Adams because hotel guests complained that we were too loud. Oh, well!)
• The chocolate-fudge wedding cake.
• The bouquet toss, and the fact my good friend who caught it (well, at least most of it) got engaged four days ago and has asked me to be a bridesmaid.
I'd have to say that the only minor hiccup was my bustle, which wouldn't stay hooked, so I ended up carrying my train along with me for a good portion of the night. I think it annoyed my mom more than me, because she called Hannelore's on Monday and got a credit for it.
We had breakfast for all of our out-of-town guests the morning after the wedding, which was really great because Ron and I got to talk to everyone once more before the weekend was over. All our family and friends said they had a wonderful time—and I know Ron and I did. So all in all, a wonderful wedding and a very fun party! I can't wait to get the professional pictures from Steve Canning. I think I'm going to have to devote an entire weekend to staring at them.
So, sadly, our wedding is over, but Ron's best man is getting married in Boston in three weeks, and we've got at least two more weddings on the calendar for the next year. Don't you just love weddings?
To follow Eleni's adventures from the beginning, click here.