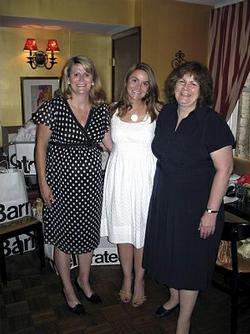 Most people will admit that planning a wedding is stressful. It touches everyone: the bride, the groom, the mother of the bride, even the father of the groom. When you plan an expensive event that brings two families together and is one of the defining moments in two people's lives, stress and anxiety can't be far behind. Up until a few weeks ago, I felt that I had avoided most of the pre-wedding jitters. The length of our engagement meant that I got to plan everything at a slow pace, and Randy and I had an easy time making decisions. Both of our families had been supportive, and hadn't made any of the planning difficult for us.
But right before my second bridal shower, I started to have a fluttery stomach, dry mouth, and cold hands. I was nervous and anxious, but I wasn't sure why. I was able to relax a bit, and I definitely enjoyed myself, but the nerves never went away.
Two days later, I went to get one of the cupcakes my mom had made as shower favors. I looked at the cupcakes and thought how nice it was that she had gone to so much trouble to make them for everyone, and I started to cry. Hard. Randy came in to see what was wrong, and I couldn't explain it. All I could say in between gulping tears was that I felt like I was losing my family. What? Where did that come from? It wasn't a thought I'd had consciously, but it must have been a feeling that had been lurking under the surface as I'd been making plans. I knew intellectually that I wasn't losing anything—I was marrying a man I love and gaining more family members. But when I looked at those cupcakes, I felt a gnawing sadness in the back of my mind. I felt like something was coming to an end.
Over the next few days I made a conscious decision to do nothing wedding-related. Obviously, the stress was getting to me, and I needed a break. Even though I wasn't thinking about the wedding during the day, anxiety found me at night. I had a couple of wedding dreams: one in which Randy showed up at the wedding in paint-splattered shorts and a ratty T-shirt, and another one where I was running hours late for the wedding and couldn't find my dress. I had trouble concentrating at work and was constantly fidgeting during meetings. Whenever someone would innocently mention that my wedding was coming up and ask me if I was excited, I'd smile tightly and say, "Yes!" but on the inside I was thinking, "No! I'm freaked out! Can you tell?"
The tricky part is that, while every bride will at some point feel nervous and anxious, it's not really socially acceptable to admit it. No one really wants to hear that you're struggling. They want to hear how happy and excited you are. And that's a lonely place to be. I looked for a book or an article that would help me with my feelings, and I found a couple of them at the library: The Conscious Bride by Sheryl Paul examines the conflicting emotions that brides go through as they plan their weddings and prepare to change their identities from a single person to a married woman. Emotionally Engaged by Allison Moir-Smith discusses the anxiety that comes with preparing to make a life-long commitment and describes how preparing for a wedding can cause women to feel like they're going through a second adolescence.
I looked through the books, absorbed the stories of women who had feelings similar to mine, and tried to relax. For two weekends, I concentrated on doing a little as possible and tried instead to just take good care of myself. When the thought that I was being silly and that I should just stop worrying and be excited entered my head, I pushed it out again. I told myself that it was ok to be worried, and it was ok to feel anxious. If I pushed those feelings down, they'd eventually resurface.
Randy and I also had some good talks. He was worried about me and wanted to help. We talked about our relationship—what was good about it and what we needed to work on. We talked about our families—our parents' marriages and what we had learned from them. And we talked about the wedding itself and what we hoped we'd feel like on the big day. The more we talked, the better I felt and the more I was able to relax. It's not until you tie yourself up in knots for a couple of weeks that you truly appreciate how good it feels to calm down.
Later on this week, Randy and I are going to the beach for a few days to relax even more. When we get back, I'll resume my wedding planning, but I'll do my best to take a break when I need to and not stress out too much over little decisions. My older sister, who got married several years ago, told me that while I'm exercising I should try to visualize my wedding day. She told me to imagine how I'll feel walking down the aisle, how I'll feel if something goes wrong, and how I'll deal with it. A woman's wedding day is a huge milestone with a lot of expectations tied to it and a lot of pressure to enjoy every moment. For now, I'm just focused on enjoying the last weeks leading up to my wedding day, not letting the pressure get to me, and appreciating the full spectrum of feelings that I have: joy, hope, fear, loss, excitement, and—of course—love.
To read Erin's story from the beginning, click here.
To read the latest Bridal Party blog posts, click here.