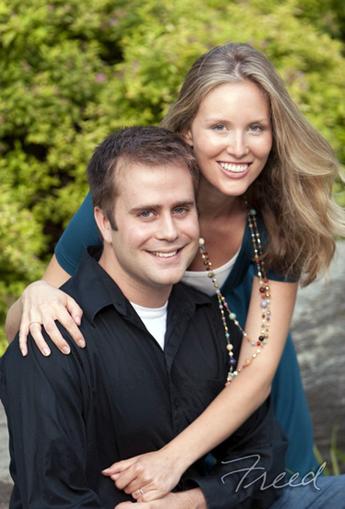 To: Mr. and Mrs. Ben Smith.* I held the check in my hands and stared at it for a minute. Who's Mrs. Ben Smith? That name is completely foreign to me. For some reason, it kind of freaked me out. I'd never thought about it before, but changing your name is a big deal. All of a sudden, you're called something completely different. Will I be the same person after my name changes?
I want to take Ben's last name, but I want to maintain the part of myself that I've identified by name for almost three decades. So I made some decisions to help balance the married woman with the Diana Nolan I've always known. I'm going to keep my maiden name at work and my married name legally and at home. Also, I know that many women like to be called Mrs. Husband Husband, but I've decided that it just isn't me. My name has never been Ben, and just as Ben wouldn't like to be called Mr. Diana Nolan, I'm not going to be Mrs. Ben Smith. I'll be Mrs. Diana Smith.
I'll be Mrs. Diana Smith in less than a week, and in addition to a little name-change anxiety, other things have been going on as I get closer to my wedding day. I've been busy making sure everything gets done and all the vendors get paid. This has been a marathon couple of weeks between getting the favors, place cards, table names, and the guest count finished. Our final number is 161 after last-minute dropouts.
I decided to combine the favors and the place cards. We discovered the wine Freixenet when we picked up Ben's wedding ring from I. Gorman in DC, and the staff gave us a bottle with the ring box. We enjoyed it so much we decided to give it to our guests. I shopped around to find the best price on miniature bottles and found them at Calvert Woodley in DC's Woodley Park. Ben designed labels and printed them through the online site UPrint. Ben, Kerri, and my mom created tags with table names to tie around the bottles.
For the tables, we decided to forgo numbers in favor of something a little more personal. We named them after places, restaurants, or things that have been special in our relationship. Ben designed graphics that listed the table names along with pictures. I bought mismatched eight-by-ten-inch picture frames, and we're going to place them at each table with trivia relating to the importance of the table name.
One of the most important things I've done is create a schedule and confirm with my vendors the details and timing for the big day. These vendors have been wonderful to work with:
• Freed Photography—specifically Jenifer Morris—is always accessible and will help you create a schedule to plan the flow of your day that will maximize your photo ops.
• Elegant Hair by Giselle. If you want great wedding hair, this is the woman to see.
• Makeup artist Victoria Stiles can create a natural look, and she has a winning personality.
• Steven at Just Cakes is creative, organized, and positive.
I think we're almost done with all the groundwork before the big day. There are some last-minute details that need to be taken care of, but I think everything is in good shape (knock on wood). Overall, I'm feeling good. I'm nervous, but I think that's normal. People have been saying, "Oh, my goodness, your wedding is this weekend! Are you so excited?" I explain to them that I think the week before the wedding is similar to packing for a trip. You're excited but nervous that you'll forget something. You might be a little anxious about flying. But when you get to where you're going, all that stress will go away and you'll have a blast.
Thank you all for reading my adventures in wedding planning. I appreciate all your comments and support, and I look forward to sharing all the details of my wedding with you next week as Diana Smith. Wish me luck!
Diana Nolan, signing off.
Read Diana's story from the beginning, here.
*Last name changed per request of subjects.