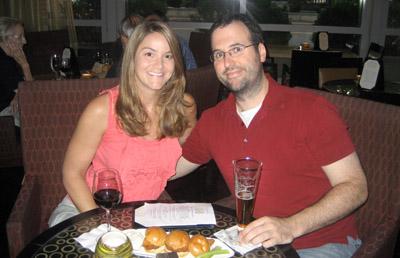 With our wedding just weeks away, Randy and I headed to the Westin Alexandria to sample options for our dinner. Our reception agreement with the hotel includes four passed hors d'oeuvres during our cocktail hour as well as a salad and entrée for our seated meal, but it was up to us to select the specific dishes. We both had light lunches in preparation for our feast and arrived at the Westin ready to sample six kinds of hors d'oeuvres, two salads, one soup, and three entrées.
We were shown to a table in the Westin's restaurant, Jamieson Grille, and found a personalized menu waiting for us on our plates. The menu had our names at the top and listed each of the items we were about to taste. We ordered cocktails to set the mood and then began trying the appetizers. We liked almost everything, but we had to narrow the list down to four hors d'oeuvres, and we wanted to offer our guests a variety. After some discussion, we chose coconut-crusted chicken with spicy-mustard sauce, Maryland crabcakes (for a little local flavor), crostini with roasted portobello mushrooms, and onion-and-Gruyère tart.
Next, it was on to the first course. We tried a summer-tomato-and-mozzarella salad, a roasted-tomato bisque, and a spring-green salad. The tomato salad was wonderful, but it's probably a better choice for a summer wedding. By the time October rolls around, tomatoes won't be at their peak. The bisque was a little salty, so we decided to go with the spring-green salad, which we think everyone will enjoy.
Finally, when we didn't think we could eat another bite, we were presented with our three entrées: lemon-thyme roasted chicken, wild-mushroom-crusted chicken, and pan-seared salmon. We had room only for a couple of bites of each, but the wild-mushroom chicken was the clear winner. We also enjoyed the salmon, so we decided to give our guests the choice of chicken, salmon, or a vegetarian entrée.
As we finished our last bites, the chef came out to talk to us. It was a lot of fun to meet him, and we discussed which of the dishes were our favorites. We talked about the possibility of offering a butternut-squash ravioli for the vegetarian option, which fits with the fall theme of our reception. We marked our choices on the menus we had been given and left the restaurant feeling full and happy.
With our tasting complete, we're one step closer to finalizing the plans for our reception. I hope our guests enjoy the food as much as we did!
To read Erin's story from the beginning, click here.
To read the latest Bridal Party blog posts, click here.