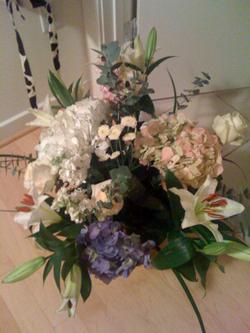 We did it! After ten weeks of planning, a lot of stress, and not much eating, John and I got married on Saturday. I'll fill in all the details later, but first I owe a post to last Thursday night. It was epic—and will go down in history not only for being the most fun I've ever had in DC but also for making my new husband the most drunk I've ever seen him. I would've blogged about it last Friday, but funnily enough, I wasn't feeling very well.
When my friend Liz said she wanted to throw me a bachelorette party, I had a few qualms. For one thing, I worked for years in a London restaurant known for its private party rooms, so I've experienced more "hen" parties than anybody should ever have to. They're always cheesy and gross, and the idea of wearing a mock veil while going around kissing strangers was unappealing. Also, I still have flashbacks to the stripper my friend Luda had at her party—he looked like a skinnier version of Gollum. So I told Liz I'd love a quiet dinner with just a few family members and good friends. No trips to Camelot. No men in jockstraps. No shots.
Luckily, she knows me well. So Liz organized a fabulous family-style dinner at Potenza, with a ton of food and cakes and wine. And then, because she knows me really well, we went to do karaoke at Playbill Café in Logan Circle. I don't know how this place has flown under the radar, what with my absolute dedication to singing words on a screen, but I think everyone should go there every Thursday. The song collection is comprehensive (and far superior to the list at the place we usually frequent in Adams Morgan), the drinks are cheap, and if you mention that you're getting married, people practically throw Champagne at you. After John and his man friends arrived from their dinner at BLT Steak, the bartender poured him almost an entire tumbler of gin, which is probably what made him so unbelievably ill the next day. But never mind. John and I even got to sing "Love Story" by Taylor Swift—I can't imagine a happier way to usher in a wedding. Naturally, there were shots, and we tried to go to Camelot, but we arrived too late to get in, for which I was grateful the next day.
Unfortunately, as my mom warned me at dinner, good times have consequences. Which is why I ended up on the road to Silver Spring to pick up the flowers on Friday morning having to beg Andrew—John's best man—to pull over on the freeway. From the left lane. It's possible that scheduling a lengthy car journey the morning after your bachelorette party isn't the best idea. However, we picked up all the flowers and managed to get back to the St. Regis in time for our wedding rehearsal, where Andrew horrified my mom by eating a McDonald's Quarter Pounder with cheese on the Astor Terrace. (I'd already scarfed my Happy Meal in the car, and John was still far too sick to manage food.) What a classy wedding party we were.
Luckily, the flowers turned out pretty well. There were a few extraneous purchases, but we kept them at the house. After a manicure, pedicure, and Swedish massage, I felt much better and sat on the kitchen floor while my bridesmaid Seshi manfully handed me things as I yelled out orders like "Pass me that white wotsit!" and "Gimme that thingummy!" At first I was a little worried—the flowers didn't seem to be taking shape, and there was no room in the kitchen to move because every available surface was covered with vases. But after a while we got the routine pretty square. I'd grab a hydrangea in each color, hold them together, put lilies around the edges, add some roses and other stuff, and put eucalyptus around the outside. Before long, we had six large floral arrangements and I'd managed to chip my manicure. But the flowers looked good and my mom was impressed, so it was totally worth it. I even managed to make a cream-and-blush-colored bouquet. It was a bit wonky, but nobody was mean enough to say so. On the plus side, I now know what $350 worth of flowers looks like.
Want to read Sophie's posts from the beginning? Go here.
More>> Bridal Party Blog | Wedding Guide | Wedding Vendor Search