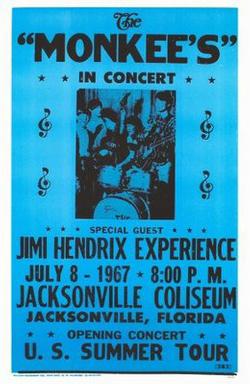 As a live-music fan, something funny I realized about planning a wedding is that the wedding ceremony is the "opening act" of the day. The ritual binding of you to someone for eternity, amidst the hoopla that is the wedding day, is the appetizer. It's the biggest part of the day only to those on stage or those directly related to those on stage. A wedding ceremony is, ironically enough, a lot like the Jimi Hendrix Experience.
Jimi Hendrix? Let me explain where I'm going.
Hendrix achieved fame in 1967 at the seminal acid-rock event known as the Monterey Pop Festival. (Remember footage of Hendrix on his knees stoking the flames of a burning guitar? It happened at there.) Hendrix and his band opened for the only act to ever record four number-one albums in a single year: the artistic juggernauts and the '60s cultural icons known as the Monkees.
Yes, the band that was created for a TV show to be a humorous take on the Beatles, was one of the most successful acts of the late '60s.
With "I'm a Believer" and "All Along the Watchtower" now stuck in my head, I was struck by the fact that it can be argued that both Hendrix and the Monkees rose to prominence by covering songs written by other renowned artists. "Believer," which the Monkees performed, is a Neil Diamond song, and "Watchtower," a Hendrix favorite, was penned by Bob Dylan. It reminded me of the beauty of art. As you can see with these very different bands, art leaves itself open to translation and interpretation, providing the artist the ability to take ownership of a particular piece or its meaning—be it through paint, music, or words. In creating something, you can and should make it your own.
Kristin and I felt like our wedding ceremony should be tackled the same way.
We're both Catholic, and while we're not the strictest practitioners, Catholicism has still played a very important role in our lives. Without a church in the area, we decided we'd incorporate some spirituality into our ceremony, which will be at the same place as our reception, the Renaissance Mayflower Hotel.
Our thinking was that we could do vows that are representative and respectful of our backgrounds but also indicative of who we've become together as a couple. We knew there'd be some limitations on how we could invoke our religion outside the church, so we did some research about the prospect of incorporating scripture, our own words, and our personalities into our service—kind of like our "cover" version of a traditional ceremony.
The idea of a "cover" ceremony speaks to the bigger picture of putting together your wedding. In building a relationship together, you're making something your own, and it should be yours and only yours. Your wedding day presents you with a rare opportunity to do something inspired by yourselves as a celebration of your impending life together.
While you may not have an incendiary guitar version of the National Anthem to kick off your big day, you might as well have a memorable opening act.
Read Carl's story from the beginning.
More>> Bridal Party Blog | Wedding Guide | Wedding Vendor Search