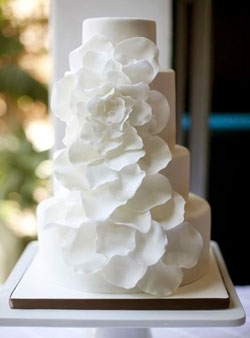 Jessica Simpson and ex-husband Nick Lachey get engaged. To other people.
Super-stylish wedding dresses you could (seriously) wear again.
Save-the-Date while holding signs. (See last picture.)
What are your thoughts on smashing wedding cake?
Apple and Pumpkin pocket pies for a fall wedding.
What bride doesn't want a beautiful, gleaming smile on her big day? Check out our Great Smiles package for the latest on cosmetic dentistry.
Such a wonderful sailor wedding.
Dark romance and a Day of the Dead dessert table.
Zara's evening collection = perfect cocktail winter wedding attire. Love those reds and leopard prints.
Can't decide if these Southern Belle bridesmaid dresses are totally sweet or just a little too sachharine.
East Side Bride has no idea what's going on in this Berlin wedding, but we kinda like it that way.
The Spinner Camera takes 360-degree pictures. Might be a cool tool for capturing the total scene at your wedding.
These bridesmaid thank-you hankies are a totally genius way to show your best girls how thankful you are.
Photo Credit: Sweet and Saucy Shop via 100 Layer Cake
Subscribe to Washingtonian
Follow Washingtonian on Twitter
More>> Bridal Party Blog | Wedding Guide | Wedding Vendor Search