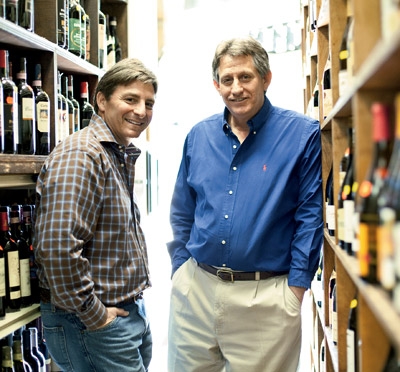 The Experts: Jon and Rick Genderson, co-owners of Scheider's of Capitol Hill
Is there a discernible taste difference between French Champagne and sparkling wine?
I can taste the difference. Real Champagne is fermented in the bottle, while some Proseccos or Cavas are fermented in a big vat. The bubbles aren't as small or fine, and there's a slight bitterness to the taste. I think the best sparklings in the world are made in France's Champagne region.
Besides Champagne and sparkling wine, what other kinds of wine are couples serving at cocktails hours and receptions?
I tell couples who are on a budget to buy the very best wine they can get for the price. Going for what's "hot" or popular at the moment isn't the best way to buy. Ask instead, "What's good right now?" and "What do you have that tastes great for my price range?"
If a couple serves meat and fish at a seated dinner, do they have to pair them with a red and a white wine?
Generally, you give them a choice of red or white. But there are no hard-and-fast rules. Some types of fish, for example, go great with red wine. People are going to drink what they like, which makes all the sense in the world. Unfortunately, our industry has made things so stuck up and snotty that people are intimidated. Choosing and drinking wine should be fun.
Can you recommend a few great wines at every budget?
Sure, for sparkling wine under $15, I recommend a Gran Gesta NV Cava Brut Reserva. A fabulous Prosecco under $20 is La Tordera, and the 2002 Montaudon Brut is a great Champagne under $50. The 2007 Pinot Noir by Yamhill Valley Vineyards Estate costs $20 per bottle and is delicious. A bold, rich California cabernet is the 2004 vintage from Eagles Trace, and costs between $40 and $80 per bottle. We sell the Pinot Gris Reserve by Adam for $10. A terrific white wine for weddings that costs $20 per bottle is the 2008 Chardonnay from X Winery. There's a French winery called Domaine Dublere that offers a Puligny-Montrachet from 2006 that's wonderful at $55.
If money is no object—and I mean NO object—what's the absolute best wine you serve your guests?
We have a 1976 Domaine de la Romanee Conti in a 6-liter bottle that's by far the most famous burgundy in the world, and probably the most expensive—$75,000. It really is the best—for people who don't care about money.
Subscribe to Washingtonian
Follow Washingtonian on Twitter
More>> Bridal Party Blog | Wedding Guide | Wedding Vendor Search