Hilary and Matt are planning a Septemer wedding at an inn on Cape Cod. Photograph by Heidi Vail Robertson
When we spotted these gorgeous engagement photos by photographer Heidi Vail Robertson, we instantly fell in love. Talk about the ultimate classic DC-themed shoot. So we went straight to the bride-to-be, Hilary York of Silver Spring, to give us some behind-the-scenes scoop and share her two favorite shots of the day.
"We recently moved to Silver Spring from Boston and are getting married on Cape Cod," she says. "We thought it would be fun to have professional pictures taken­—and Heidi said it would be a great way to get comfortable in front of the camera, especially if you're camera shy—which my fiancé Matt and I both are!"
It was Matt's idea to take our engagement photos in DC because it's where we'll be starting our new life together. Heidi and I went back and forth about the style of the shoot, and she came up with the idea of doing a patriotic theme—Matt and I focused on wearing red, white, and blue colors in styles that we felt comfortable in."
"The shoot was a little awkward at first, having someone tell us when to kiss or hold an intimate pose, but Heidi was so good at making us feel totally comfortable. In no time, we were fine and had a blast."
"I have so many favorite photos, but I particularly love the shot of Matt and I looking at one another with the Capitol in the background­ (below)—Heidi captured such a real moment, and you can see on our faces how much we love each other. My favorite more artistic shot is the one with the flags in the background (above)—we were just having so much fun!"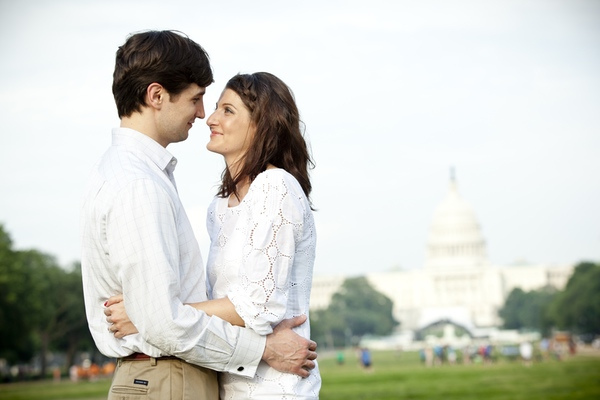 A classic DC shot. Photograph by Heidi Vail Robertson
"So far, we've used the photos for our rehearsal dinner invitations and on our guestbook. The whole experience reminded me of what an amazing time in our lives this is—it was perfect timing in the midst of wedding planning chaos."
Photographer's Tips: "Choose a location that makes you feel comfortable," says Heidi Vail Robertson. "For instance, if you don't like crowds, don't shoot at a tourist attraction. Another tip is to stay connected with your fiancé during the shoot. Sometimes it is important to take direction from the photographer, but beside that your focus should be on the person beside you. If you are having fun with your fiancé, it will be much easier to forget that the camera is on you."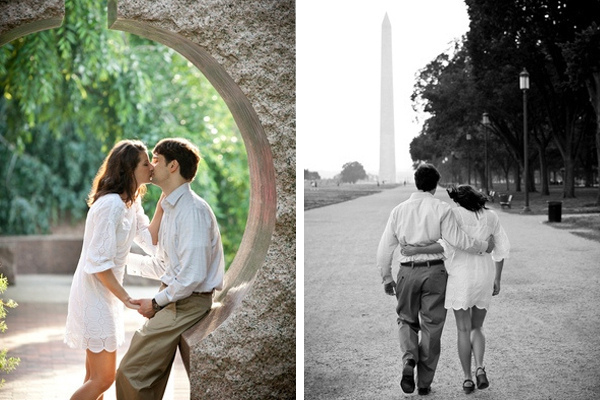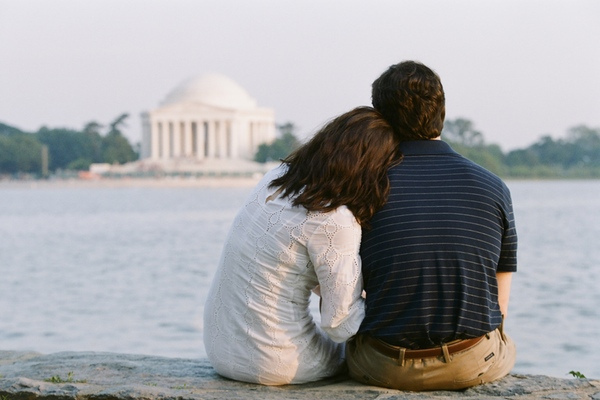 "It was really nice sitting side-by-side overlooking the Tidal Basin, and recapping the day in my mind," says Hilary. Photographs by Heidi Vail Robertson
Want to share your engagement photos with us? Email realweddings@washingtonian.com and we'll consider them for the blog!
Subscribe to Washingtonian
Follow Washingtonian Bride & Groom on Twitter

More>> Bridal Party Blog | Wedding Guide | Wedding Vendor Search