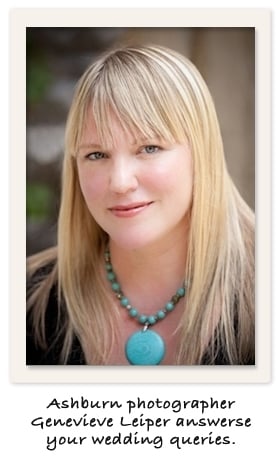 Yesterday, Genevieve Leiper of Genevieve Leiper Photography answered your questions about interviewing wedding photographers, wedding day scheduling, and choosing a dress color. Today, she'll solve your queries about everything from relaxing in front of the camera to fall engagement photo ideas.
NERVOUS IN FRONT OF THE CAMERA

Question: Do you have any tips for couples who aren't comfortable having their picture taken?
Leiper says: "Hire a photographer you feel comfortable around and get along with—you should be able to get a sense of this during an in-person consultation or a long phone interview. It's our job as professional photographers to try different techniques to get you to warm up to the camera. I keep my couples moving around so they don't think about the camera being on them. This helps bring about natural facial expressions and helps them to calm down. I usually start off with the wide scenic shots and the more artistic images, so by the time we do the posed shots, the couple is relaxed—­it shows in the final images every time."
• • •
TO POSE OR NOT TO POSE?
Question: My fiance and I like photojournalistic pictures and want to keep posed pictures to a minimum. From your experience, what are the most important posed pictures to take? Which ones would we regret not having if we opted for no portraits?
Leiper says: "Make sure you take a few family portraits with your immediate family members. Your parents will probably be very happy—and it doesn't take long to do them if you keep it to a minimum, maybe one shot of the two of you and your whole bridal party. The images you will really regret not having are the shots of the two of you alone. Tell your photographer that you would like these images to be more candid/artistic and less posed. Then you will get the best of both worlds—artistic images that look like they are not posed and beautiful images to hang on your wall."
• • •
PHOTOGRAPHING EVERY GUEST

Question: We are having a large wedding and it's important to us that we have some record of everyone who was there. What's a good strategy for ensuring at least one picture of everyone?
Leiper says: "If you're having a large wedding, I would suggest purchasing a package that includes two photographers. One person can only be in so many places at once and a second photographer would be able to cover everything in between. When I shoot with a second photographer, I have them mainly concentrate on the guests, taking pictures of couples dancing and at the tables during the reception. This leaves me free to do the more artistic/candid shots and to concentrate on the bride and groom, immediate family, and bridal party.
• • •
ENGAGEMENT SHOOT IDEAS

Question: My fiance and I are planning on having our engagement pictures taken in a corn maze. The venue fits our personalities and our love for puzzles. I saw a cute idea where the couple wore similar outfits (denim and white shirts). I like this idea but want to make sure it is sophisticated as well. Do you have any suggestions on outfits, poses, props, or more?
Leiper says: "I would suggest you go for a little more color and styling for an autumn engagement session. Your fiance could wear jeans and a nice button up; you could wear jeans with cute boots, a scarf, and an off-white or deep-colored top (bright white is more for summer, an off white or other neutral would fit the fall season and location better)."
"For a cute prop, you could incorporate your initials or wedding date carved into a pumpkin. You can even get some fun shots of you and your fiance carving the pumpkin (you may want to prep the pumpkin before your session to avoid the time-consuming mess). Since you are somewhat limited with how much you can do inside the maze, you may want to bring a picnic or just a big blanket to set up under a big colorful tree for more variety in poses and backgrounds."
"Also, depending on when and where you go, there are often orchards near corn mazes so you could get some shots of you and your fiance picking apples or just walking through the orchard."
For more information on Genevieve Leiper, visit her Web site.
Stay tuned for next week's Q&A with invitation expert Heidi Kallett of the Dandelion Patch!

Subscribe to Washingtonian
Follow Washingtonian Bride & Groom on Twitter

More>> Bridal Party Blog | Wedding Guide | Wedding Vendor Search