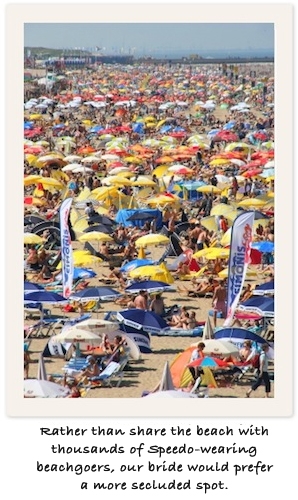 The first step of planning a destination wedding is by far the most important. Ready? Book a vacation.
That's right. We lucky destination brides and grooms don't have to spend hours visiting cake bakers, or entire weekends touring every possible venue within a 30 mile radius. Instead, we get to choose a fun location, schedule a long—or extra long—weekend at that locale, and, while we're there, find the perfect spot to tie the knot. The trick is to get organized and do as much research as you can beforehand, so you'll make the most of your time there, and hopefully have a couple days left to relax.
After getting engaged last September, Nate and I went to Mexico for five days in January. We were 99 percent sure we wanted to find a resort in Playa del Carmen to host our wedding. We had vacationed near Playa before, and loved the area's shopping and restaurants. It also feels smaller and more charming than nearby Cancun. What we didn't fully consider, however, is that the criteria for a great wedding venue can be somewhat different than the criteria for a fun vacation spot.
I spent the months leading up to our trip exclusively researching resorts in Playa del Carmen. I mostly relied on Web sites like TripAdvisor. It wasn't a bad tactic, as I found a lot of reviews written by other destination brides. And even though it made me feel a bit like a creepster, I got in touch with some of them, (TripAdvisor allows you to message its reviewers). Thankfully, the recent brides I reached out to were more than happy to share their candid opinions.
Several weeks before our trip, I was feeling good. I had narrowed down the list of potential venues to five solid contenders, and set up tours with the on-site wedding coordinators at each one. I had booked the tours at the two that I was most confident about for the first couple days of our trip, in the hopes that we would find our venue right away and be able to cancel the remaining visits. There was one resort that I was particularly excited about. I had gotten in touch with a woman who had her wedding there, and she raved about it. And less than a month before our departure date, she sent me her wedding photos.
Cue the panic.
• • •
All I saw when I looked at the pictures of her beach ceremony were the strangers. Some only wearing bathing suits. At least one old guy in a Speedo. All of them just standing around watching her get married. The entire area surrounding the ceremony site was full of random beachgoers. I hadn't asked even one of the brides I'd been in touch with about how crowded the beaches had been when they got married. I still have no idea how I overlooked such a critical question. I guess in my fantasy world, every beach wedding takes place in perfect solitude, with only your closest loved ones (none of them wearing Speedos) watching.
Anyway, that was all it took. One shot of a random dude in a tiny bathing suit, leering at a bride I had never met, and my game plan was ruined. Clearly, the crowded beaches of Playa del Carmen—while fine for a typical vacation—would not do for our wedding.
More from our Destination Bride:
Luckily, I work well under a deadline. And with a few weeks to go before our trip, I had an idea: Wedding photographers! Who could possibly have more insight into beautiful venues in the Riviera Maya than wedding photographers in the region? I found several, and e-mailed them immediately. They all had great suggestions, including a resort called Ceiba del Mar, which immediately stood out. It was on the smaller side—a definite plus, since we wanted to steer clear of the massive (read: impersonal) all-inclusives that dominate Mexico. And, most importantly, it was on a secluded stretch of beach in a small fishing village called Puerto Morelos, which sits about halfway between Cancun and Playa del Carmen. The panic began to recede, and I was able to schedule a tour of Ceiba del Mar for the second day of our trip.
• • •
You'll have to wait until next time to find out how the venue search played out. (I know, you can barely stand the suspense.) For now, I'll leave you with this list of questions that I brought with me to ask the wedding coordinators at the resorts we planned to visit. I hope they help you, too:
• Do you ever book more than one wedding on the same day or weekend?
• How many weddings usually take place here during the month we want to get married?
• Is there an extra charge if we use outside vendors, or vendors who you did not refer us to?
• Do you require our guests to stay for a minimum number of nights?
• Is there a fee for guests to attend the wedding who are not staying at the resort?
• Do you have an airport shuttle for guests?
• When calculating the cost per person for an open bar, do you count children guests?
• How many rooms are available, and at which price points, for the days surrounding the date of our wedding?
• What is the deadline for our guests to make reservations?
• What is your cancellation policy?
• What happens if, at the last minute, we do not meet your required threshold for percentage of guests staying at the resort? (Some places, for example, require that 80 percent of wedding guests stay there.)
• What are the alternative reception and ceremony sites if it rains?
• Do you have a curfew or any volume restrictions on music?
• Do you have any renovations or construction planned?
• Is there any chance the resort will change ownership before our wedding?
• What happens to our deposit if the resort is damaged by a storm, another type of natural disaster, or other circumstances?
• Can we ship items to you in advance of the wedding?
• (For the wedding coordinator/planner) How long have you worked here? Any chance you will leave before our wedding? Who are your back-up staff?
Subscribe to Washingtonian
Follow Washingtonian Bride & Groom on Twitter
More>> Bridal Party Blog | Wedding Guide | Wedding Vendor Search