The last thing any bride wants to think about on her wedding day is how to conceal a monstrous blemish. Luckily, we chatted with Marla Beck, the blond bombshell behind one of Washington's most luxurious skin care stores, Bluemercury.
"The whole goal of a bride is to have smooth, healthy, glowing skin," Beck says. And to achieve that enviable I-just-woke-up-looking-this-way effect, she recommends adopting a beauty routine five months before the big day.
First thing's first: See a specialist. "I would advise going to see a spa esthetician that can get you on a regular routine to treat any issues," she says. That way, reoccurring problems like acne or hyperpigmentation can be treated with prescription-grade creams. After that, it's time to embrace the big "e"—exfoliation.
"Exfoliating gets rid of the dead surface cells and brings out the new skin. And if you do that three times a week for the five months—or even three months—before your wedding, you'll see new skin." To start, Beck recommends using (1) Cane + Austin's Retexturizing Treatment Pads, a one-step, at-home glycolic treatment that gently sweeps away dead skin. The pads are gentle enough to use three times a week—every day if your skin is a bit tougher. But if chemical exfoliants make you nervous, (2) REN's Micro Polish Cleanser is a popular alternative.
On the down side, glycolic treatments and exfoliants can make your skin more susceptible to burning, so be sure to slather on the sunscreen (which you should be doing anyway—ahem). Beck suggests (3) ReVive's SPF 45, an emollient lotion that protects against UVA and UBA rays.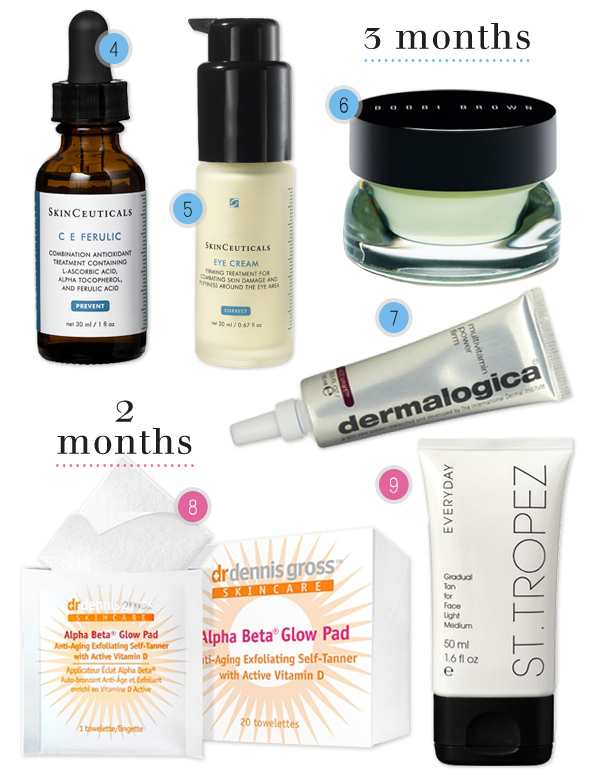 At the three-month mark, brides should begin using vitamin C-infused products. (And no, squeezing oranges over your face won't do the trick.) "Vitamin C is one of the few ingredients that actually builds collagen in your skin, helps with the elasticity, and brings out a healthy glow. And if used over time, it prevents future sun damage and freckling," she says. Why are freckles a problem, you ask? Because in photographs, they give the illusion of uneven skin tone.
Beck, along with everyone else in the beauty industry, is head-over-heels for (4) Skinceuticals's C E Ferulic, a non-greasy serum packed with antioxidants. But even the smoothest of skin tones can be eclipsed by puffy eyes. "Three months out, you want to make sure your eyes are really, really hydrated," she says. "I would absolutely use an eye cream everyday." (5) SkinCeuticals's Eye Cream and (6) Bobbi Brown's Extra Eye Balm target puffiness, sagging skin, and the dreaded dark circle. But if you're looking for something that packs a bigger punch, (7) Dermalogica's Multivitamin Power Firm combats fine lines and wrinkles.
If you'd like to start experimenting with facials, now's the time to do so. "The worst thing to do is have a facial the week before your wedding," cautions Beck. "What you're doing is detoxifying your skin—it's one of the deepest cleansings you can get. And so sometimes you break out after a facial."
And now the moment you've all been waiting for: how to achieve the perfect sun-kissed glow—without the sun damage. Because sunless tanners interact differently with each skin type, Beck recommends sampling products two months before the big day. (8) Dr. Dennis Gross Skincare Alpha Beta Glow Pads will give brides an unbelievable tan—her words, while (9) St. Tropez's iconic line of products deliver a moisturizing, streak-free radiance.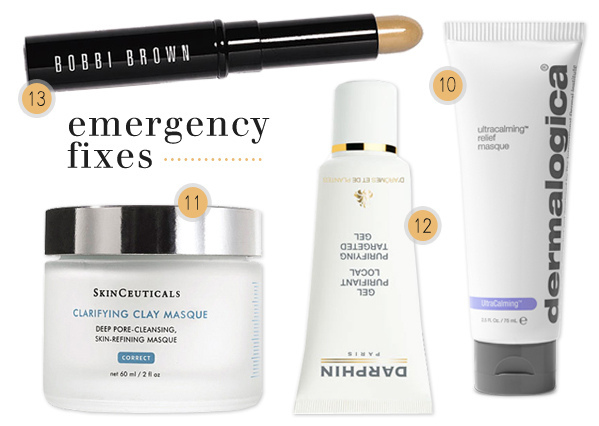 No matter how hard we try, sometimes Mother Nature just won't cut us a break. Blemishes, redness, and under-eye circles can afflict even the most religious of beauty junkies. So for blemishes that appear out of the blue, Beck recommends applying a clay mask directly to the affected area; (10) Dermalogica's UltraCalming Relief Masque and (11) Skinceuticals's Clarifying Clay Mask are big sellers. Follow up with (12) Darphin's Purifying Targeted Gel, a clear spot treatment that helps reduce the appearance of imperfections. Finally, conceal the little bugger with (13) Bobbi Brown's Face Touch Up Stick, a creamy, full-coverage formula that comes in 20 shades.
Redness can be alleviated with an over-the-counter cortisone cream, but as always, she cautions against using new products the day of your wedding. Similarly, the cure for under eye circles is deliciously simple. Remember that good ol' cold-cucumber-on-the-eye-trick? It still works better than any cream because cucumbers have anti-inflammatory properties.
Little green vegetables aside, Beck has some calming advice for brides-to-be: "Do whatever you can to relax, because stress is the worst for your skin." She recommends de-stressing with a full-body massage—a pre-wedding ritual that we think all brides can agree on.