This page describes the contents of an issue of Washingtonian magazine. Subscribers get exclusive early access through our print and digital editions. Most of our feature stories are later published online and linked below.
Buy a Single Issue
Subscribe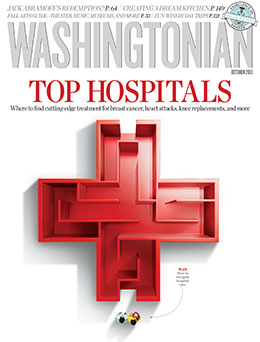 Volume 49, Number 1
Cover Story
Our guide to finding good care—including exciting medical breakthroughs, tips on shortening your wait in the ER, an inside look at a cutthroat battle among top area hospitals, and more.
On the Cover: Photograph for Washingtonian by Dan Saelinger
Features
Once the highest-paid lobbyist in Washington, Jack Abramoff can't escape the constant reminders of his remarkable fall. By Marisa M. Kashino
A Rockville scientist has spent 30 years trying to eradicate malaria. Experts have long dismissed his vaccine as a fantasy. Now he has one last chance to prove himself. By Luke Mullins
Everyone knows about Street View. Our reporter set out to see how Google maps the rest of the world—like the Mall. By Michael Gaynor
Jacob Rainey was one of the most promising high-school quarterbacks in Virginia—headed for Division I football and maybe the NFL—when a freak accident forced him to change course. By Shane Mettlen
Capital Comment
Where & When
I.Q.
Life
Grape Getaways Virginia vineyards that offer great wines in beautiful settings. On a Roll Last year, Maryland voters approved six casinos with table games. Here are the best bets.
Taste
No T-Shirts Here At Fabio Trabocchi's Casa Luca, casual translates to $30 entrées and servers in ties. Plus—authentic Indian fare in Laurel, offbeat tacos in Falls Church, five favorite on-tap cocktails, and more.
Home
Dream Kitchens Spaces that are ideal for both entertaining and everyday use. Best of Friendship Heights Boutiques, sushi, pizza, and one of the area's best bookstores. Luxury Homes Debra Lee of BET sells for nearly $5 million in DC's Massachusetts Avenue Heights. In it To Win It Judges from local pet costume contests offer tips for scoring the top prize. On the Horizon Happenings, announcements, and rumors to know about.