From a tiny bud tucked behind the ear to a full floral wreath, not all flower headpieces are created equal. With the help of Holly Heider Chapple of Holly Heider Chapple Flowers and Remona Soleimani of Bridal Hair by Remona, we created six ways to nail the bridal trend of the season.
BOLD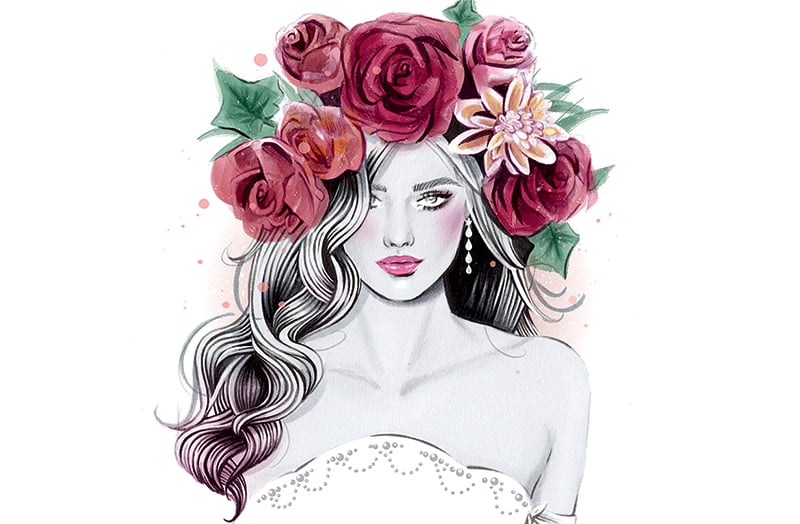 Get the Look: Start with bright, larger blossoms, such as peonies, Japanese ranunculuses, cabbage roses, or dahlias. Garden roses are also gorgeous in this wreath, but they'll cost four or five times more per stem than a standard rose. Rely on ivy for your green, and pair this crown with hair that's half-pulled back so your face is shown in full. This is a fun and fanciful opportunity to allow the wreath to be the focal point of your wedding ensemble; it's perfect with a simple sheath gown.
BRAIDED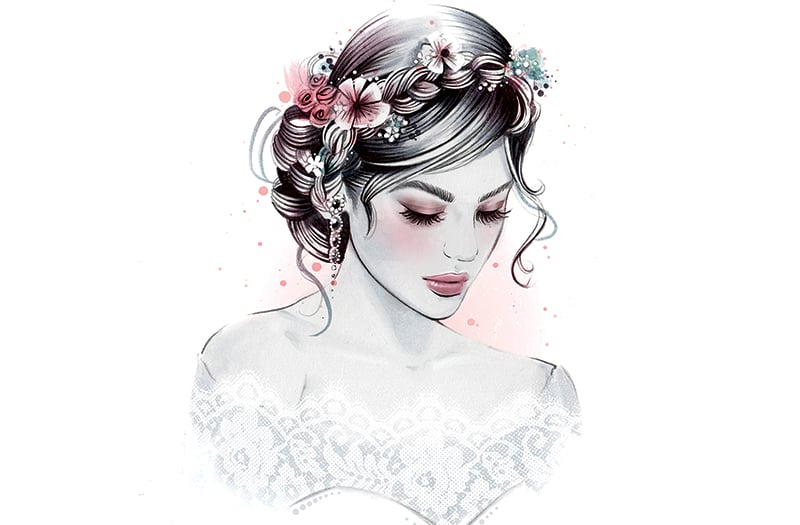 Get the Look: For more flexibility in the arrangement, wind a thin wire around individual or small clusters of blossoms, leaving a couple of inches of wire at the end to be woven into your hair. Petite flowers, no larger than a quarter, work best—try white or pink spray roses or mini orchids. Once you have seven or nine clusters, slip them through a waterfall braid, which leaves the weight of the hair hanging loose, or a crown braid, a 360-degree look that weaves all the hair into a single braid to wrap around the head.
TROPICAL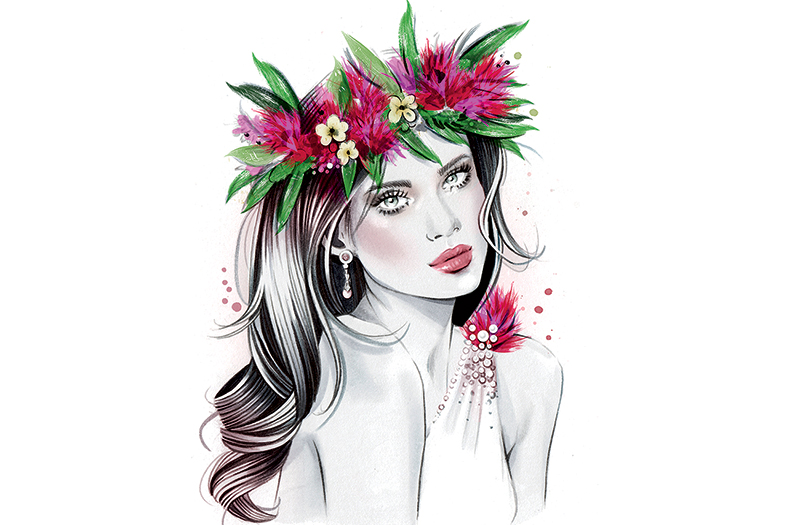 Get the Look: Waxy, dark greens—such as forest green Italian ruscus or slick gardenia leaves—are the star of this crown. Try a bit of podocarpus or Australia's zigzag wattle to add some spiky geometry to the mix. Many blooms from Southern Hemisphere flowers are too large to include in their entirety, but bits and pieces of flowers such as king protea make unique accents. This thicker, fuller crown works well with simple, understated hair, such as soft, flowing beach waves that can play against the leaves' dark shades.
WHIMSICAL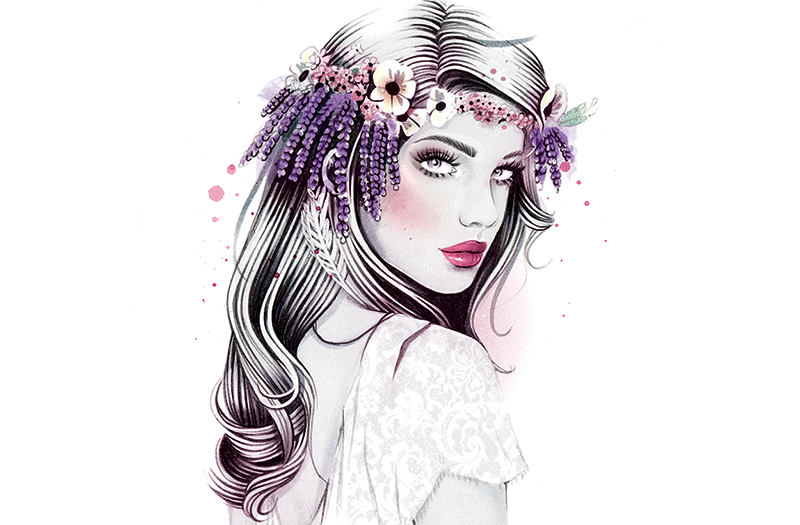 Get the Look: Use bark wire—a thin, flexible strand that's wrapped in rustic, dried materials and can be purchased on a roll—as your base. Wrap it with olive branch for a lovely shade of pale green, and add some hanging amaranthus or tiny, white Japanese pieris japonica buds to one side for a trailing, asymmetric feel. In colder months, add berries or feathers for more texture, and rest the wreath on a wispy fishtail braid. Tease the hair for volume and gently tug on each side down the length of the braid to loosen it for a natural, organic appearance.
HALO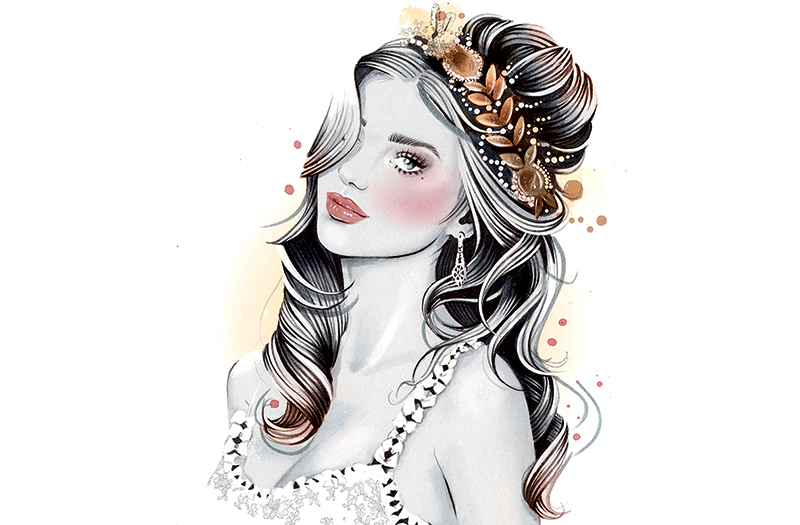 Get the Look: Headpiece designers have taken to the flower-crown trend, relying on freshwater pearls, crystals, ribbons, and feathers to simulate the look. If wilting is a worry or you're envisioning a more formal feel, these crowns, such as BHLDN's Pearly Dreams Halo, offer a less fragile solution. Try it with a low chignon for an elegant look that showcases the crown, or keep with the casual, organic trend of flower crowns and allow it to blend in naturally by wearing your hair down.
DELICATE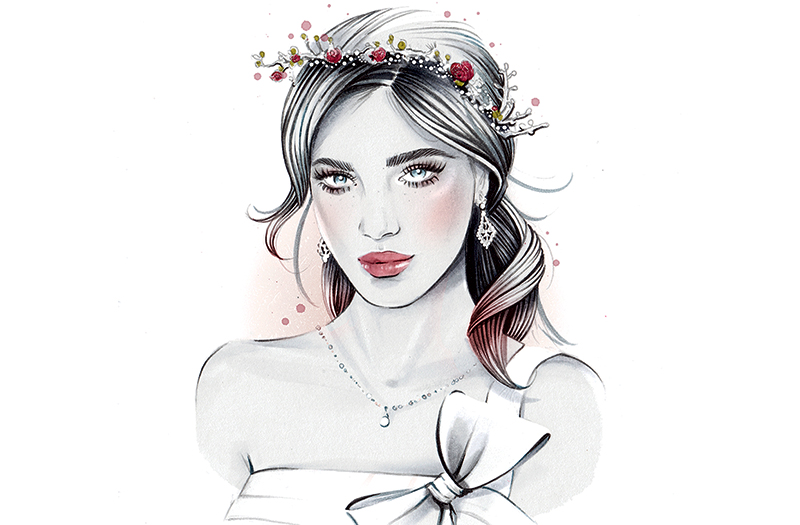 Get the Look: With wisps of baby's breath, wax flowers, spray roses, or limonium, this dainty crown works with a more casual aesthetic. Pair it with seeded eucalyptus for your greenery, and weave in jasmine vine or lavender clematis vine for a bit of color—but note that these vine varieties aren't as long-lasting as others, such as ivy. Lay this crown a few inches from the forehead atop a soft updo, allowing a few pieces of hair to float around your face for an easy, loose look that works perfectly in a garden or forest setting.
MAKEUP TIPS
There are makeup dos and don'ts for every trend, and flower crowns are no exception. We've teamed up with makeup artist Abigail de Casanova to help you find a palette that will work with your blossoms rather than compete with them.
Stay away from smoky eyes. For flower crowns you'll want to go with a softer, more natural look. Instead try: a very thin line of Make Up For Ever Aqua Creamliner in black, with NARS The Multiple in Malibu or Portofino dabbed lightly on the lid. Finish with a light application of Diorshow mascara.
Avoid bright-red lips. Flowers tend to give a bride a softer overall aesthetic, so if you want to go for the dramatic and modern, a flower crown may not be your best bet. Instead try: Yves Saint Laurent's Rouge Pur Couture Vernis à Lèvres Glossy Stain to offer a burgundy or rosy pop of color that highlights the shades present in the crown.
Don't load up on harsh, heavy makeup. Flower crowns work best with understated palettes. Try Make Up For Ever HD Invisible Cover foundation and Inglot AMC Cream Blush. Start simple, and add more if needed.