Planning to celebrate Independence Day in our nation's capital? These bars, restaurants, and hotels in the DC-area are celebrating July 4th with barbecues, pool parties, crab feasts, and more.
July 1st – 2nd
Jameson Jam Day Party at Cloak & Dagger
1359 U St., NW
If a weekend party is more your speed, head to Cloak & Dagger on July 1st for unlimited Jameson whiskey and a rail open bar from 4 to 7 PM. Tickets cost $30 before June 30 (and $35 after), and come with free ribs and wings, too. Regular admission minus the booze is $10, and the party doesn't stop until 10 PM.
"We The Party People" at the National Museum of American History
1300 Constitution Ave., NW
If you've ever felt the urge to sneak into a museum after hours Night-at-the-Museum style, BYT's "We the Party People" celebration at the National Museum of American History is your chance. To celebrate both July 4th and JFK's 100th birthday, Brightest Young Things is throwing an epic after-hours party in the museum on July 1st from 7 to 11 PM featuring Purity Ring DJ Set, DJ Jonathan Toubin, DJ Kid Congo Powers, and DJ Little Bacon Bear. Tickets ($45 until June 25; $55 the week of the event; and $65 the day of) include admission and open bar. Highlights from the drinks and food spread include cocktails from Big Chief and Cafe Saint-Ex, and snacks from Homestead and Republic—and that's not all. Throughout the night, you'll have the chance to watch TED-Style lightning talks on topics dealing with JFK and the future of politics for a new generation. A face painter, caricature artist, and scavenger hunt are also on the docket.
Crab Boil at Brookland's Finest
3126 12th St., NE
This American gastropub boils crabs in Old Bay-spiced broth with corn, potatoes, and andouille sausage, and serves them alongside a DC Brau beer ($30 per person). The boils happen every Tuesday through summer, and nightly July 1st through July 4th for Independence Day weekend. Looking for more DC crab feasts? See our guide to where to find them around town, no car needed.
Red, White & Brew Wine and Beer Festival at Navy Yard
1300 1st St., SE
The name says it all: this outdoor festival on July 1st and 2nd is the place to try red wines, white wines, and beers from 100+ local vendors—along with live music and DC-area food trucks. The $50 general admission ticket gets you three hours of unlimited drinks, plus a customizable 20-tasting flight, a commemorative mug, and entry into the first round of Boozie Bingo. Choose from the Saturday or Sunday afternoon sessions (1 to 4 PM), or the Saturday night session (6 to 9 PM), and select the Stella Artois "Buy a Lady a Drink Package" to support Buy a Lady a Drink, the social impact campaign working to increase access to clean water worldwide.
Sunday Crush Pool Party at DNV Rooftop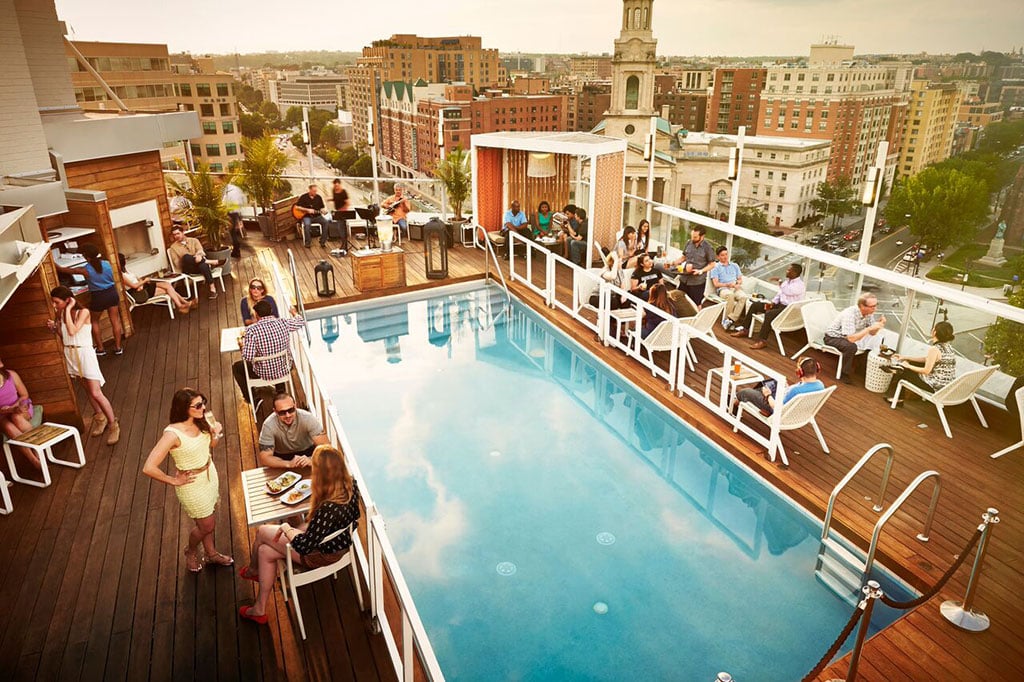 1155 14th St., NW
Kick off July 4th early with DNV's first-ever summer crush rooftop pool party on Sunday, July 2nd from 12 to 5 PM. You can go for a dip or sunbathe on the deck while enjoying the music from DJ Sean J and drinking $5 orange crushes. Turn things up a notch with special summer cocktails like the Selfie Stick (a boozy popsicle) and the NSFW (bourbon, passionfruit, white peach purée, and ghost pepper tincture).
July 3rd
8th Annual Independence Burger Eating Contest at Z-Burger
4321 Wisconsin Ave., NW
Join a crew of local and internationally-acclaimed competitive eaters at Tenleytown Z-Burger's 8th annual burger eating contest on Monday, July 3rd at 12 PM. The challenge: eat as many burgers as possible in ten minutes—and you'll have to eat more than 28 in order to unseat two-time champion Molly Schuyler. Prizes range from $300 in Z-Burger food to $1,500 in cash, and everyone attending, participants and observers alike, will be treated to free burgers at the end of the contest. Email zburgercontest@gmail.com with your name or contact Z-Burger owner Peter Tabibian at 301-938-2762 to enter.
Pre-4th of July BBQ at Wicked Bloom Social Club
1540 North Capitol St., NW
If you have to work on Monday, July 3rd but still want to party after, head to Wicked Bloom Social Club starting at 4 PM for a barbecue and special happy hour. Guest bartender Will Alvarez will serve $7 classic cocktails from the Wicked Bloom menu until 10 PM, as well as specialty drinks featuring Angel's Envy bourbon. All draft beers are $2 off, and hot dogs are free (that's right, unlimited free hot dogs) until 6 PM. DJ Yaco will be spinning tunes from 6 to 10 PM (with no added cover charge).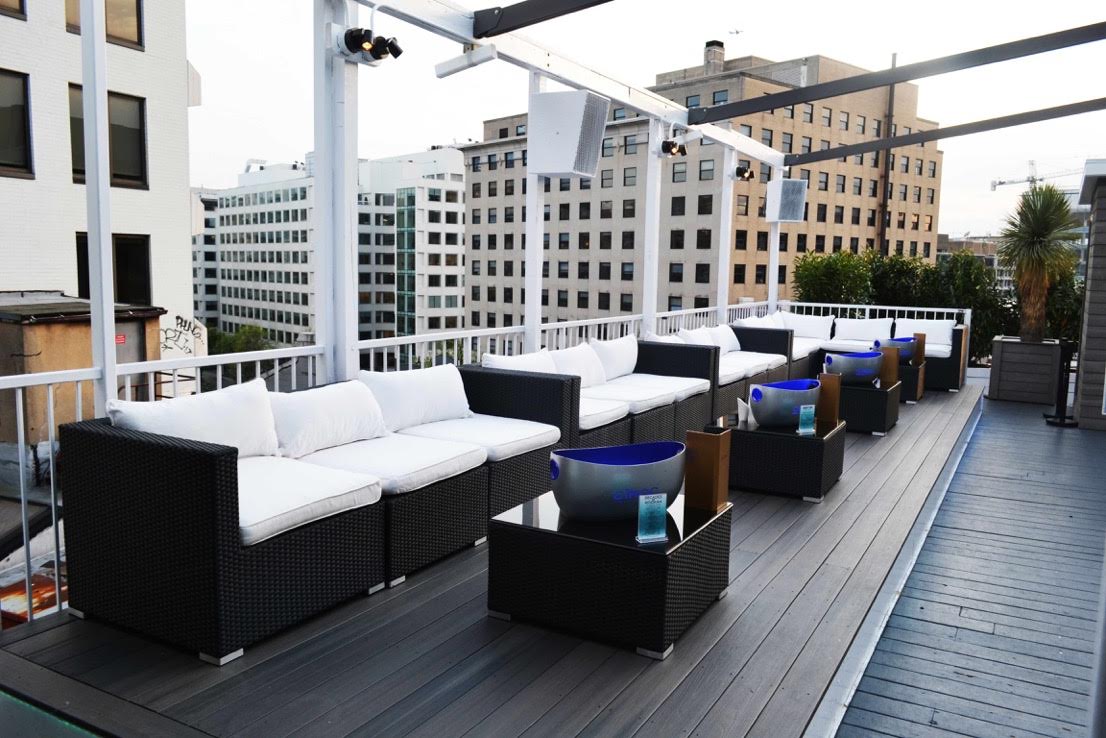 "Decades of Independence" at Decades
1219 Connecticut Ave., NW
Decades, the retro-themed nightclub known for its 80s and 90s throwback playlist, is opening up its rooftop to the public for a pre-4th of July BBQ on Monday. Although the party goes from 9 PM to 4 AM, it's probably a good idea to arrive on the earlier side because they're serving up Kobe hot dogs, burgers, and steak and chicken tacos for free—and there's no cover charge either. Drink specials include a summer colada "remix" made with CÎROC and pineapple juice, and frozen margaritas, each for $8. If you're partying with a group, buy a bottle of CÎROC for $150.
July 4th
Rooftop BBQ at Rosewood
1050 31st St., NW
Skip the Georgetown crowds and watch the fireworks high over the Potomac River. On the 4th, the Rosewood's Rooftop Bar & Lounge (formerly the Capella) is serving a menu of elevated American favorites like burgers topped with caramelized onions and bacon, and charred corn on the cob. The $95 ticket to the event ($45 for children 12 and under) includes food, a welcome drink, a glass of Champagne during the fireworks—and an incredible view.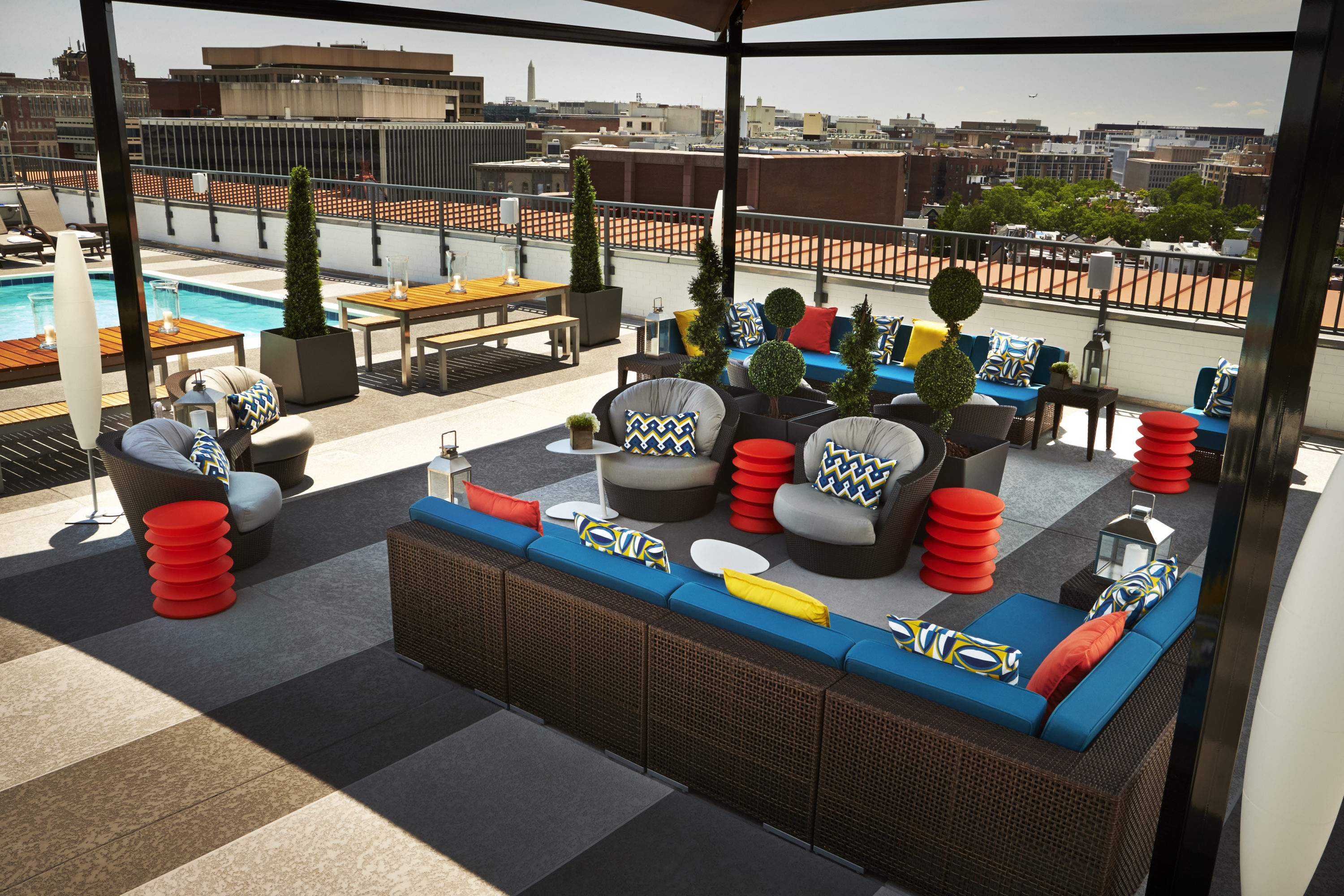 "America" Party at the Embassy Row Hotel
2015 Massachusetts Ave., NW
Sip red, white and blue CÎROC cocktails while dancing the night away on the Rooftop at the Embassy Row Hotel on July 4th. The "America" party, which starts at 6 PM, also features Budweiser in limited-edition camouflage bottles, designed to honor the men and women of the United States Armed Forces. When the sun goes down, break out your best moves during the Silent Disco dance party. Tickets are free for hotel guests and $30 for locals.
Bottomless BBQ at Teddy & The Bully Bar and Lincoln
1200 19th St., NW; 1100 Vermont Ave., NW
Sister presidentially-themed restaurants Teddy & The Bully Bar and Lincoln roll out all-you-can-eat buffets of classic American fare on July 4th (think pickle-brined fried chicken and St. Louis style pork ribs). Specialty drinks—mimosas and Moscow mules—are bottomless for $45 per person. If you're only going for the food, tickets are $29. Children 12 and under can go for $17 at Teddy & The Bully Bar, and $21 at Lincoln.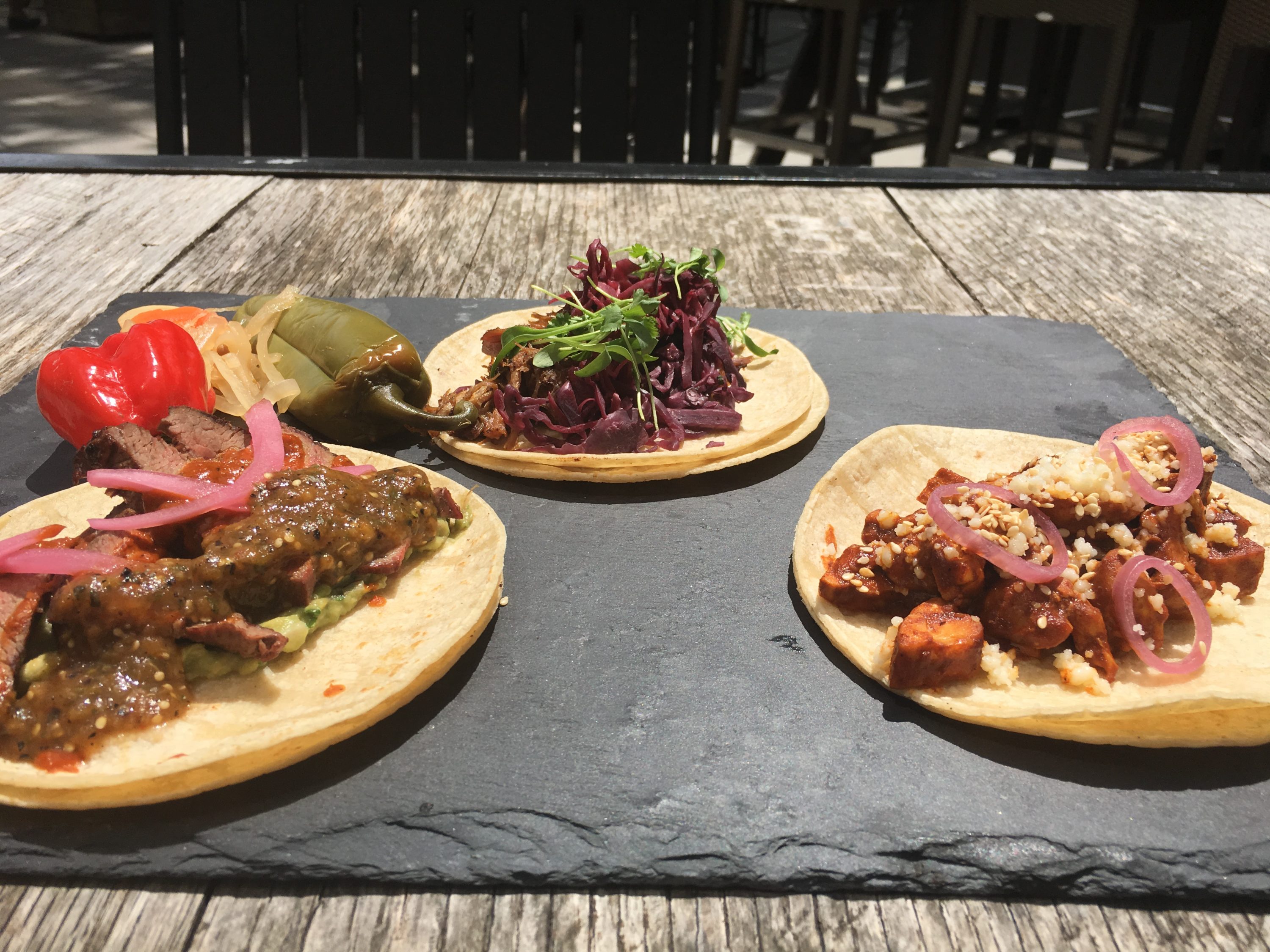 Poolside Cookout at Liaison Capitol Hill
415 New Jersey Ave., NW
Cool off at Liaison Capitol Hill's rooftop pool party from 8 AM to 10 PM on the 4th. The $40 ticket gets you access to the pool area and a discounted grill menu (starting at noon) like $3 tacos and $5 guacamole. To reserve roof seating, you can also rent a small cabana (fits two) for $175 or a large cabana (fits four) for $275.
Independence Day BBQ at Salamander Resort & Spa
500 N. Pendleton St., Middleburg, VA
If you're looking to escape the DC crowds, bring all the kids (and dogs!) to the grand lawn at Salamander Resort & Spa. Salamander's restaurant, Harriman's, is whipping up a selection of American BBQ favorites, and the resort is hosting Middleburg's fireworks display on-site. Enjoy lawn games like corn hole while the kids play on a life-sized chess set. The event, which goes from 4 PM to 10 PM, includes dinner for $15 per plate and a cash wine bar.
4th Annual BeerBQ Battle at City Tap House
901 9th St., NW
Four local breweries—Evolution Craft Brewing Co., 3 Stars Brewing Co, Hardywood Brewing Co., and City Tap—put their cooking skills to the test in City Tap's 4th annual BeerBQ battle from 12 PM to 5 PM. The $20 ticket gets you a sample from each brewery (and voting rights), plus side dishes of coleslaw and potato salad. If you're in the competitive spirit, enter the corn hole tournament (although it's best to reserve your spot beforehand because it usually fills up). Select draft beers and John Dalys are each $5 throughout the event.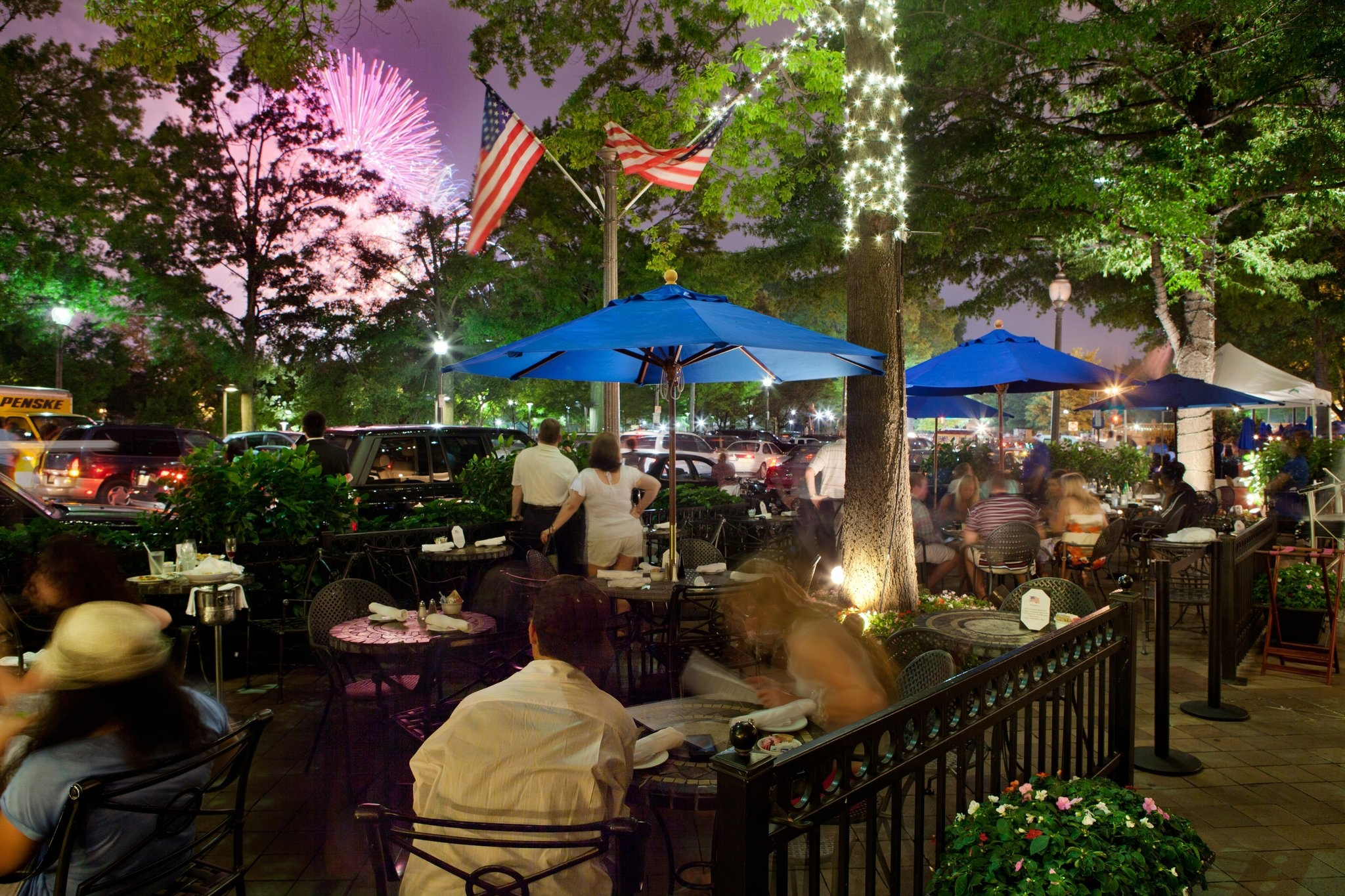 Barbecue and Fireworks at Cafe du Parc
1401 Pennsylvania Ave., NW
Cafe du Parc is extending their menu, their space, and their hours to celebrate July 4th this year. Executive chef Peter Laufer will grill burgers, hot dogs, and chicken sandwiches at an outdoor barbecue station, and you'll find several additional picnic tables on the terrace to soak up the sun. Kids can get their faces painted anytime between 5 PM and 8 PM, and the restaurant will stay open until 11 PM—perfect for a post-fireworks snack.
Roof Deck BBQ at 1905
1905 9th St., NW
Head up to the deck at 1905 starting at 2 PM on July 4th to feast on local sausages, grilled portobellos, and homemade side dishes from chef Joel Hatton. The $20 ticket at the door gets you any three items, including food and drinks. Additional tickets are available for purchase inside the event.
Fourth Annual Freedom Fest at Republic
6539 Laurel Avenue, Takoma Park, MD
Republic, a champion of Maryland's craft brewing industry, is celebrating the local beer scene with its 4th Annual Freedom Fest on Tuesday, July 4th. Drink "unlimited samples" of 25 local beers—including Denizens, Jailbreak, Manor Hill, and more—while enjoying live music and "a smorgasbord of American BBQ." Tickets cost $40 for the afternoon (11 AM to 3 PM) or evening (3 PM to 7 PM), and $60 for the whole day.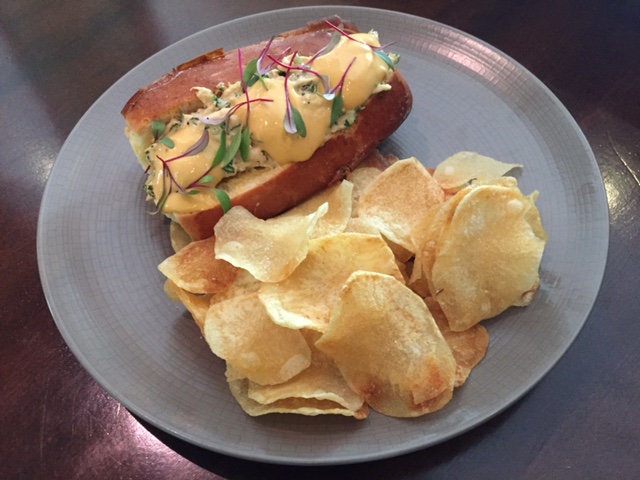 Patio Party & Takeout at 701
701 Pennsylvania Ave., NW
If you're headed to the National Mall this year, stop by the patio at Penn Quarter's 701 on your way. The July 4th menu includes pork belly sandwiches, Wagyu beef sliders, and corn spoon bread, which can be eaten on site or carried out for a picnic (11 AM to 9 PM). 
Fireworks on the Lake at Clyde's of Columbia
10221 Wincopin Circle, Columbia, MD
Escape the DC crowds and watch the fireworks over Lake Kittamaqundi from the pavilion at Clyde's of Columbia. The restaurant dishes up unlimited food, beer, and wine from 5 PM to 10 PM; tickets are $75 per adult, $40 per young adult (12-20 years old) and $20 per child (under 12 years old). Cocktails are available for an additional charge.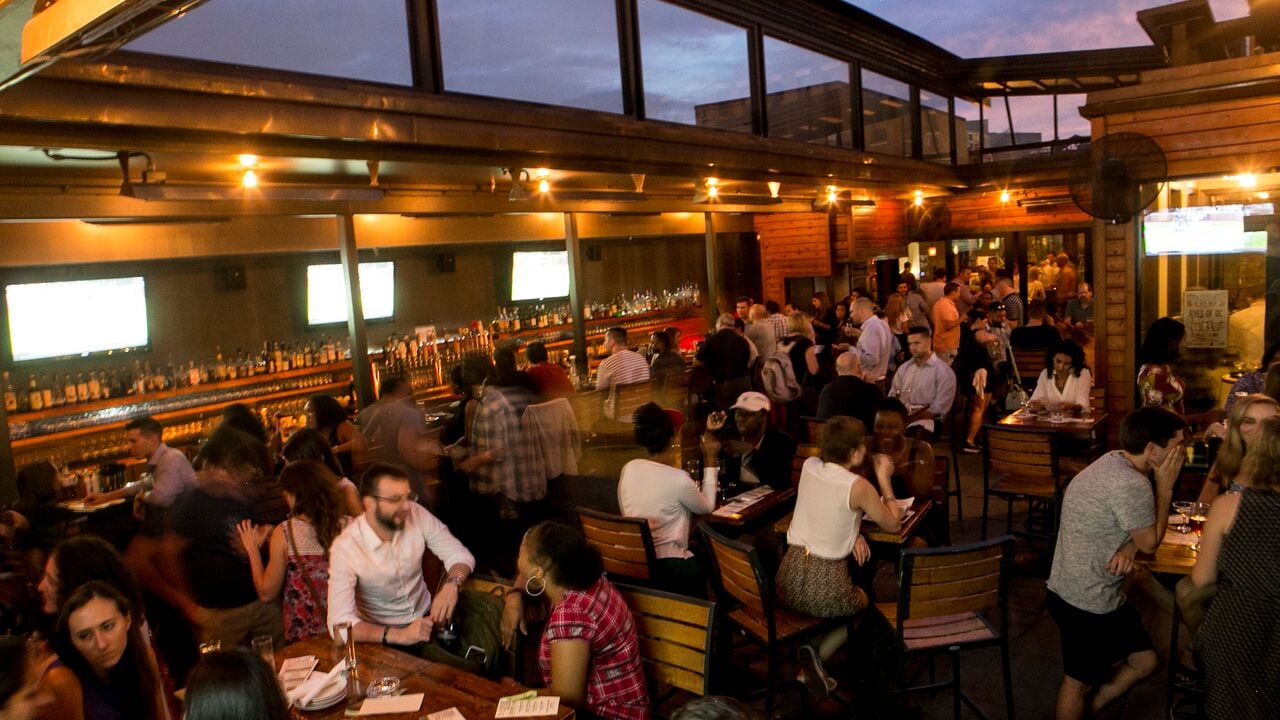 "AmeriCAN DrinkDependence Day" at Jack Rose Dining Saloon
2007 18th St., NW
Yes, you CAN drink the afternoon away with $4 cans from Flying Dog Brewery at the 5th annual "AmeriCAN DrinkDependence Day," starting at 3 PM on July 4th. Head up to the rooftop terrace at Jack Rose, and choose from Flying Dog favorites like The Truth, Bloodline, Dead Rise, Summer Rental, and Honey Paloma. Refuel throughout the evening with half-priced bites like smoked whiskey wings, crispy chicken skins, and pork sandwiches.
Rooftop Pop-up Bar at Mason & Rook
1430 Rhode Island Ave., NW
For a drink that captures all the colors of July 4th in one, head to the Rooftop Bar at Mason & Rook for a glass of red, white and blue sangria (made with white wine, cherries, and blueberries). The holiday-themed pop-up bar is also serving whiskey-cola slushies, and a full hot dog menu from chef Jonathan Dearden. All food and drink items are served à la carte at prices ranging from $7 to $14, and The Rooftop will be open normal hours on July 4th (from 5 PM until last call).
Red, White & Brew at Fairmont Georgetown
2401 M St., NW
Head to the newly refurbished courtyard garden at the Fairmont Georgetown before the fireworks to stay hydrated with bottomless beers from local brewery DC Brau, house wine, and sparkling cocktails. The $75 ticket ($35 for children 12 and under) also includes food from the grill station, stocked with burgers, half-smoked beer brats, hot dogs, grilled jumbo shrimp with lime honey bourbon glaze, potato salad, and grilled corn. If that doesn't leave you stuffed, make your own sundae to end the party on a sweet note.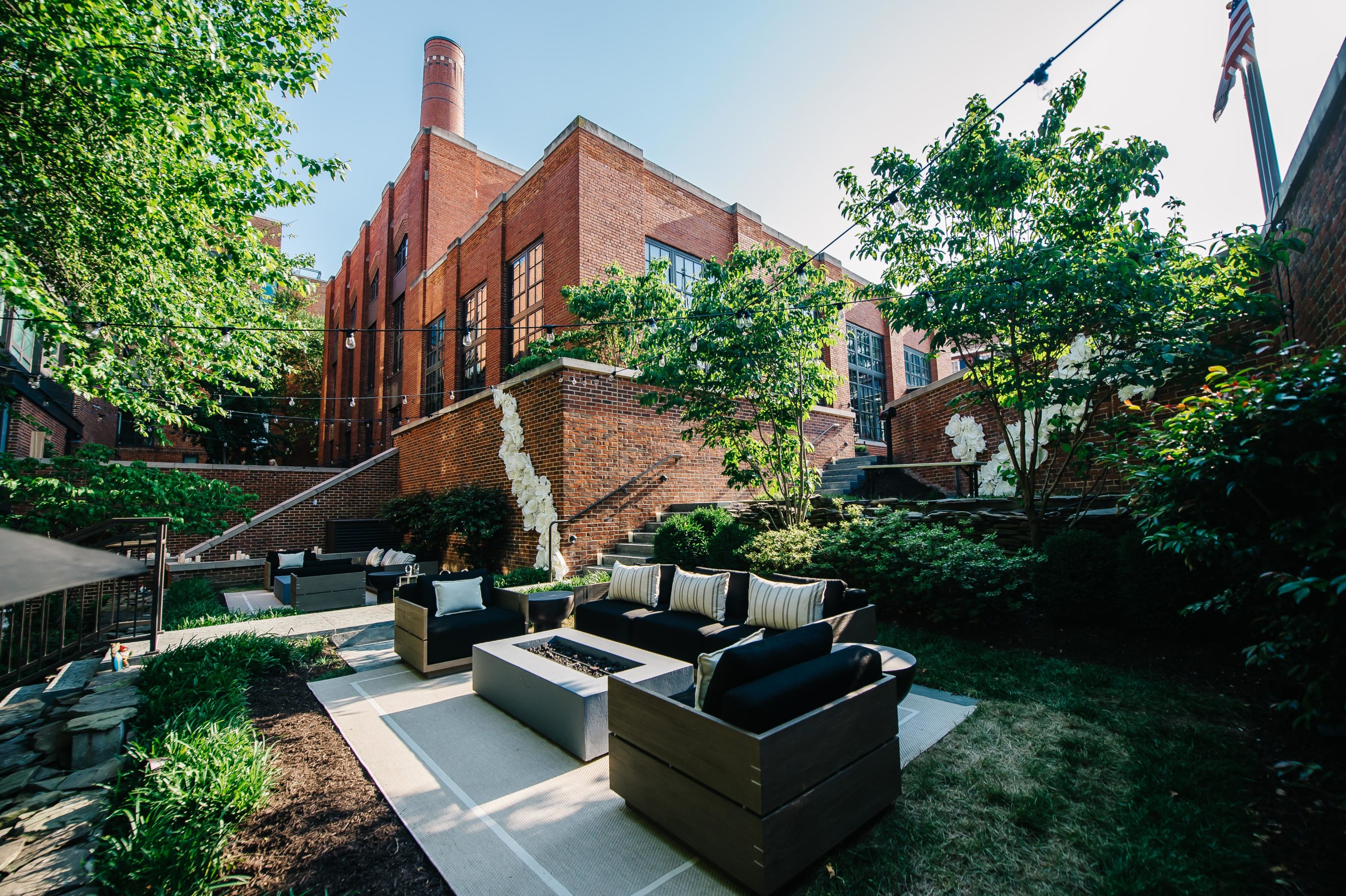 Pre-Fireworks Party at The Ritz-Carlton Georgetown
100 South St., NW
If you're planning to watch the fireworks display around the Georgetown Waterfront, head to The Yard at the nearby Ritz-Carlton to start the night with bottomless bourbon cocktails and a full buffet of American fare. Highlights from the menu include crab cake sliders, spiced French fry cones, and funnel cake. Tickets for the party, which goes from 5:30 to 8:30 PM, are $95 for adults and $45 for children under 12.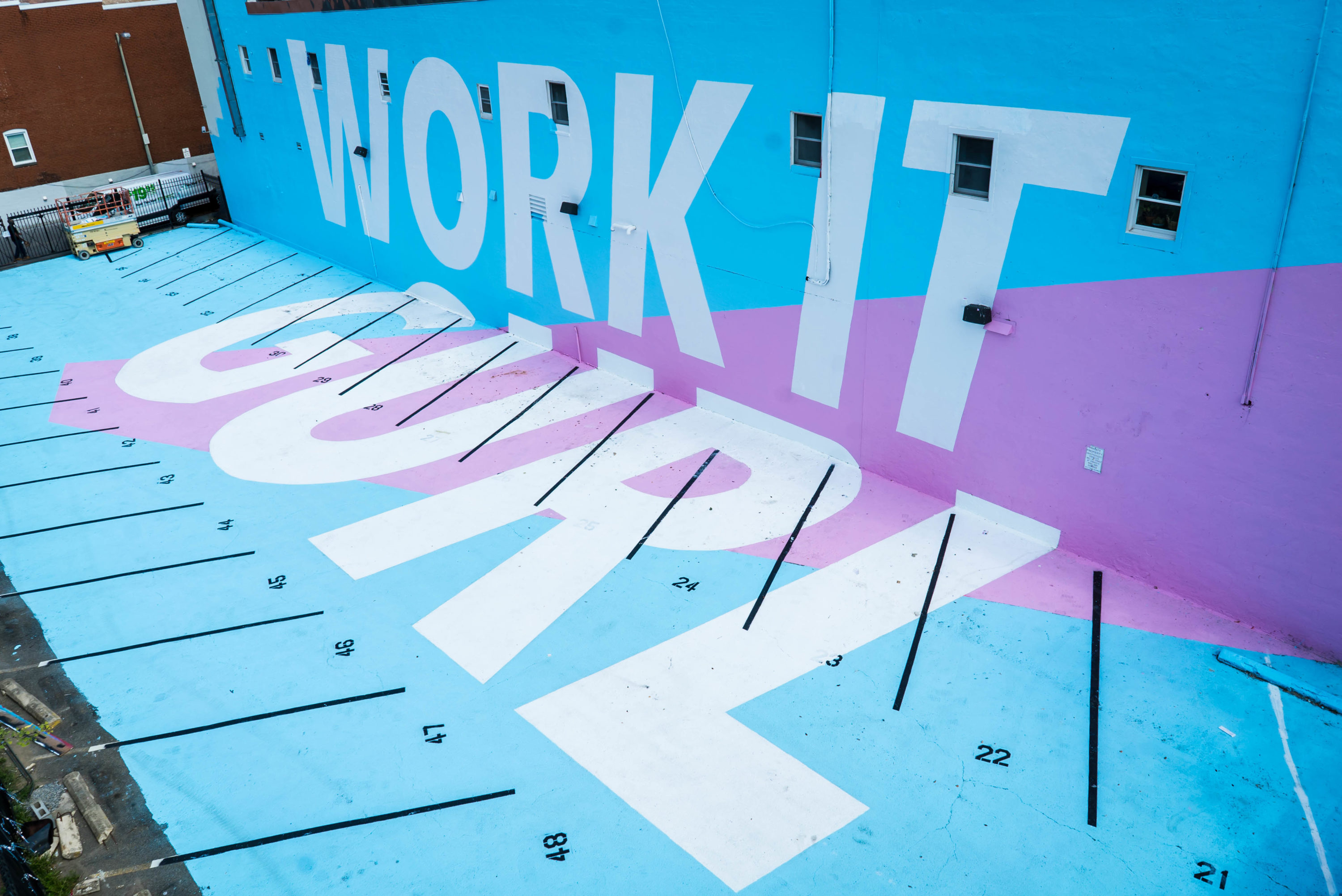 Splashtown USA at the Lot at the Liz
1701 14th St., NW
You've probably seen Instagram photos of the newly painted "WORK IT, GURL" lot (part of the Lot at the Liz pop-up art experience) by the artists at No Kings Collective. On July 4th from 12 to 9:30 PM, Cotton & Reed is throwing a 21+ block party at the lot, featuring a 22-foot inflatable waterslide, cookout fare from One Route Catering, and kegged Cotton & Reed cocktails on draft from mixologist Lukas B. Smith. Highlights include Smith's take on a frozen piña colada and Cotton & Reed's Redbeard (rum, campari, ginger, and lemon). Stick around until after dark for the event's "Terrible Fireworks"—they won't be launching any of the big guys, but you'll see sparks from a few kiddie kits. All food and drinks are priced separately: $10-12 per plate and per cocktail, and $5 per beer. Proceeds from the event will benefit Whitman-Walker Health.