One of the hardest restaurant concepts to pull off is the upscale retro diner, but that hasn't stopped a generation of chefs from trying to cross Bob's Big Boy with Bobby Flay. A diner stands as an emblem for our nostalgic longing for a simple time that never really existed, with unfussy food that speaks to the scattered soul.
Spruce up the old-time look, invest the hearty fare with cheffy touches, and—voilà! Success. Or so goes the thinking.
The problem is that most new-breed diners go too far—the look is often overly slick, and the cooking wants to show you it can be more than just greasy-spoon fare.
The best thing about Baltimore's Shoo-Fly Diner is that it doesn't appear to be congratulating itself on revamping the genre. Walking into the three-level space—at once a friendly bar, a tavern-like dining room, and a mini-luncheonette—you're struck by the absence of kitsch or cliché. No chrome, no jukeboxes. The waitstaff isn't got up in black tees and Chuck Taylors. There's wood, lots of it—much of it white and weathered—and the lighting is soft and sophisticated. You can tell that owners Spike and Amy Gjerde, the husband and wife behind Baltimore's enormously popular Woodberry Kitchen and Artifact Coffee, spent a good bit of money on their design, yet you're never made to see it as some sort of set piece.
This has always been chef Spike Gjerde's operational philosophy—that no one aspect of a restaurant should be made to stand above the others, not even the food—and it serves him particularly well here. He wants you to settle in and savor the details. Like the menu, which doubles as a placemat. Like the slide for kids, a relic from the building's previous incarnation as a shoe store—you envision getting on it and sailing down to the lower-level luncheonette, with its shiny rotating stools. Alas, the slide is too delicate, at this point, for riding. To compensate, the Gjerdes give out paper chef hats and boxes of crayons. There's also—wonderfully—a toy-filled playroom.
Adults are indulged, too, with a cocktail list that manages to find something new to say in this mad, mixological age, from a fabulous Bourbon Slush—imagine a soft-textured Slurpee spiked with 101-proof bourbon and pear cider from a local farm—to a boozy Black Russian milkshake made with soft-serve, coffee, and oatmeal stout.
When it comes to the cooking, Gjerde is determined to be plainspoken. To that end, the kitchen expends its effort not on ingenious twists to familiar tastes but on procuring good-quality meat (which is butchered at Woodberry Kitchen) and baking its own breads. Gjerde might be the biggest proponent of local and sustainable in the region, and he's a passionate canner and preserver. Here, he lets the quality of his raw (and jarred) materials carry him. The only dish that seemed effortful was the chicken and dumplings, its elegant broth tasting of chicken bones that had slow-roasted for hours. It was an aberration, albeit delicious.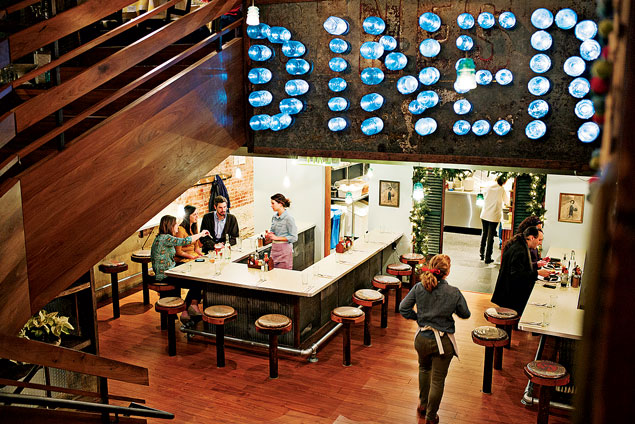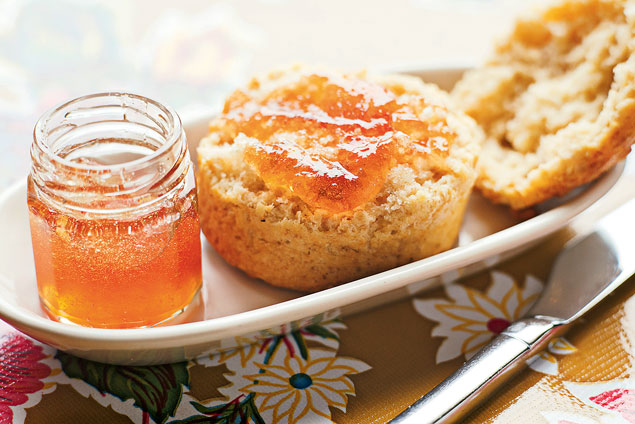 The burger is no showpiece, but I like that Gjerde and his team have been able to replicate the crusty char of the flattop patties of yore. The fried chicken summons memories of Sunday supper in the Deep South.
Sandwiches are piled atop long, thick slices of bread, in the manner of those French-bread pizzas of the '70s. It's good bread, but I could do with less of it. The egg salad is marvelous, and—neat touch—topped with lightly fried potato chips. I also loved an open-faced sandwich of corned beef and cabbage. The meat had a richness that put me in mind of a good steak, and the cabbage had crunch and tang.
There are dishes that err. "Disco fries," doused in gravy, strewn with curds, and surmounted by a fried egg, was flatter-tasting than I expected, but it vanished from the table nonetheless. Creamed collards were more clotted than smooth, and lacking in salt; a shake of Gjerde's hot sauce—a bottle sits on every table—brought them to life. I wished for more crispness from the fried oysters drenched in Buffalo sauce, but the oysters themselves were clean and fresh-tasting.
You can't come to a place like this and not order dessert. There's house-made soft-serve, a dense block of chocolate/peanut-butter cake, and several kinds of pie—including a killer sweet-potato and a chocolate chiffon whose too-hard crust encloses some of the best chocolate mousse you'll find.
I ended dinner one night with Toll House cookies just fetched from the oven—both crisp and chewy, with warm, oozing dark chocolate. I hardly needed something sweet, given that I was still drinking a boozy milkshake, which, by the way, had already gone to my head. I began to worry about the drive back to Washington, then I remembered that the playroom had a pinball machine. A half hour of pinball and I was ready to hit the road—immeasurably fatter, though immeasurably happier, too.
This article appears in the February 2014 issue of Washingtonian.