For Whiskey Fanatics
2985 District Ave., Fairfax; 703-280-1000
Sauvignon Blanc might initially leap off the page at this supersized oyster bar, but we also like pairing briny bivalves with brown liquor. Here, the whiskey library holds nearly 200 bottles, including the increasingly rare Yamazaki 18-year from Japan. The spirits menu runs longer than many Thanksgiving grocery lists, but four-glass flights can help ease indecision.
2007 18th St., NW; 202-588-7388
Owner Bill Thomas has amassed the largest whiskey collection in the Western Hemisphere (more than 2,400 bottles!), making Jack Rose and its intimate basement bar, Dram & Grain, a mecca for lovers of the stuff. That's not to say splurging on a $250 pre-Prohibition bourbon is a must. There's a vast rooftop bar for crowd-pleasing cocktails and, at Dram & Grain, boundary-pushing drinks such as the Double Dragon—Wild Turkey rare-breed, bone-washed with a smoky sous-vide turkey leg.
For the Instagram-Obsessed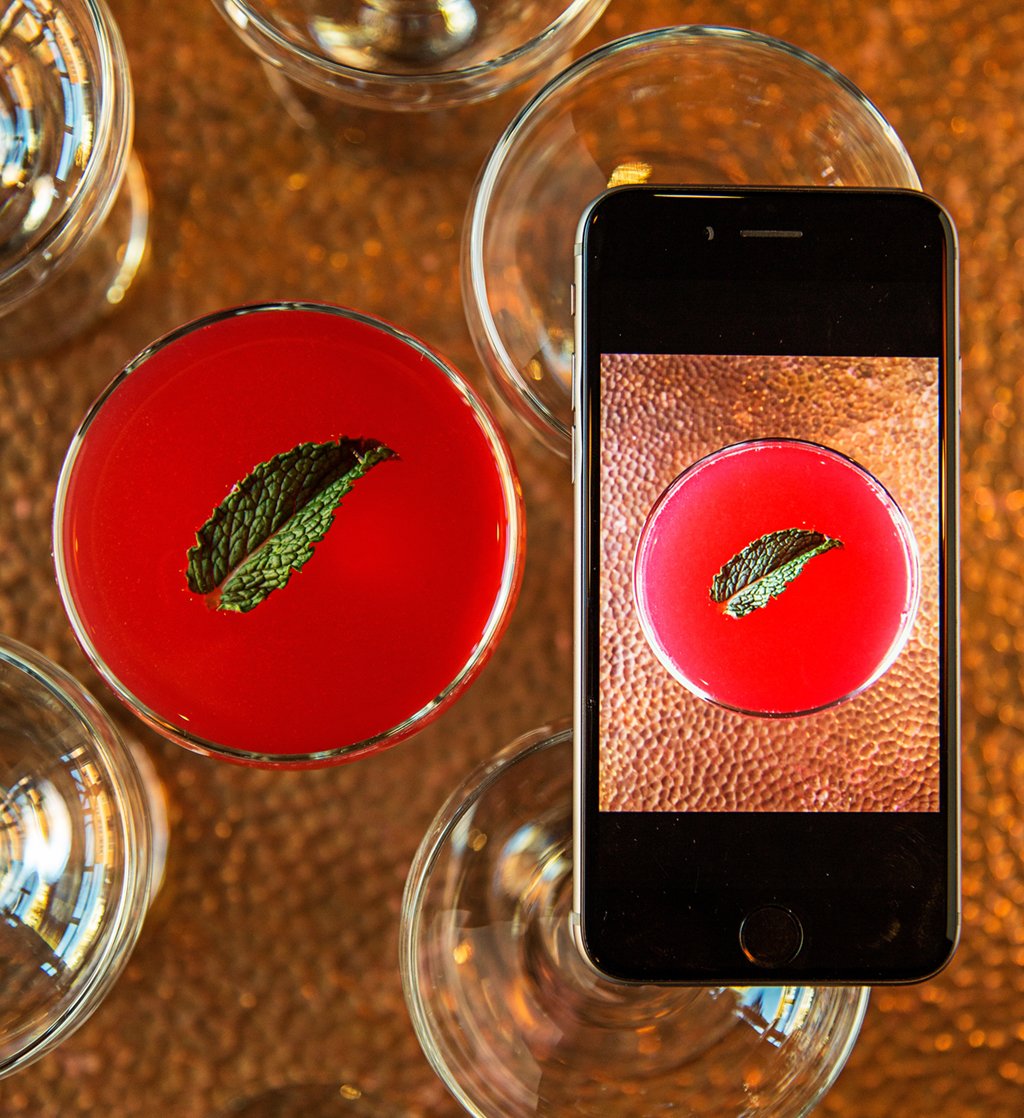 1600 King St., Alexandria; 703-894-3440
Much like the Renwick Gallery's "Wonder" exhibit, the drinks at this Old Town dining room will have guests reaching for their phones to snap and share. A green globe of cucumber-lime sherbet replaces a mundane ice cube in one clever cocktail, which also contains green-tea-infused gin, salted-pistachio orgeat, and absinthe. Another looker, dubbed the Daisy (the flower is the English translation of "margarita"), takes on a sunset hue thanks to blood-orange syrup that plays well with jalapeño-infused tequila.
For Locavores
7920 Jones Branch Dr., McLean; 703-847-5000
Härth, the restaurant in the Tysons Hilton, hasn't let its office-park address stop it from growing a garden to supply both the chefs and bartenders with fresh ingredients. The Härth Flame incorporates simple syrup infused with pequín peppers, while in the summer, mojitos feature mint from the garden. Some cocktails use honey from the hotel's rooftop apiary—we like the bottled Blackberry Smash, which brings the sticky stuff together with bourbon, puréed blackberries, mint, and lemon juice.
For Drinks With Your Old Lit-Crit Professor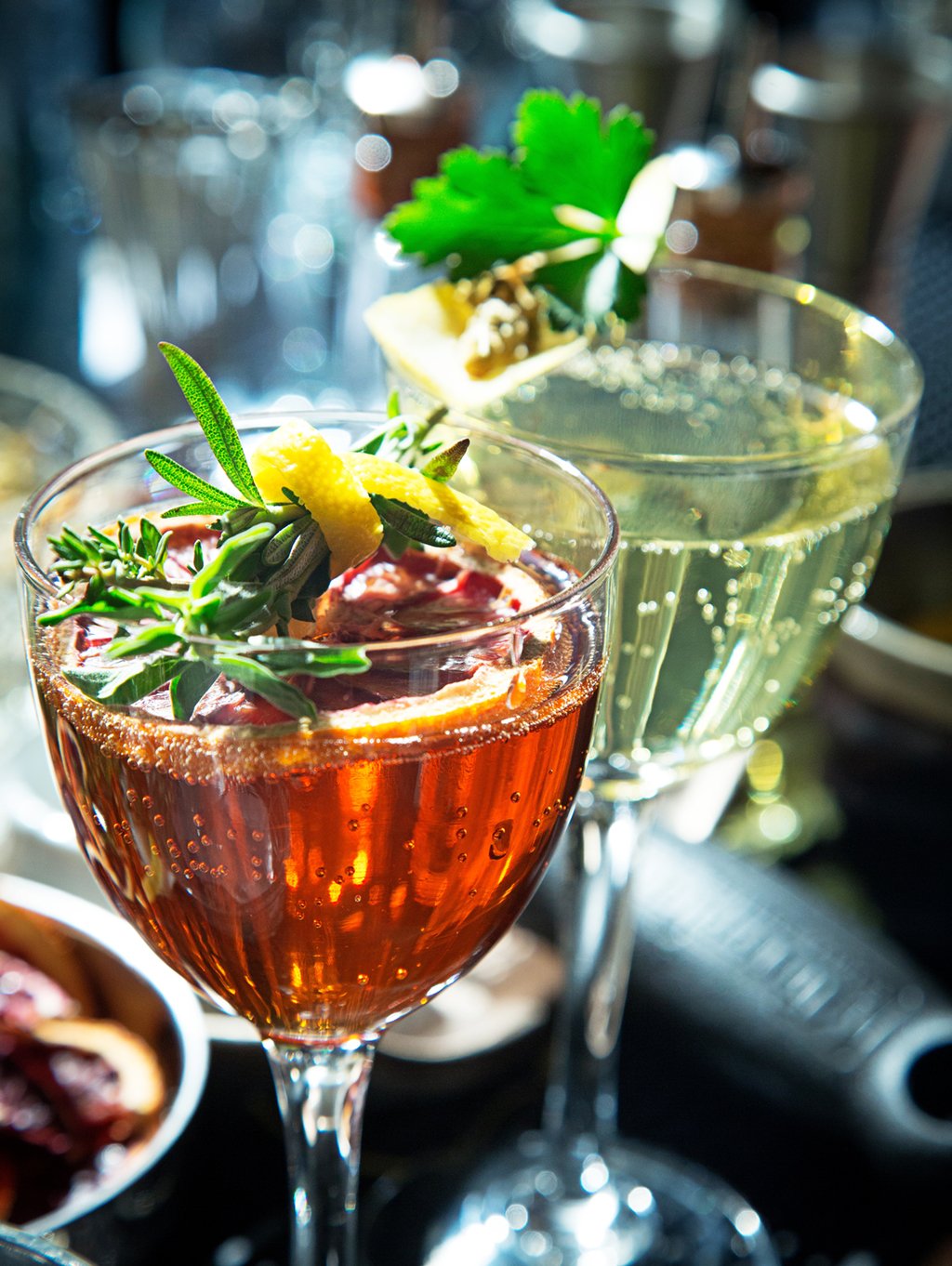 829 Upshur St., NW; 202-722-2939
Speed-reading isn't a skill mixologists typically master, but it's crucial for Chantal Tseng, who concocts literature-inspired cocktails in Petworth Citizen's book-lined Reading Room on Fridays and Saturdays from 7 to midnight. Each weekend is centered around a fresh muse. One evening, Tseng crafted the Ice Palace—dry vermouth, Benedictine, absinthe, grapefruit peel, and mint over crushed ice—in honor of F. Scott Fitzgerald.
For Lovers of the Classics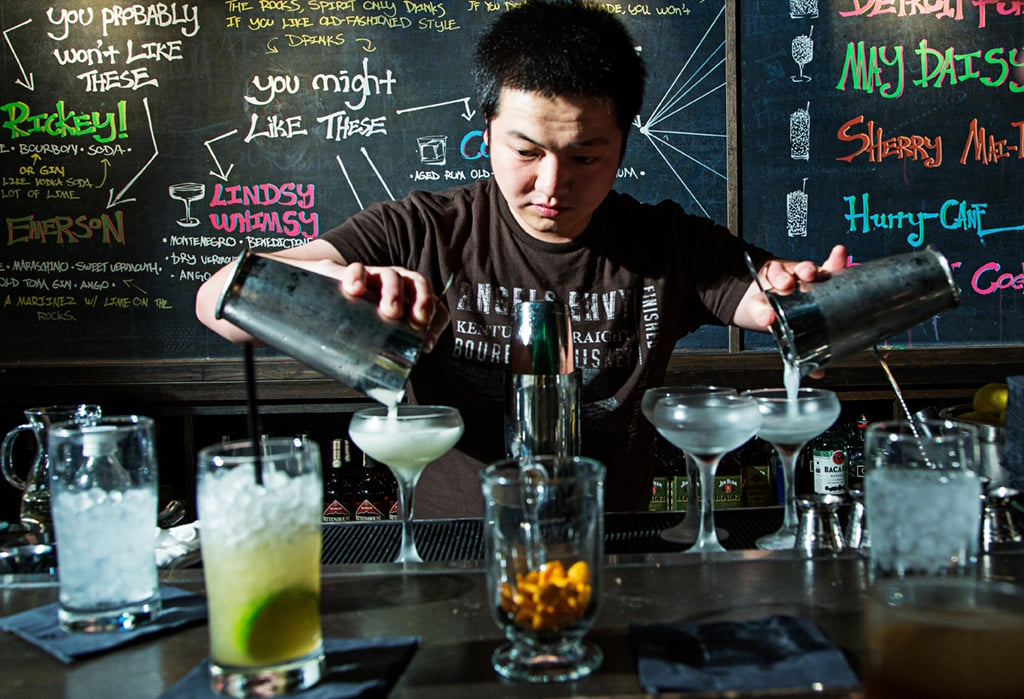 1110 H St., NE; 202-241-1952
Ever skip a cocktail because you didn't understand it and didn't have the guts to ask a busy bartender to explain? This H Street hangout demystifies drinks by handing out a manual instead of a menu. You'll learn about the origins and ingredients behind seven types of cocktails—including daiquiris, Manhattans, and martinis—as well as their myriad variations. When it comes to smashes, don't miss the Rye Grin, with rye, Fernet, sugar, and mint.
2009 14th St., NW; 202-232-2156
Uncover a cocktail time capsule when you enter this dimly lit bar with a speakeasy vibe, which specializes in the antique drinks that did the trick before liquid nitrogen sneaked its way into highball glasses. Try a seductive rendition of the Aviation—made with gin, maraschino liqueur, lemon, and crème de violette—or the two-ingredient Rusty Nail, which combines Scotch and Drambuie (Breaking Bad's Saul Goodman couldn't get enough of them).
For Happy Hour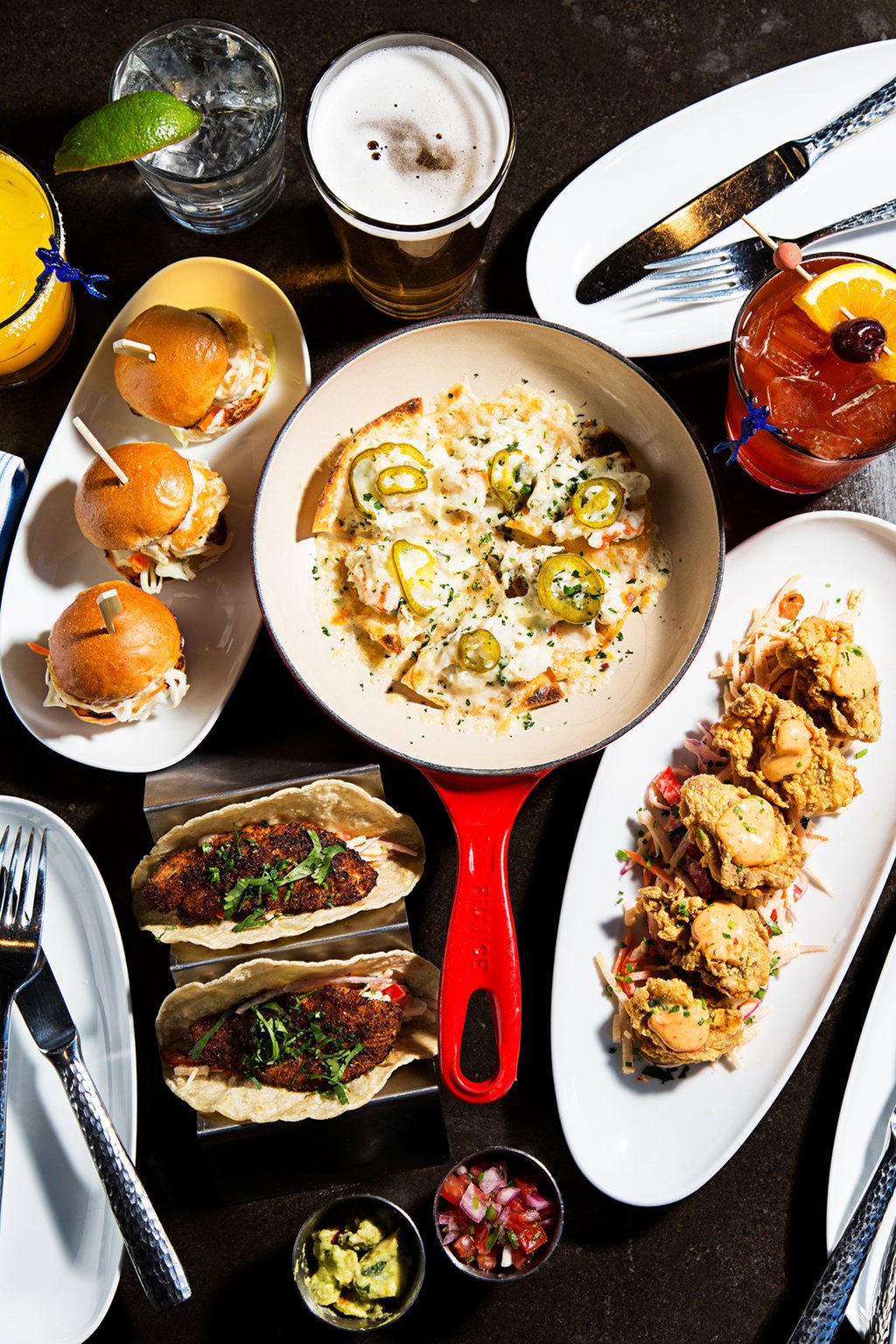 11960 Democracy Dr., Reston, 703-230-3474; 7187 Woodmont Ave., Bethesda, 301-358-6116
The $5 foot-long may be no more, but a fiver still gets you plenty during happy hours at these cushy suburban seafood places. It'll pay for a nice range of drinks—say, a draft Pacifico or a hurricane—and an array of snacks, including mahi-mahi tacos, crabcake sliders, and fried oysters with jícama slaw. At both locations, happy hour runs Monday through Friday 3 to 6:30, Saturday 4 to 6:30, and Sunday 4 to 9.
A Drinking Tour of Ivy City
The largest concentration of local distilleries can be found in Northeast DC's warehouse district off New York Avenue, all offering tours, tastings, and house drinks on weekends. Gin enthusiasts can drop by New Columbia Distillers (1832 Fenwick St., NE; 202-733-1710) for $5 Green Hat libations and samples of Capitoline vermouth. At One Eight Distilling (1135 Okie St., NE; 202-636-6638), try the only District-made vodka or a white whiskey sour. The Murray Hill Club bar at Jos. A. Magnus & Co. Distillery (2052 West Virginia Ave., NE; 202-450-3518) offers the most extensive cocktail experience, with a weekly changing drinks menu centered around the vodka, gin, and young bourbon distilled in the adjoining room. Don't worry about driving—all are in walking distance of one another.
For a Low-Key Date Night
8298 Glass Alley, Fairfax; 703-676-3550
We wish all Red Apron Butcher locations came with an adjoining cocktail bar like this one—laid-back, just dark enough, and with a top-notch drinks list to accompany all the meaty fare, such as ranch pork rinds (genius). Cocktails, all named after B-side tracks, get creative without being fussy: The smoky That's What You Do—with mezcal, Manzanilla sherry, and golden Chartreuse —deserves to go platinum.
For a Special Occasion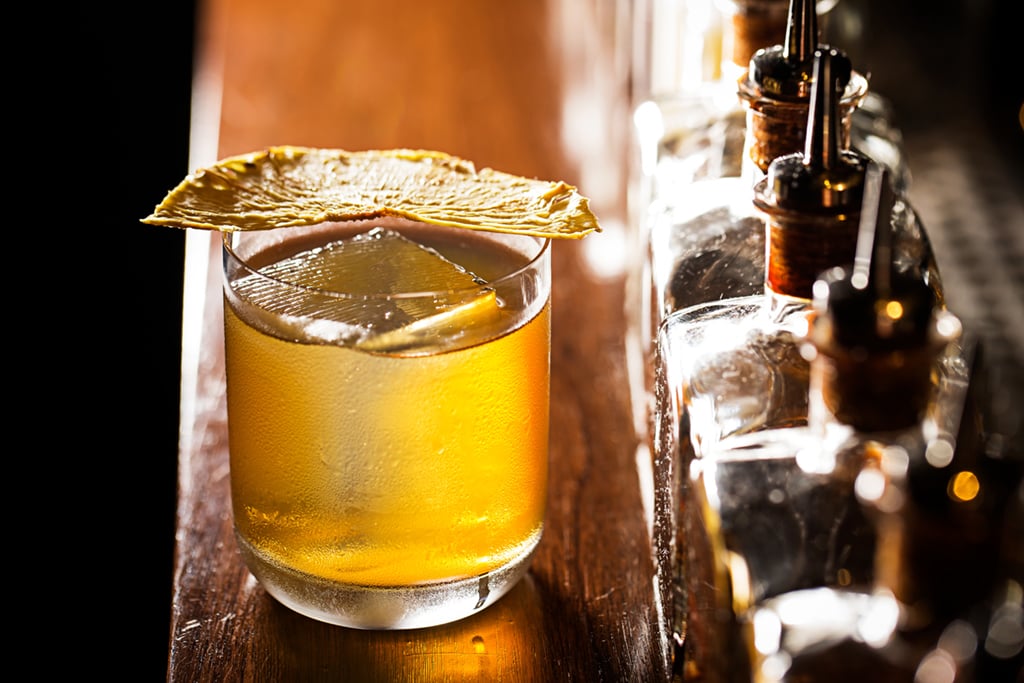 1050 31st St., NW; 202-617-2400
Georgetown has plenty of swanky spots to drink, but everything about this intimate lobby bar in the Capella hotel evokes a moneyed vibe—the glowing gold counter, the high-backed leather chairs, and the ample single malts. Good news for anyone who values substance over scene: The bar mixes terrific cocktails, including one of the city's best old fashioneds, mixed with rye and Pedro Ximénez sherry, and worth every one of its 18 dollars.
124 Blagden Alley., NW; 202-316-9396
One of the most telling signs of the thought and care that went into Derek Brown's newly reopened Shaw bar isn't the spirits (though $950-an-ounce cognac from 1811 is certainly eye-popping)—it's the water. The team makes its own mineral waters tailored to specific drinks and brings in H2O from Scotland or Kentucky to best complement whiskeys. Guests can opt for three- or five-course cocktail-and-small-bite pairing menus ($75 to $100) from J.P. Fetherston in the stately tasting room—luxe extras include Champagne and caviar service—or go à la carte in the salon-like library, where you'll find a whole menu devoted to old fashioneds. The outdoor punch garden will be the place to sip in warm weather.
For the Lululemon Crowd
7750 Woodmont Ave., Bethesda; 301-652-5525
No one is brazen enough to try to pass cocktails off as diet-friendly, but the drinks at this clean-lined bar/dining room wink at those committed to a healthy lifestyle. Many—such as the Ruby Slipper, with gin, a squeeze of grapefruit juice, lime, and basil—simply cut back on added sugar, letting bitters and herbs do most of the talking. At brunch, try a Bloody Mary with activated charcoal—a trendy detox trick.
For Savory Tastes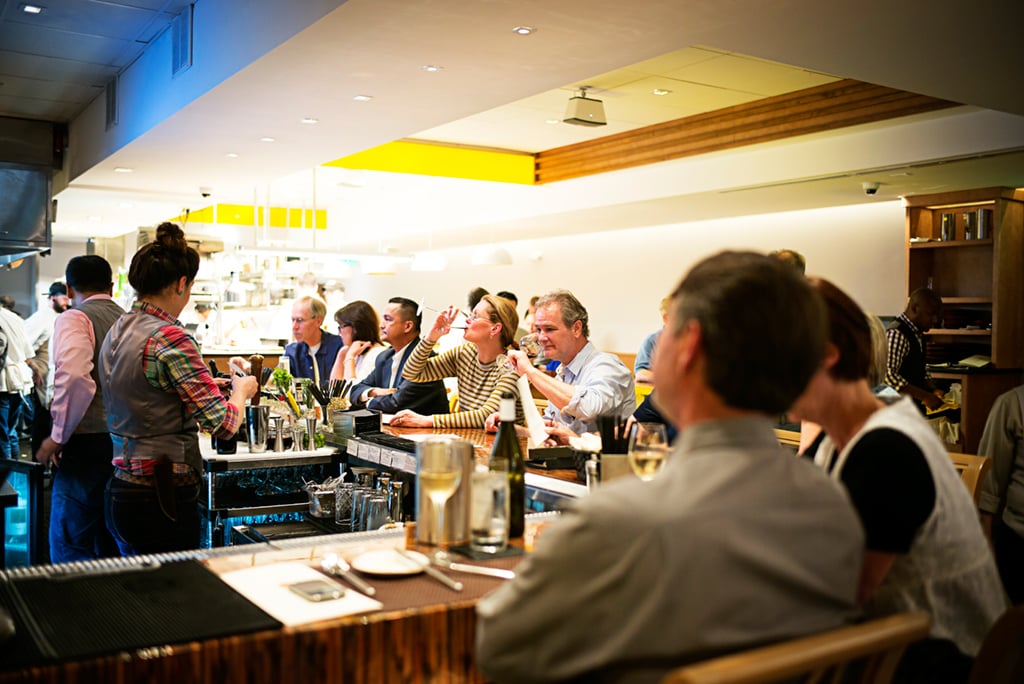 442 Maple Ave. E., Vienna; 703-539-8400
This upscale bistro spices things up behind the wood-topped bar by reaching for ingredients more commonly found in the kitchen—such as black pepper, tamarind, chilies, and the Chinese five-spice powder employed in an old fashioned. Chefs have long paired food with wine, but here bartenders relay to the kitchen which cocktail a customer has ordered, challenging cooks to create a dish to match it.
819 Upshur St., NW; 202-290-1808
This low-lit cocktail haunt from Hank's Oyster Bar owner Jamie Leeds and longtime barkeep Megan Coyle embraces vermouths, amaros, Fernets, and other savory spirits. Take the aptly named Ideal Cocktail—gin, two kinds of vermouth, fresh grapefruit, and a side of Marcona almonds (tastier, and less messy, than a salted rim). Don't worry if you don't know your Salmiakki Dala from your Sapin liqueur—despite the bar's severe chain-bound light fixtures and penchant for bitter flavors, the staff couldn't be nicer.
For Cooling Off on a 90-Degree Day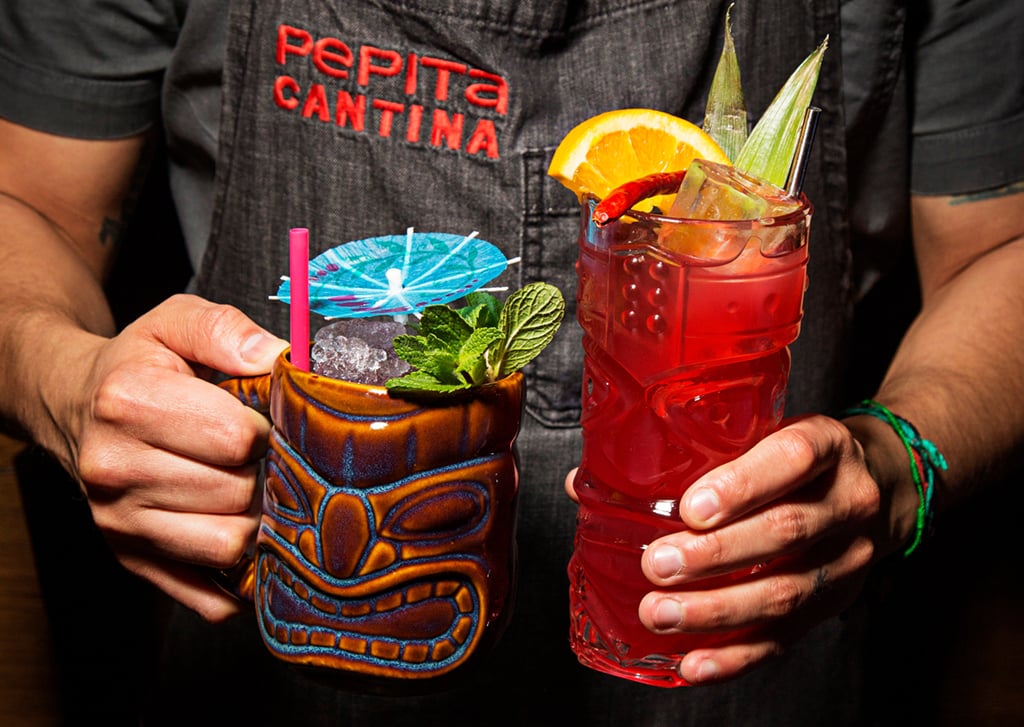 2800 Pennsylvania Ave., NW; 202-944-2026
Sure, Michael Mina's Four Seasons steakhouse serves the classics—the Manhattans are some of the best in town—but less conservative drinkers will find plenty to get excited about. Barman Torrence Swain mixes bright tiki drinks festooned with tiny mums and a rye old fashioned with equal aplomb, and all can be sipped on the loungey patio. Kudos to the bar for a type-A cocktail list that provides details about each artisanal ice and artful garnish and is easy to navigate.
4000 Wilson Blvd., Arlington; 703-312-0200
Mike Isabella's snug Ballston Mexican joint—in warm weather, the side patio more than triples the seating—does right by the fruity, frozen drinks that have been bastardized at so many beach bars. Hurricanes are made with good dark rum, mango margaritas are spiked with ancho chili and rimmed with harissa salt, and daiquiris are made the proper, old-school way (and stay far from the blender). Meanwhile, the kitchen slings some of the best nachos in town.
1309 Fifth St., NE; 202-543-2549
Bartenders love riffing on the classics, but Gina Chersevani offers a slightly different throwback drinking experience at her two Union Market bars: Buffalo & Bergen, styled after a retro soda fountain, and Suburbia, an Airstream trailer serving frozen drinks outdoors in warm weather. At the inside counter, you can add booze to any house-made soda, float, or egg cream, or opt for playful cocktails including the Yellow Polka-dot Bellini with Cava and local peach bitters.
For Beer Geeks
2446 18th St., NW; 202-232-7663
A restaurant that serves four different sausages screams for beer, but the suds at this trilevel Adams Morgan spot don't always call for a pint glass. One of the bar's specialties is "hop-tails"—cocktails that fold in beer, adding body and layers of flavor. Go for the predictably bright Here Comes the Sun, with Port City Optimal Wit, rye, ginger simple syrup, and lemon.
For Bar Wizardry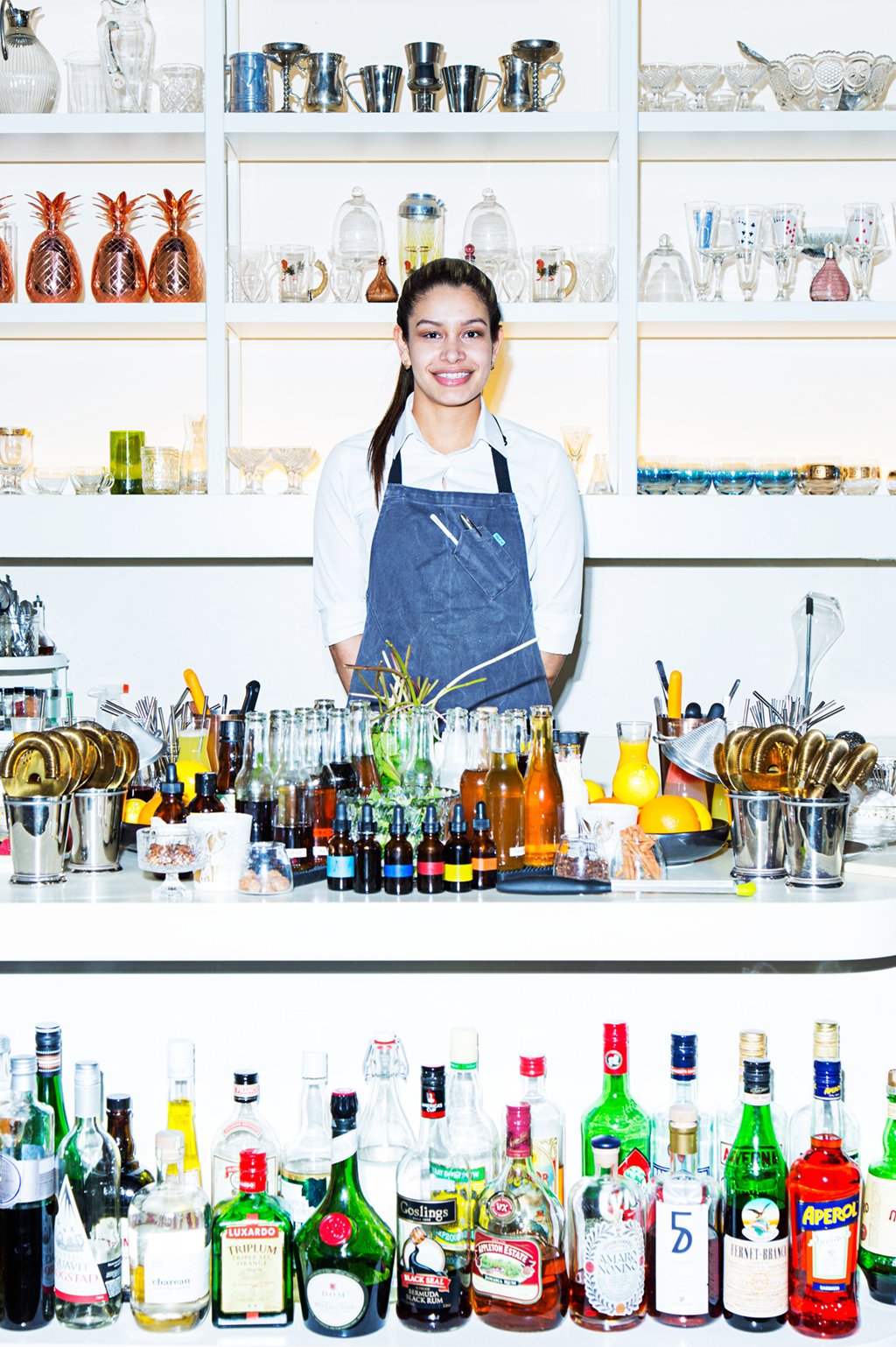 855 E St., NW; 202-393-4451
Want to try Minibar but don't have $275-plus to spend? Reserve a spot at José Andrés's adjoining "cocktail lab," which mixes more than 100 à la carte cocktails and snacks in a funky, modernist space. (Good luck teetering on the cactus-shaped couch, though.) Head bartender José Rivera concocts boundary-pushing libations, divided on the list by base spirit, which run $12 to $16 and come with an amuse-size pre-drink. Certain orders also arrive with a show—a plume of crème de cacao vapor, or spherified mojitos atop silver spoons—while others are more subtly delicious. As for the food, it's all about the foie-gras-laden waffle.
This article appears in our April 2016 issue of Washingtonian.