Chinese/Taiwanese It tells you something that on a menu encompassing dim sum; dumplings (there's a special window to watch the cooks stretch and roll the dough); and Cantonese, Szechuan, and Taiwanese dishes, one of the most winning items is the simplest: a plate of snow-pea leaves. They hit the table tender and crunchy, the slight vegetal bitterness leavened by generous spoonfuls of fortified cooking liquid. When it's on—and lately it has been very on—Bob's delivers this degree of effortless excellence across the board, in teeming bowls of delicately wrought soups that are best shared with a group, in the tender soup dumplings known as XLB (pierce the top and slurp the hot broth inside before eating), and in stir-fries without even a smidge of excess oil.
The breezy taco stands of Tulum were the inspiration for this chic, pale-pink-walled George-town cafe. That means braised and fried meats are ditched in favor of brightly flavored local veggies, and flavor-boosting accessories come in the form of swipes of yogurt and copious handfuls of herbs and micro-greens. Sound a little too much like lunch at a yoga retreat? We thought so, too, until we tore into a pebbly corn tortilla holding a creamy stew of fingerling potatoes and kale enriched with pepperjack. Or another swaddling meaty mushrooms set off with tangy red sauce and briny crumbles of feta. The fillings are, across the board, as wonderfully satisfying as they are surprising. To drink, you can go the cold-pressed-juice route, but tacos and fizzy Lambrusco are an even better match.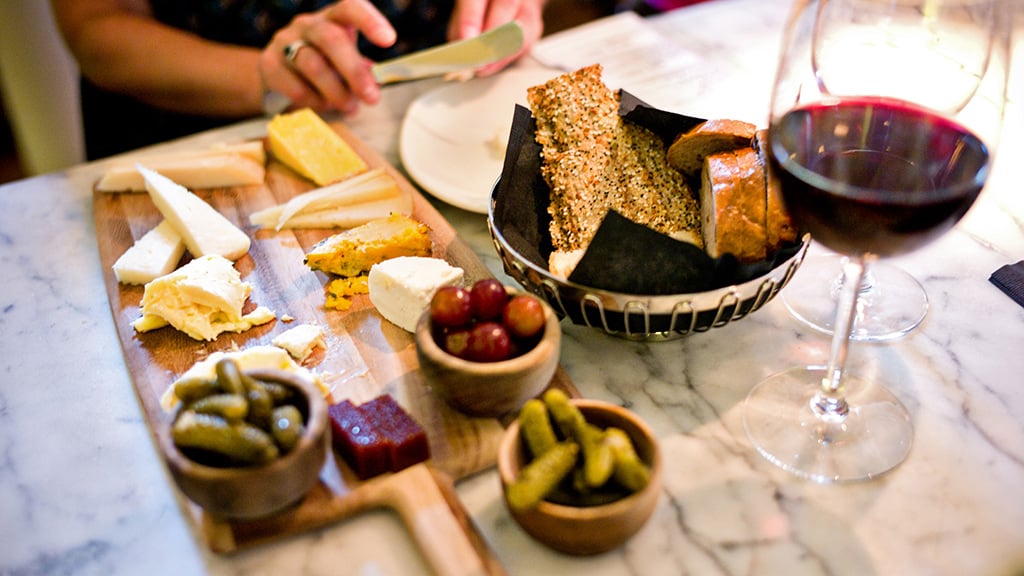 Leave it to cheese obsessive Jill Erber to transform a gooey crock of French onion soup into something even gooier—a sourdough grilled cheese spilling with Gruyère and deeply caramelized onions. At her twin wine bars, each fronted by a gourmet shop, she raids her sprawling cheese cases for pretty much every dish on the menu. Rich, funky Taleggio gives a cheesesteak a luxe upgrade, while goat Gouda and Asiago go into a superb breadcrumb-topped mac. Or opt for the stuff in its purest form—the staffers behind the Carrara-marble bar will help you put together just the right cheese board.
This rowhouse restaurant may have a Ninth Street address—on the restaurant row off U Street that's known as Little Ethiopia—but it lies blocks from its competition. The cooking, too, stands apart, with a complexity and robustness that are testament to the unspoken but unmistakable desire of the operation, owned by Alemayehu Abebe, to cook for Ethiopian expats. You don't have to have grown up in Addis to appreciate this passionately uncompromising approach. You might have tasted dozens of versions of beans and tomatoes, but it's unlikely any has come close to this remarkable depth or richness. Likewise the yebeg wat, its hunks of lamb thickly coated in a stew-like sauce that looks more like melted chocolate than the red of an all-day marinara that some places favor, and whose flavor can't be chased with a long sip of St. George, the Ethiopian equivalent of Heineken.
The menu at this no-frills restaurant is voluminous, covering Cantonese and Szechuan cuisines along with Chinese-American standards (think crab Rangoon) and more arcane finds (bullfrog with yellow chives—far more delicious than it sounds). But the dishes that keep us coming back are the chili-stoked Szechuan preparations: thin-skinned dumplings with a slick of fiery oil, chili-flecked green beans stir-fried with bits of pork, jerky-like strips of spice-rubbed dried beef, and mapo tofu, a fragrant tureen of pork and silky bean curd with a torrent of peppers. Tamer plates such as snow-pea leaves with garlic, bacon with smothered leeks, and salt-and-pepper fried fish are worthy—and for many of us, necessary—counterpoints to all the heat.
This strip-mall mainstay has the feel of an old-time Chinatown restaurant, with families gathering around steaming tureens and platters and a menu that goes on for pages. Though all the greatest hits of neighborhood Chinese carryouts are here, there's much more to the place. Focus on the Szechuan dishes, perked up with the likes of garlic, chili, ginger, and peppercorns. That means wontons in broth with a flotilla of chili oil, or salty-sour green beans with pork, or a delicious plate of fried eggplant studded with slivers of ginger. Don't miss the puffy scallion pancake, which is lighter than most and makes a nice accompaniment to the spicy stuff.
The versatility of the place alone ought to earn it a spot in your dining-out rotation. At breakfast, it's an easygoing antidote to greasy spoons or corporate cuisine. (Get the ful, a dish of stewed favas, garlic, and olive oil with warm, crunchy bread.) Midday, it's a pit stop for coffee and an Italian-style pastry or cake from the adjoining bakery. Come dinner, its enormous value becomes readily apparent. Bring along a group of like-minded friends and watch the table bloom into a lavish and colorful feast of complex, powerfully spiced stews—50 bucks rarely brings so much warmth, comfort, or deliciousness. (If you're more experienced with the cuisine, try springing for the teff injera, a nuttier-tasting alternative to the thin, lightly fermented bread that serves as both utensil and wrap.) Dama has in recent years made meatless cooking a priority, with another entire menu devoted to the Gondarian staples that make up the contemporary Ethiopian table—among them, a fascinating and tasty wat, or berbere-spiced stew, with tender, roasted garlic cloves.
Even at noon on a sunny weekday, the lights are dimmed, the shades are closed, and the air is musky with incense at this white-tablecloth Ethiopian dining room. Nobody seems to care—all the better to focus on the cooking, which serves vegetarians and vegans particularly well. No veggie sampler in the area comes close to the one here, with its round of injera holding a rainbow of vivid little piles. The collards, which in lesser hands can be dull and one-note, leap with flavor; green beans and carrots are bright with black cardamom; and the yellow-split-pea stew called kik alecha is a soothing, warming contrast to the cold salads. The injera—lacy, sour flatbread used as both plate and utensil—is so good you'll want to keep it coming long after you've cleaned your platter.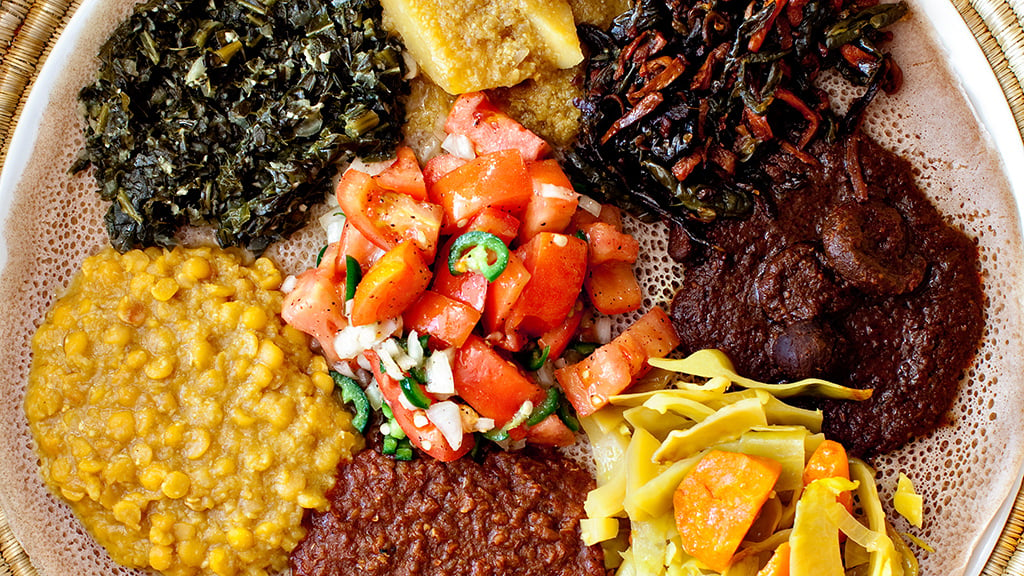 Naming the best Ethiopian in Washington is a bit like picking a top New York slice—great options abound, and small differences at each spot (the tenderest tibs, house-made injera) breed loyalists. What keeps us coming back to owners Samuel Ergete and Meseret Bekele's serene restaurant: the quality of ingredients and the care with which the kitchen prepares each dish. Stepping into the warmly lit, brick-walled dining room feels like entering a home, as does the pleasant welcome and offer of a drink from the varied list of Ethiopian beers and wines. If anywhere, this is the place to try kitfo, the traditional tartare-like dish, here made with prime beef and house-made spiced butter. The seven-vegetable combination plate makes for a wonderful share. Garlicky collard greens, deeply caramelized string beans, lentils, and split peas (bright kik alecha, richly spiced mesir wat) make for a satisfying tour of the kitchen's breadth.
Eating local and eating cheap rarely go hand in hand, which is why environmental lawyer turned grocer Danielle Vogel keeps prices modest for the prepared foods at her two markets. ("You can't spread the word if no one walks in the door.") Start at the bar, where craft drafts are always $4 and can be paired with superb sourdough-crust pizzas (Dupont location only) or ultra-gooey grilled cheeses and shared around tables inside and out. The health-minded will do well with seasonal salads—pick a heaping plate of four for $10—and Pennsylvania chickens, roasted over potatoes to catch the delicious drippings. The market acts as a showcase for other local purveyors, so look for guest stars such as Bullfrog Bagels sandwiches on weekend mornings.
This ongoing margarita-and-nachos party can be a tough ticket—especially on weekends, when waits can top an hour. It's worth holding out. Not only are those cocktails deftly made, but you don't have to spring for a top-shelf rendition. (We maintain that cheaper tequila makes a better marg.) When it comes to your plate, home in on duck nachos spiked with orange and jalapeños, smoky chicken mole poblano, and a spread of tacos—the slow-cooked lamb with salsa verde, Baja-style fish with Sriracha cream, and melty short-rib versions are fabulous. Fixings here are bright and fresh, flavor pileups interesting, and spice levels adjustable. While there are some creative interpretations, much of the cooking is solidly rooted in regional Mexican traditions.
Sensory overload kicks in the second you walk inside this Indian cafe. Its yellow-and-orange walls are inked with more quotes than a high-school senior's yearbook, the ordering window sits atop a sea of discarded bottle caps, and most important, the scents of curry and coriander linger in the air. Everything is amped up when it comes to the Punjabi-style cooking, too. Take the butter chicken—at many places it's sweet, creamy, and above all tame; here it's dominated by a strong whiff of woodsy cardamom. Another typically meek dish, the spinach curry called saag,almost stings the tongue with heat. (Try it as part of a thali, a generous sampler that comes with rice and yogurt sauce.) A Kingfisher helps—it, along with bottles of Glenlivet and Jack Daniel's, can be poured from a self-serve bar tucked into a nook by the window.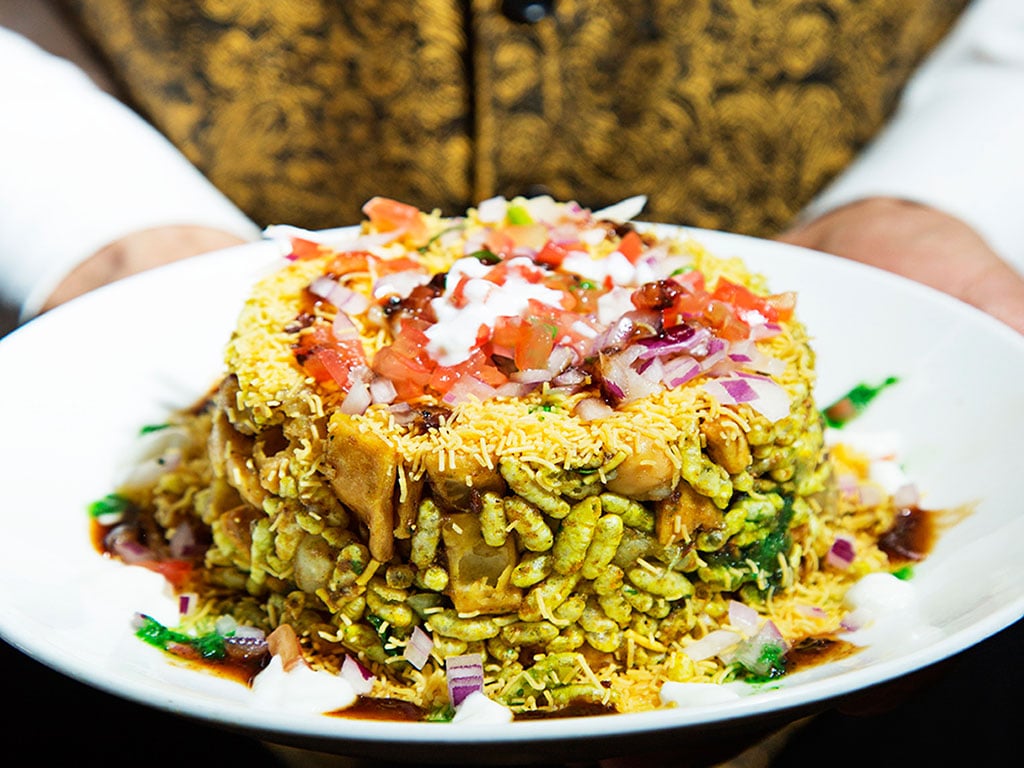 It's prettier than most suburban curry houses, with a stylish bar and a colorful, low-lit dining room. It's prettier, too, on the plate—but that doesn't mean much if the kitchen can't keep pace with the atmospherics. This one, overseen by the folks behind the vegetarian stalwart Woodlands, can. The menu aims to balance traditional tastes and street foods, classical approaches and more contemporary ones, and has no demonstrable weak spots. It does have a clear strength, and that's in its vegetable curries, carried off with a finesse (and lack of oil) not often found elsewhere. Seafood, too, is handled with care, notably a preparation of shrimp moilee in which prawns are matched up to a creamy, coconut-rich gravy loaded with crunchy mustard seeds and dark, fragrant curry leaves.
With its ornate chandeliers, starched tablecloths, and paprika-red valances, this 125-seat dining room is among the biggest, and most opulent, settings on this list. The food can be equally impressive. Biryanis, served in copper pots, are revealed from beneath their cover of naan at the table. Curries tend to be vibrantly spiced, and salads—such as the cool mix of puffed rice and tamarind known as bhel puri—are well balanced and full of texture. One good way to sample everything: the lavish lunch buffet, $11.99 during the week and $13.99 on weekends.
This Brookland pizzeria, dedicated to the pure and sometimes almost austere Neapolitan ideal, has had its ups and downs since the founding partners split, but a recent visit showed it to be more up than we've seen it in a while. The pies are constructed on excellent foundations: a bright and sweet tomato sauce, tangy slices of fresh mozzarella, and a crust (cooked quickly in the custom-built wood-fired oven from Italy) that hovers between chewy and crispy. The pizza dough is wisely repurposed for excellent calzones and sandwiches, which deliver the crunch of a grill-pressed Cubano. A heads-up for hop-heads: The craft-beer list is unexpectedly deep and interesting for such a tiny operation.
This zippy noodle parlor takes a pan-Asian approach to bao, those pillowy steamed buns that keep popping up all over town. Beyond the usual pork-belly and duck fillings (both done with flair), there are rave-worthy takes such as seared teriyaki Spam with mango salsa. The kitchen is even better with noodles. The Streets of Taipei bowl brings together hand-rolled strands with five-spice beef brisket, mustard greens, crispy garlic, and bok choy in a spicy beef broth. And pai gow—a tangle of noodles, ground pork, sprouts, and scallions tossed with soy sauce and chili oil—is lovely.
In the food world, Peter Chang has become the equivalent of Waldo, with devotees of the chef's sometimes magical cooking wondering, on any given night, which of his seven restaurant kitchens (from Richmond to Rockville) he's commanding. Here's one way to tell: Order the scallion bubble pancakes, which on a recent night at his Arlington outpost were every bit the showstopper they had been in his pre-expansion heyday—big and round and puffy as lanterns, without even a trace of grease. One misstep aside (an unremarkable duck special), the meal hummed along at that high level. There were stellar renditions of Chang's greatest hits—crispy cilantro fish rolls with fingers of lightly fried, cumin-dusted flounder plus a perfect mapo tofu that, even as the fiery pool of chili oil made our heart race, couldn't stop us from eating.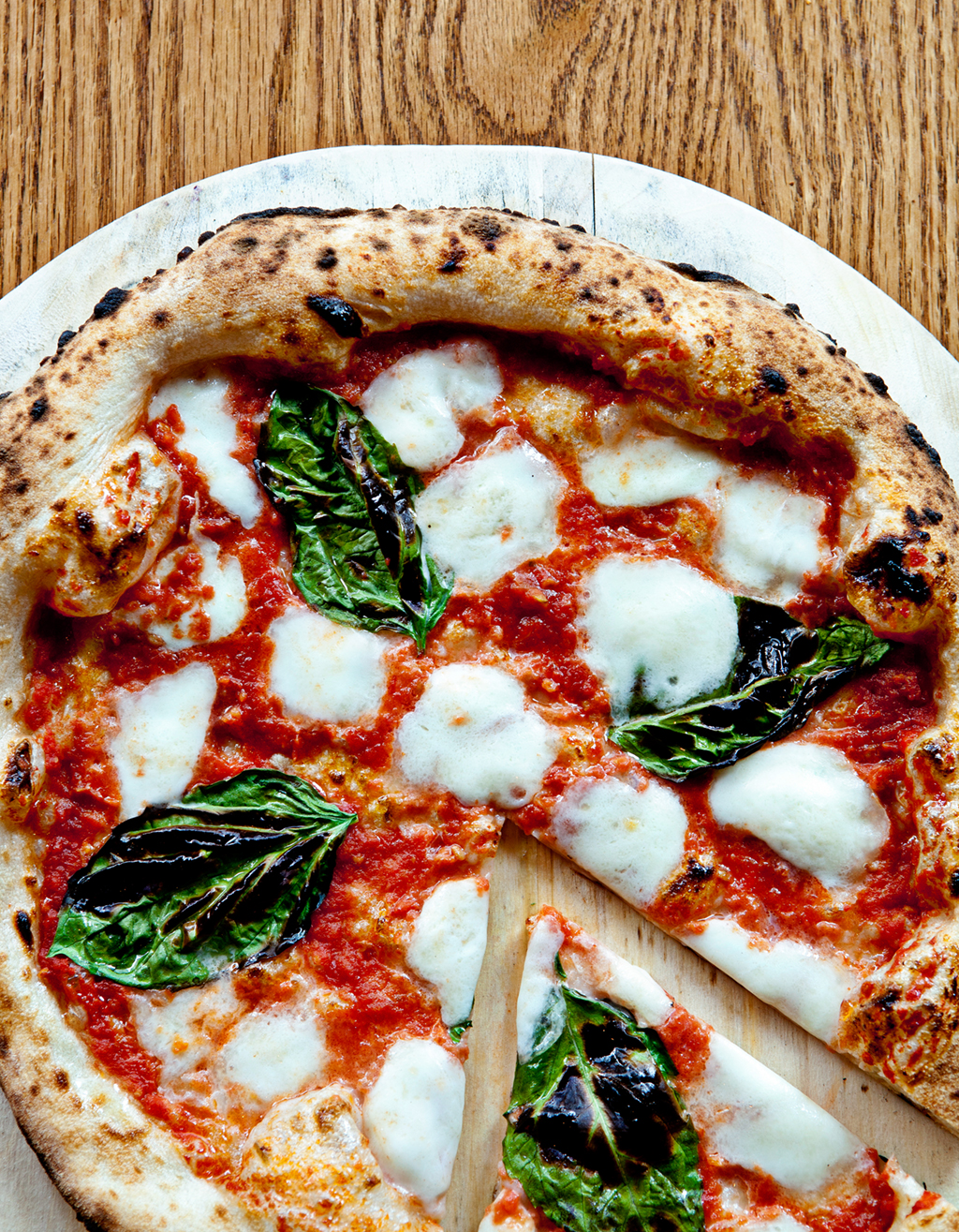 Neapolitan-style pies have all but taken over Washington's pizza scene, but few in our area bear the authoritative stamp of Verace Pizza Napoletana, the Naples-based organization whose mission is to protect the dish and the way it should be made. Pretty impressive, given that the chef who snagged the designation is Bertrand Chemel, a Frenchman who took up pizza-making two years ago. At this cheery, kid-friendly dining room, his rounds sport a crust that's sturdy enough not to disintegrate under the buffalo mozzarella and other high-quality toppings. (Just try not to pluck off all the nickel-size coins of piquant pepperoni while the pie is cooling.) And the other accoutrements—lovely desserts, brittle, olive-oily crostini—show the work of an accomplished chef who doesn't overlook the little things.
The same principle that under-lies all the best barbecue places and pizzerias underlies this tiny shop. It specializes in baked potatoes. Yep, a side dish—ordinarily. The wisdom of this venture is to know that, done right—from sourcing the highest-quality, most mineral varieties to cooking them at just the right temperature and for just the right time—a baked potato is a beautiful, satisfying thing. The simple option—a hot, sliced spud topped with cheddar and butter—is divine, but so are any of the more tricked-out varieties, including one that looks on paper to be disastrous (onions, mango, lime, and garlic butter) but is among the best fast-food plates we've ever eaten.
"Have you ever had 'Indian spicy'?" our waiter asks when we request that the kitchen go full-blast. He has a right to be concerned. When unleashed, the heat at this otherwise unassuming Indian spot near Dulles Airport can scorch—even pappadams pack serious peppery bite, and tender goat in a chili-laced onion gravy imparts a slow and steady burn. (Chilled raita helps.) Still, the spice-averse won't go hungry. A popular all-you-can-eat lunch buffet offers a milder version of that goat curry, and diners can scale the heat up and down as they please. Given the punches the kitchen is capable of packing, mild dishes can be surprisingly delicate—try a fragrant biryani crowned with onions and herbs.
The red-tiled beauty that anchors this narrow dining room is the Maserati of wood-fired pizza ovens. Imported from Naples, it runs hotter and cooks more evenly than its competitors. So whether you order a straightforward Margherita or a more embellished Calabrese, with olives, basil, and anchovies, you can expect tender crusts with just a bit of char. The casual, art-filled space is a friggitoria (fry shop), too—we love the creamy Ping-Pong balls of mozzarella, the prosciutto-studded potato croquettes, and the gooey cheese-and-eggplant arancini. For those who want to sidestep the line that snakes out the door, a fixture during dinner, carryout pizzas travel well.
The peeling-paint decor at Ed and Pookie Duangrat's Thai restaurant might be tired, but the cooking? Hardly. This is a menu full of energy and eccentricities, especially when it comes to the snacky side—we go for dumplings wrapped in lychee bulbs, buttery wok-roasted cashews, and a fiery dip of "Thai Bolognese." The kitchen is especially good with the fry basket. A winning salad features shards of crunchy catfish doused in lime juice and plenty of cilantro, while hunks of battered cod get treated to an addictive red-chili sauce.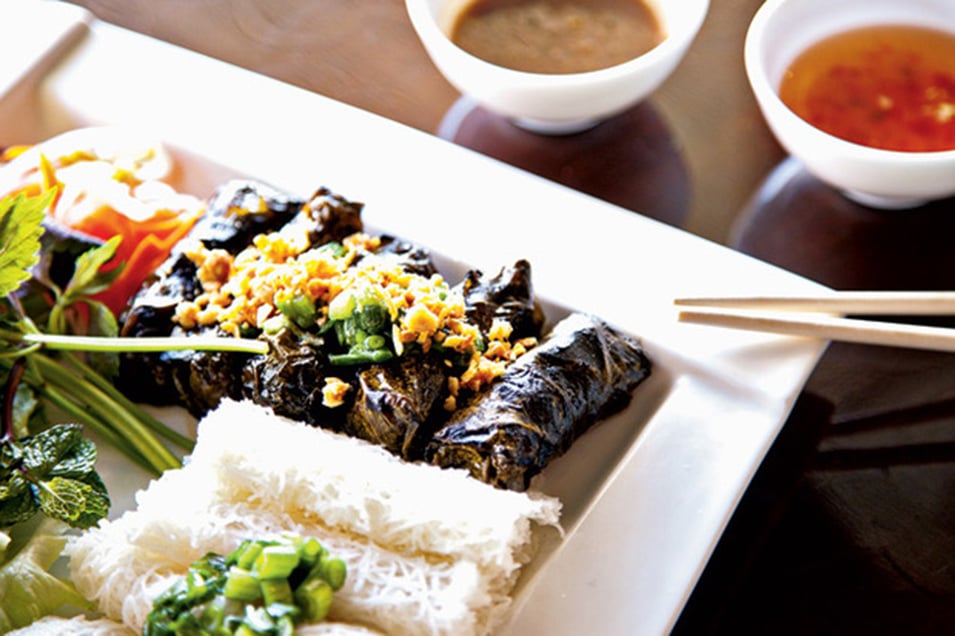 The truth is you could stand blindfolded in the Eden Center—a restaurant-rich shopping mall that amounts to a Little Vietnam for the region—point in any direction, and probably get a good meal. There are shops specializing in pho, bánh mì, bánh cuon, mock meat, bánh xèo, andbun bo Hue, to name just some of the staple dishes that define the extraordinarily diverse culinary culture of a country smaller than some US states. One of the great pleasures of Rice Paper is that it's a kind of mini–Eden Center, bringing together all those tastes under one attractive roof as well as an encyclopedic range of dishes from northern, southern, and central Vietnam. It's not just volume and breadth, though, that make the place great. It's the consistency of the cooking and the quality across the board—the bright, popping salads; the delicate, crunchy crepes; and the clay pots of meats and fishes that somehow manage to hit every pleasure center of your brain at once.
Blackboards advertising "Thai tapas" and local beers such as DC Brau are telling signs that this colorful restaurant has embraced a few dining trends. Thankfully, you won't find tiny portions at big prices: Minus a few flourishes, owners Fred and CiCi Hart are true to the Thai eatery's name, which translates to "relax, relax." The large menu is split between two categories—classics and street fare—with bountiful vegetarian options, including the traditional (terrific chive-stuffed dumplings) and the unorthodox (a dish called You Think It's Duck Curry). That's not to say avoid meats and seafood, whose quality shines. The must-try for carnivores: kao kha moo, a heaping platter of tender braised pork leg, pickled dark greens, fresh herbs, and a bracing black-vinegar sauce.
When owner/chef Kelem Lemu is at the stove, the cooking at this erstwhile Donut Connection, now an Ethiopian coffeehouse and diner, rises a notch and transforms the place into a cafe of cozy, communal warmth. Be sure to ask if she's in. And while you're at it, be sure to let your young and gracious servers know you want your beef tibs—a dish analogous to a meat stir-fry or fajitas—cooked derek, or extra-dry (the marinated morsels become more interesting than if they'd been left pink in the center: crunchy and full of savor). One dish you won't find at many other Ethiopian restaurants in the area is ayeb gomen, in which garlicky, chopped collards are tossed with a soft house-made cheese. An Ethiopian beer such as Bedele or St. George is the ideal pairing with the rich, spiced food, but don't pass up one of the best cups of coffee around; the soy lattes are creamy and sublime, and more satisfying than some desserts.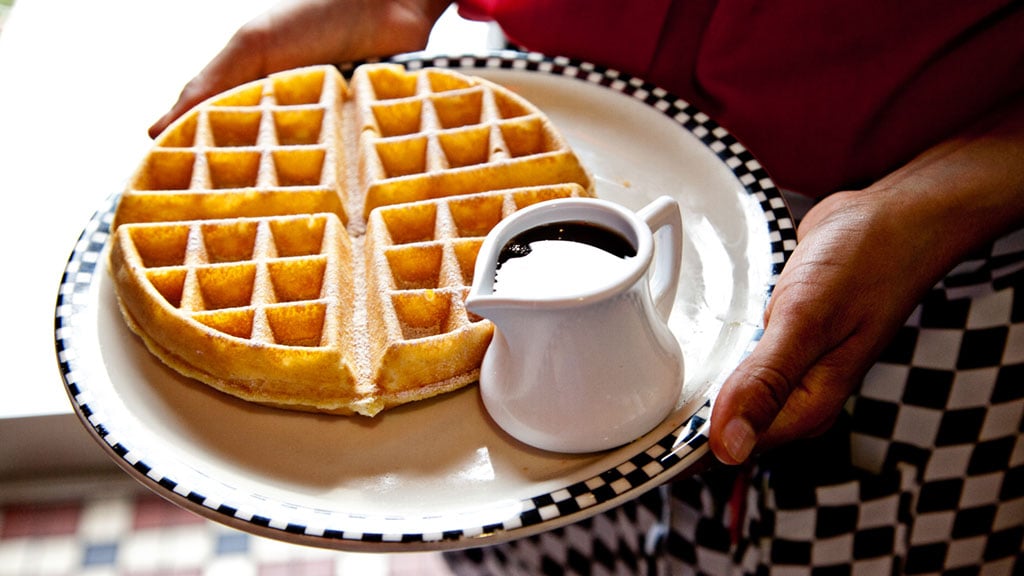 On a list teeming with all sorts of exciting possibilities for armchair travel, it hardly seems right to include a chain diner (local, but still) dedicated to the kinds of things you can make yourself: eggs and bacon, burgers, meatloaf. But Silver Diner isn't your average diner. The drinks list includes a number of local beers and wines, the quality of ingredients has spiked dramatically with the commitment in recent years to more local produce and meat, and the kitchens work with a surprisingly light hand. This is far from the greasy spoon you might have presumed—witness the excellent huevos rancheros with a spicy hash of ground bison. Yes, service can drag, and the ten-page menu has more than a few potholes (the misguided salmon sliders on oat buns, for one), but then you take a chance on an unexpectedly juicy bison burger with pesto, goat cheese, and red peppers and all (well, almost all) is forgiven.
You've been here before even if you haven't—you choose your rice and then your protein, moving down the line of sauces and condiments until you've customized your bowl. The difference between this and Chipotle? It's Indian, not Tex-Mex, and done with an authenticity and punch that the mammoth chain's many outlets can't match. The gravies in particular (including an aromatic kadai, a creamy korma, and a vibrant spinach) show real care and elevate these humble bowls beyond the base pleasures of fast food. The naan pizzas (topped, most memorably, with tender cubes of lamb, tikka masala gravy, grated cheese, and bell peppers) are an even bigger surprise, an East-West merger that doesn't feel gimmicky.
Sudhir Seth is the man behind one of the area's best Indian restaurants, Bethesda's solemn, elegantly appointed Passage to India. This is his more affordable place, where he allows his kitchen to loosen up a bit. At both, the spicing in the gravies—witness the aromatic chicken nilgiri—is painstakingly conjured and complex. But here's where you'll find the kind of small plates you might crave after one too many Kingfishers: meaty wings bronzed in the tandoori oven, a chili-cheese toast that tastes like Welsh rare-bit gone subcontinental, and Snugly wrapped kathi rolls. Many are even cheaper on the happy-hour menu, weekdays from 5 to 7.
More than 12 bucks for a chicken roti might seem steep at a no-frills counter-service joint, especially if you've ever grabbed one of the wraps from a roadside stand in the Caribbean. Then the dish arrives like a mega-burrito—a seeming pound of tender, bone-in chicken and potatoes in a warmly spiced yellow curry, all wrapped in a delicate flatbread. Such are the home-style portions at Teddy's, where diners get a taste of Trinidad and the island's strong South Asian influence. (Curries and griddled breads abound.) A whiteboard menu offers two styles of roti—layered "buss up shut" (translation: bust-up shirt) for the heartiest eaters and a thicker, pancake-like sada roti—all with a choice of fillings such as chickpeas and spinach or goat. The latter is a must, stewed on island time so it's falling off the bone.
It tells you something that, be-fore your noodles arrive, the server brings a spice tray—four little bowls of chili sauces and chili-stoked vinegars. Well, two somethings: One, this tiny operation adjacent to a Vietnamese grocery values the particularity of the individual palate. And two, its clientele appreciates ping and heat. This is among the most uncompromising Thai cooking in the area. That doesn't just mean hot dishes are hot. It means chef Phak Duangchandr—Kob to friends and family—doesn't shy away from the spiky edges that other Thai places are intent on softening: pungency, funky flavors, tanginess. You see it in small touches (the sharp, stinging dipping sauce that accompanies skewers of grilled pork) but also simply in the range of dishes, which include many things you won't find anywhere else, such as Thai street snacks that aren't generally thought to be restaurant-ready. Kudos to Kob for recognizing that there are non-Thais out there who are thrilled to dig into the tastes that she and her family have been eating for years.
If you've never been to this restaurant specializing in southern India's meatless fare, you have to start with a dosa, a thin, crunchy rice crepe that, in size and appearance, calls to mind a loosely rolled poster. It usually comes filled—say, with a hash of potatoes and onions. Dip a piece into the little cup of coconut chutney. A sublime taste, and the best introduction to what this kitchen is able to accomplish, year after year, without meat or fish. Breads and bread dishes—the tiny steamed rice-flour cakes called idli, for instance— are particular strengths, and you'll also find rewards among the long list of main courses with vegetables front and center, including a good rendition of baingan bharta, its small, blistered eggplants tossed in a heady mix of onions, tomatoes, and chilies.
See what other restaurants made our 2016 Cheap Eats list. This article appears in our May 2016 issue of Washingtonian.