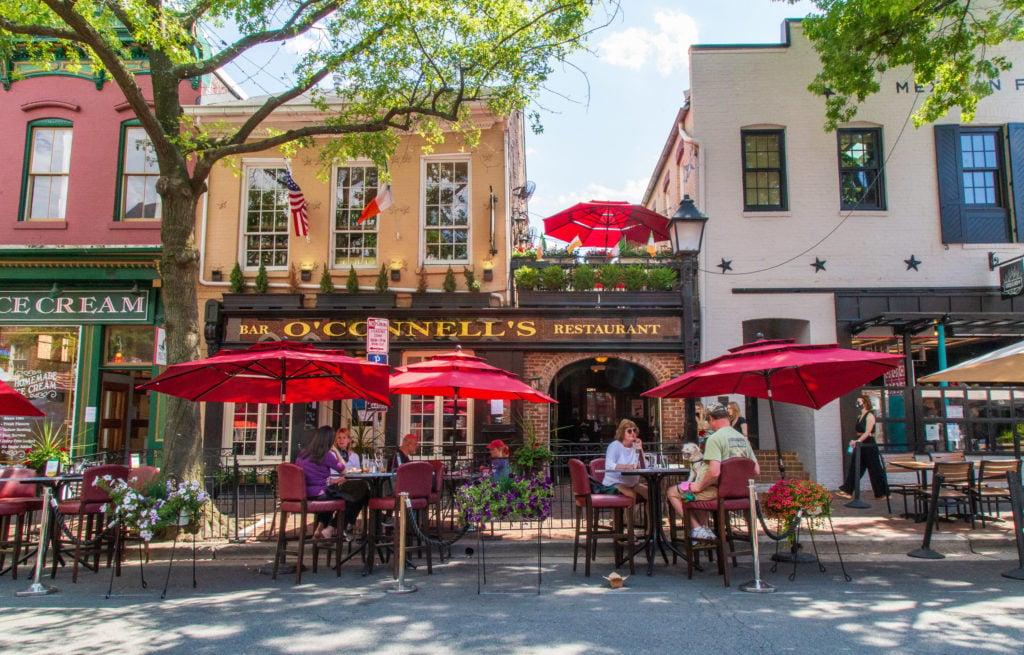 Your 2020 mini-guide to the popular DC suburb. By Marisa M. Kashino, Ann Limpert, Mimi Montgomery, and Jacqueline Tynes.
For Cat People
A cat cafe opening during a pandemic? Hear us out. Old Town's
Mount Purrnon
(109 S. Alfred St.) is Colonial-themed—peep the cat in a tricorn hat on its home­page—and serves as a cat lounge, coffee shop, and adoption center. An hour of kitty time is $20, but those who need to escape their WFH for longer can get a daily pass for $40 or a monthly for $80. The cafe is separate from the felines, so you won't risk getting cat hair in your coffee. Masks are required.
For Dog People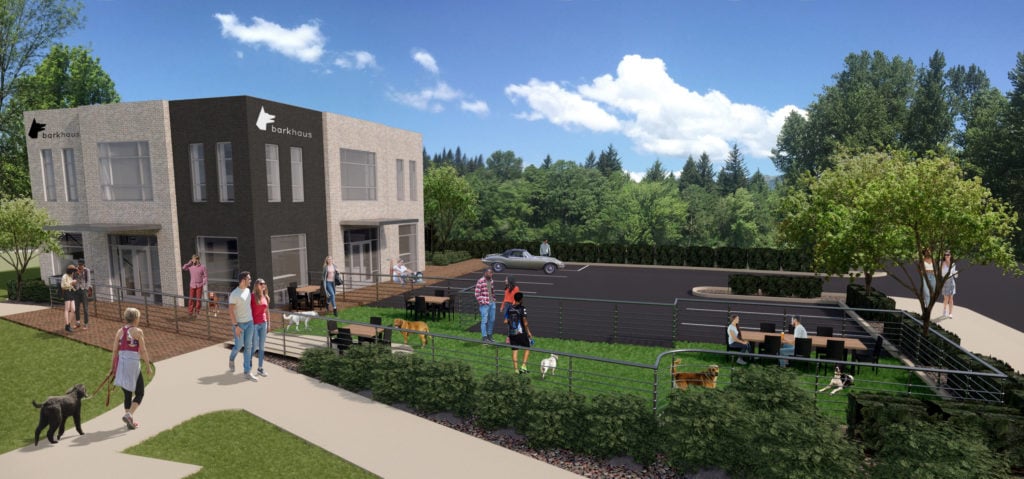 While cat cafes have been popping up around town for the last few years, a newer concept is the dog bar. One of two that are scheduled to open in the region this fall is
Brewski's Barkhaus
in Del Ray (529 East Howell Ave.). For $225 a year, or $25 a month, members and their dogs will get unlimited access to a private indoor/outdoor dog park as well as a dog-friendly restaurant and bar.
Italian Arrivals and Departures
Alexandria got two new pizza-and-pasta joints this summer. The first to open was
Piece Out in Del Ray
(2419 Mount Vernon Ave.), owned by the Ponzi family, who also run Alexandria's
Cafe Pizzaiolo
. The restaurant offers New York- and Detroit-style slices and pies, plus frosé, wings, and mini-cannolis. The menu is available for takeout or dine-in on the patio or in the socially distanced dining room.
The second spot to debut,
Hank & Mitzi's Italian Kitchen
in Old Town (600 Montgomery St.), is the latest venture from Jamie Leeds, the chef and restaurateur behind Hank's Oyster Bar. The menu is heavy on pasta made in-house, hand-crafted pizzas, and Negronis and spritzes. The restaurant has patio seating, and you can also order delivery via Doordash.
Meanwhile, Old Town lost its beloved Pizzeria Paradiso because of Covid-19. The popular decade-old pizza-and-beer destination shut its doors back in March and will not reopen. You can still find owner Ruth Gresser's Neapolitan pies at a monthly pop-up at Alexandria's Port City Brewing Company (3950 Wheeler Ave.).
Cycling in a Pandemic
Ascend Cycle's
new garage (2903 Mount Vernon Ave.) is literally that: a former garage converted into an open-air cycling studio for pandemic-safe workouts. Just down the street from the studio's original indoor location in Del Ray, the garage has sliding doors left open for air circulation, and all bikes are spaced ten feet apart. Riders tune in to the music and instructor's voice via headphones, and everyone gets a personal sanitation kit. To ride, you must bring your own shoes, headphones, water, and towel. It's $22 per class.
Another Covid Closure
Also shut because of the pandemic: quirky Pendleton Carryout Co. in Old Town, which featured a rotating cast of pop-ups selling cakes, dumplings, and 
pupusas
 alongside its excellent Roman-style pizza. But it's not all bad news. A new tenant is already slated for Pendleton's space: the pun-loving
Chewish Deli
(807 Pendleton St.). Owner Gregg Linzey, who also runs a food truck with a similar menu—it will go on temporary hiatus—will serve New York-style bagels, breakfast sandwiches, Reubens, and baked goods. A warning for traditionalists: Schmears have included flavors such as maple-espresso and roasted garlic.
Developer Dissed
A huge new development slated to re-place an aging apartment complex bordered by South Patrick and North Washington streets in Old Town came under intense scrutiny at a design-review hearing earlier this fall. As reported by the 
Washington Business Journal,
 when the New York company Asland Capital Partners presented plans for its 777-unit Heritage at Old Town project, officials unleashed a torrent of criticism, including "We can't put lipstick on this pig" and "This is Ballston. We don't want to be Ballston." Ouch.
The developer contends that the project—which would be among the largest residential developments recently built in Alexandria—needs to be big to accommodate the 190 affordable units in the plan. No word yet on next steps.
Say Yes to the Salon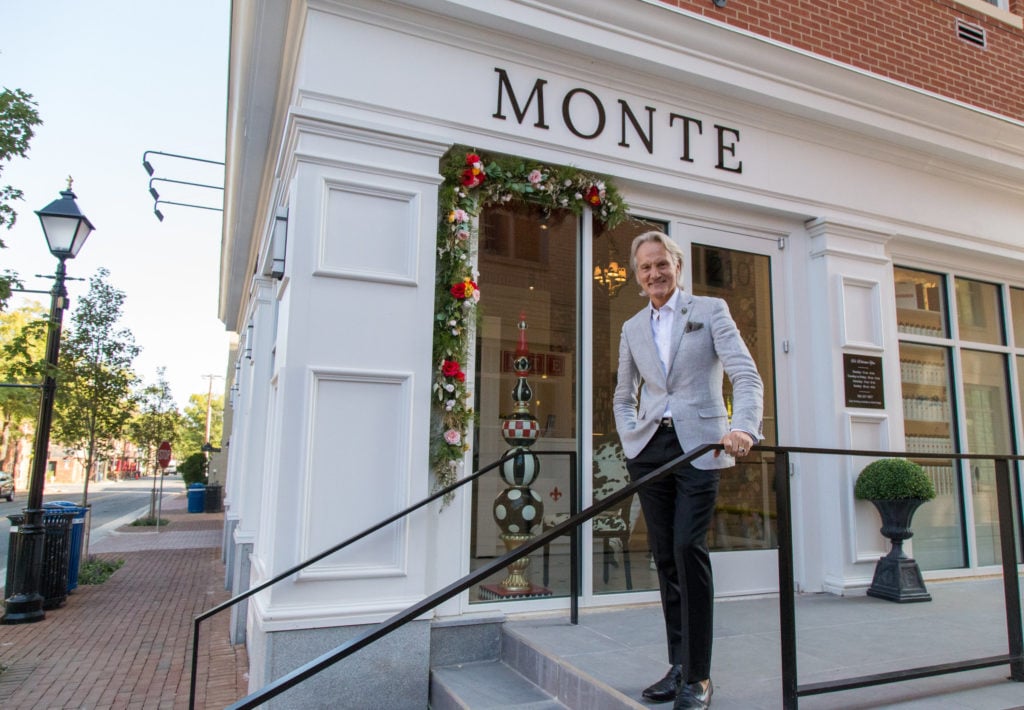 Monte Durham, the fan-favorite bridal consultant on TLC's Say Yes to the Dress: Atlanta, opened his own hair salon in Old Town in September, called
Salon Monte
(210 S. Union St.). Before he became a reality-TV star, Durham was a hairstylist. He also did a long-ago stint as a personal stylist at the Woodward & Lothrop at Landmark Mall. According to ALXNow, the Belle Haven resident decided to open the salon after the pandemic curtailed filming of his show. Inside, the place is decked out in custom wallpaper, with shelves of Durham's own line of products.
Timber!
In September, Alexandria City Public Schools chopped down a beloved 150-year-old oak tree on the campus of T.C. Williams High School to make way for a football-stadium concession stand. Nearly 3,000 people signed a Change.org petition to save the tree, but to no avail. "A crime has been committed," one activist told ALXNow after the oak's demise.
New Old Town Shopping
In January, Sephora moved into the storefront previously occupied by home-furnishings boutique
Random Harvest
(810 King St.). Over the summer, an outpost of British retailer
FatFace
took over the old Trading Post menswear space (128 King St.). The store sells casualwear and accessories for men, women, and children. It has ten US locations, though this is the first in the Washington area. As for that name, it's a reference to the cofounders' favorite "fat" run in the French Alps.
Save the Sign
When the outdoor-clothing company Patagonia announced last year that it would move into the shuttered Old Town Theater (815½ King St.), residents wondered what would become of the building's landmark "Old Town" sign. The retailer initially planned to remove the lettering and replace it with its own branding. But after city officials pushed back, it relented. Though the sign was saved, the store's original spring opening date couldn't be. Because of coronavirus, Patagonia is now working to open sometime this fall.
Next Act
After 18 years on North Royal Street, MetroStage theater closed in 2019 in preparation for its move to a new, larger home at the Venue (901 N. Fairfax St.), a mixed-use development on the Old Town North waterfront, scheduled to finish this year. The project is centered around transforming the Crowne Plaza hotel into a 13-story condo tower. MetroStage—which produces contemporary plays and musicals—will occupy a 7,000-square-foot performing-arts space at the base of the building.
Curry and Chow Mein
Indo-Chinese creations such as chop suey tinted with turmeric and spice-battered fried chicken in chili-garlic sauce are on the menu at
IndoChen
(4906 Brenman Park Dr.), which opened in the Cameron Station development in August. The restaurant, formerly known as London Curry House, has ditched its red-walled, chandeliered decor in favor of a more muted palette. But the owners remain the same, and staples from the old menu, including butter chicken and lamb 
rogan josh,
 are sticking around.
Something Sweet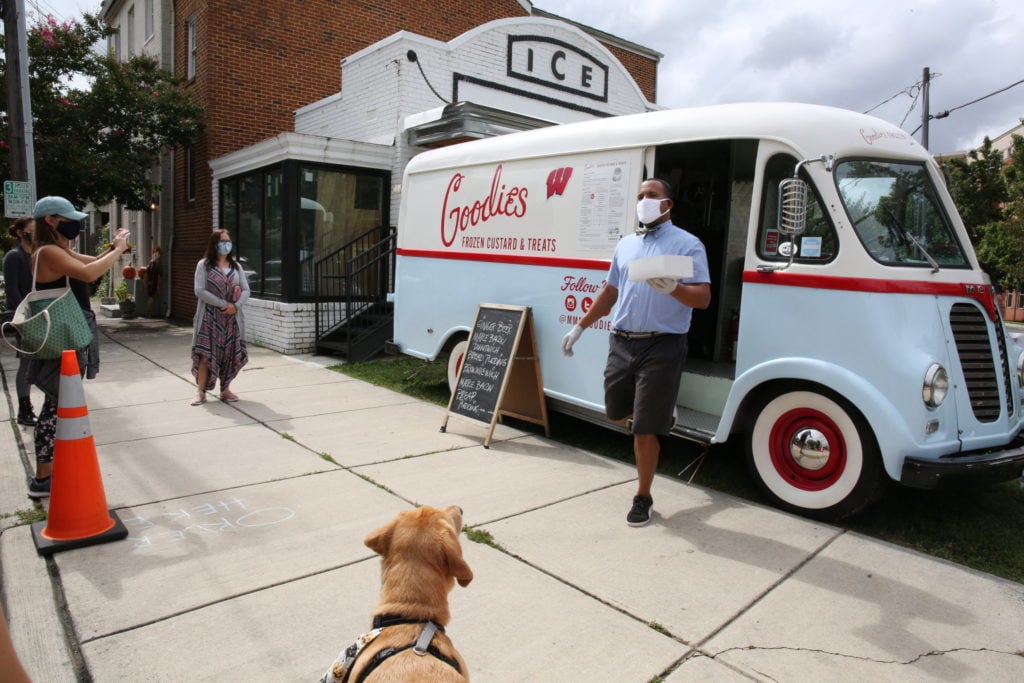 Owner Brandon Byrd has won lots of fans over the years selling sweets from his
Goodie's Frozen Custard & Treats
vintage van. Now he's launching a brick-and-mortar version under the same name. Starting with a "soft" opening planned for November, he'll be serving his Wisconsin-style custard from a walk-up window in Old Town (200 Commerce St.).