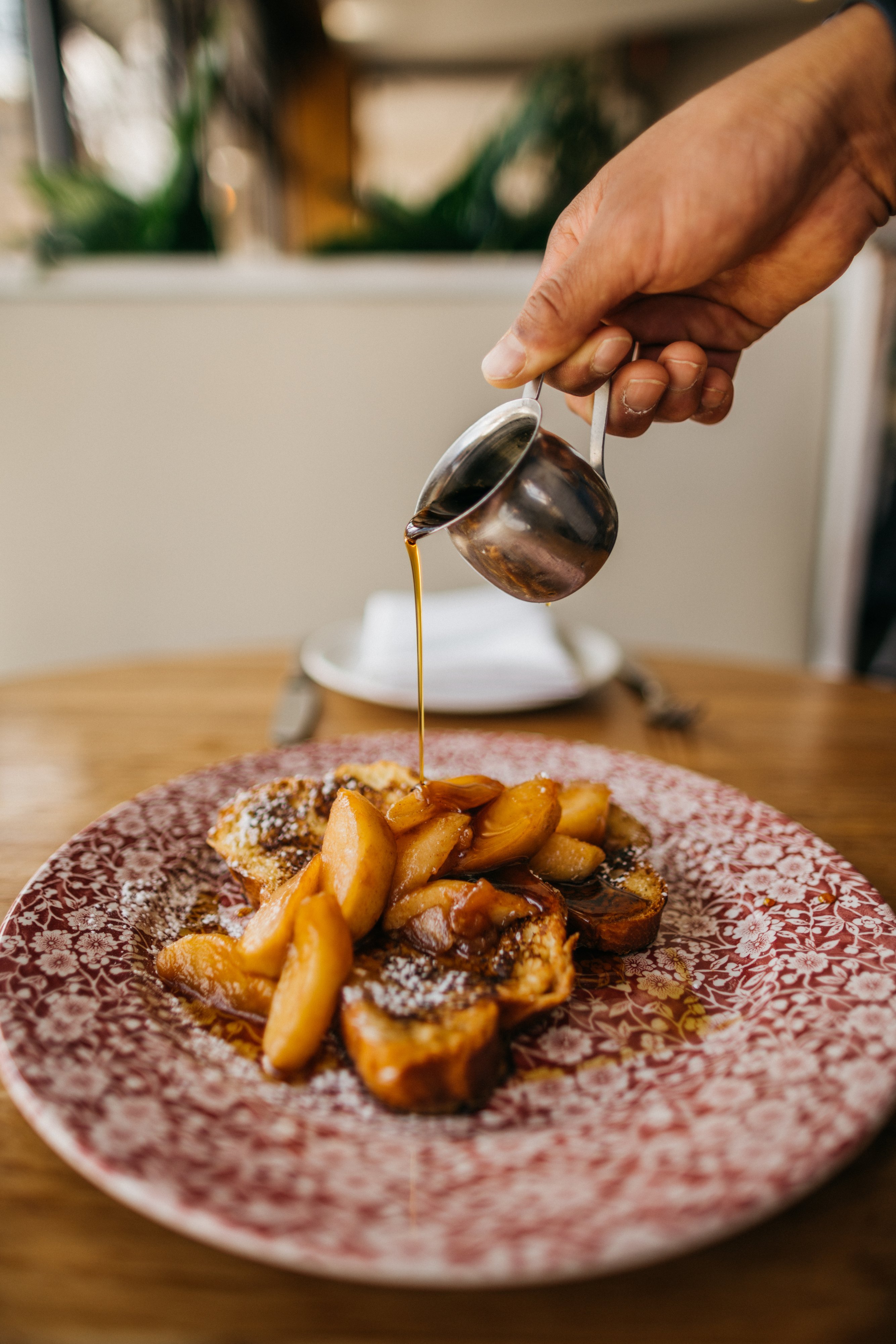 Barracks Row/Eastern Market
Ambar. You might not automatically think Balkan when making brunch plans, but the $39 all-you-can-eat-and-drink spread here is one of the city's most popular weekend repasts for a reason. It's generous, sure, but there are few better times to revel in nap-inducing treats such as creamy spreads with cornbread, cheese and meat pies, veal-and-beef burgers, and of course, mimosas—here splashed with cherry purée and lime juice. 523 Eighth St., SE; 202-813-3039.
Market Lunch. If perusing Eastern Market's stalls for dinner ingredients has your stomach rumbling, head to this 39-year-old lunch counter. In the morning, go for a scrambled-egg platter topped with fried whiting and sided with grits and toast. Later in the day, it's all about the crabcake sandwich. 225 Seventh St., SE; 202-547-8444.
Pineapple and Pearls Patio and Cafe. If you don't have the patience to wait in line at Rose's Luxury next door, or the cash for a $280 tasting menu in the dining room here, you can experience some of the wonder of Scott Muns's cooking in the front cafe and on the patio. The cafe slings terrific sandwiches by day (fried chicken, grilled cheese). At night, reserve an outdoor table and linger over Jeff Faile's marvelous cocktails and one of the new patio snacks, such as sweetbread tacos with white mole. 715 Eighth St., SE; 202-595-7375.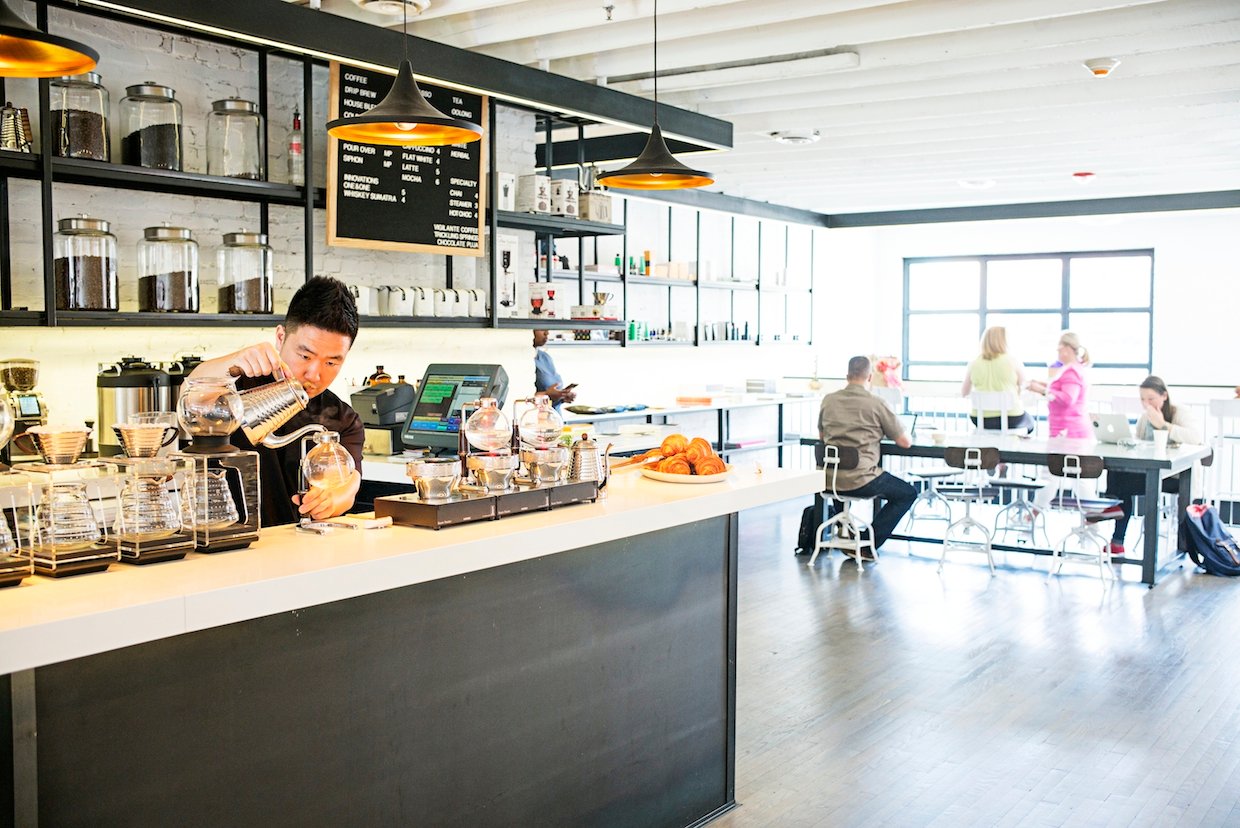 H Street Corridor
Conbini by Uzu. Tucked away in the clothing boutique Shopkeepers Gallery is chef Hiro Mitsui's 15-seat cafe specializing in Japanese comfort fare that's rare to find in DC—let alone done so well. Standouts on the small menu include okonomiyaki (mushroom- or pork-laced savory pancakes), fragrant oyakodon rice bowls, and omucurry (omelet with yellow curry). Plus, some of the gorgeous ceramic tableware is for sale. 1231 Florida Ave., NE; [email protected].
Copycat Co.. Get your cocktail and dumpling fixes at this haven for Chinese street food and creative libations. Owner Devin Gong (ex-Barmini) takes the chalkboard approach to his drink menu, meaning you may find tiki one night and a half dozen styles of julep the next. Skewers, buns, and pot stickers pad the stomach into the early morning. 1110 H St., NE; 202-241-1952.
Maketto. Chef Erik Bruner-Yang's indoor/outdoor emporium is a draw any time of day. Mornings call for the cafe's Vigilante coffee drinks and pastries, while the shaded courtyard is our preferred spot for Cambodian sandwiches or dim sum brunch on sunny afternoons. Dinner—and that duck bao platter—is a knockout. 1351 H St., NE; 202-838-9972.
Sally's Middle Name. What started as a neighborhood bistro has become an H Street destination thanks to chef Sam Adkins's ambitious seasonal fare. Wednesday fried-chicken dinners are a rare constant on the oft-changing menu, and worth a visit. A lovely 30-seat terrace is tucked in back—perfect for al fresco brunches. 1320 H St., NE; 202-750-6529.
Stable. The only Swiss restaurant in DC dishes up more than melty cheese—though there's plenty of that if you reserve one of two raclette party tables in the rustic space. Chef David Fritsche pays homage to his homeland with specialties including ramp spaetzle, Berner rösti (crispy potato pancakes), and house-made breads. 1324 H St., NE; 202-733-4604.\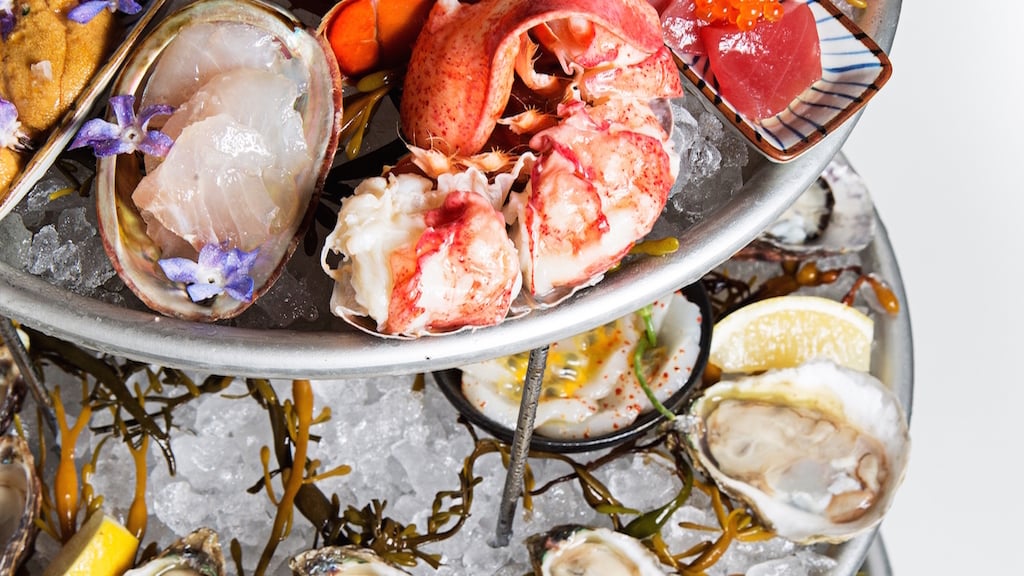 Navy Yard
Bluejacket. The Neighborhood Restaurant Group's brewery turns out IPAs and stouts, but it also experiments with funky sour beers and other unusual creations on its 20-plus draft list. Taster portions, mostly $2 to $3, let you sample a wide range of beers, and a food menu with loaded tater tots and grilled kielbasa makes for ideal pairings. 300 Tingey St., SE; 202-524-4862.
Ice Cream Jubilee. Victoria Lai left her job as a Department of Homeland Security lawyer to open her dream ice-cream shop. Now she's offering cones filled with unusual flavors such as cardamom/black pepper and honey/lemon/lavender—all made with milk from a local creamery. We're fans of boozy flavors like bourbon old fashioned and gin-and-tonic sorbet. 301 Water St., SE; 202-863-0727.
Osteria Morini. It's all about the pasta at this casual Italian eatery from renowned New York restaurateur Michael White. Rigatoni, cappelletti, pappardelle—watch them all being made from the open kitchen or grab a seat on the patio to take in the riverside view. 301 Water St., SE; 202-484-0660.
Whaley's. This waterfront restaurant serves up one of this city's best seafood towers, with dreamy sunset views to match. A perfect meal includes the seafood risotto for two and creative crudos. Throughout the summer, check out the tropical-plant-filled "rosé garden" for your fix of pink wine, frozen cocktails, and oysters. 301 Water St., SE; 202-484-8800.